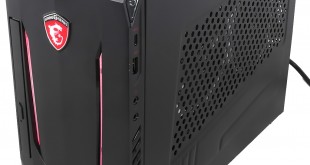 MSI has given its ten litre small form factor Nightblade MI a serious upgrade, although you are unlikely to spot the changes as the chassis remains very similar on the outside. If you know what you are looking for you will see that one of the ports below the power button has changed from USB 3.0 to USB 3.1 Type C. Dive in a bit deeper and you will find the 4th Gen Intel CPU in the original Nightblade has been updated to Skylake along with DDR4 memory for Nightblade MI2. The other major change is that you now have a choice of graphics card and can either settle for GTX 960 or push out the boat and upgrade to GTX 970.
There are two models of Nightblade MI2 and while we might have preferred to see the £999.99 gaming version with Core i7-6700, GTX 970 and a boot SSD drive we instead chose to see the version of Nightblade MI2 that is available on the High Street. This is a budget version that costs £699.99 and comes with Core i5-6400, GTX 960 and a partitioned hard drive.
Watch via our VIMEO Channel (below) or over on YouTube HERE
MSI Nightblade MI2 Specification:
CPU 6th Generation Intel Core i5-6400 2.7GHz
Chipset Intel B150
Graphics NVIDIA GeForce GTX960 2GB GDDR5
System Memory 8GB DDR4-2133MHz
Max memory support 32GB DDR4-2133MHz in 2 x SO-DIMMs
Optical Drive Slim Type (12.7mm) Slot-Load Super Multi
LAN Realtek 8111H Gigabit LAN
Audio Speaker 7.1 Channel HD Audio with Nahimic audio enhancer
Wireless LAN Intel Dual band Wireless-AC 3165
Bluetooth 4.2 Operating System Windows 10 Home
AC Adapter/PSU 350W 80 PLUS Bronze certified
Size 10 Litre
Dimension 127.6 x 234.8 x 340.6 mm
Weight 8 kg
Accessories
2 x Manual
1 x Quick guide
1 x Warranty card
1 x Power cord
1 x Gaming DM
Software
Drivers & MSI Utilities
MSI Gaming centre
Xsplit Gamingcaster
You only have to remove two screws and then you can pull off the main cover which reveals the full sized desktop graphics card. On the rear of the motherboard (as you can see in our photos) there is an expansion slot where you can add more DDR4 memory and also an M.2 slot with PCIe x4 connection. This gives you the option of upgrading the Nightblade MI2 with an M.2 drive or, if you prefer, you can look to the top of the chassis where there is an empty 2.5-inch SATA bay (this bay is filled on the £999.99 model with that 120GB SSD).
Also on the top of the chassis there are two 3.5-inch drive bays; one bay holds the 1TB WD Blue hard drive while the other is empty and ready for action. If you have been keeping count you will have arrived at a total of three drive bays that are ready for storage upgrades.
As you will see in our video, the graphics card can be removed quite easily to uncover the CPU cooler. This gives you a clear view of the way that MSI has constructed Nightblade MI2 and you can see how heat is removed from the CPU and fed through heatpipes before it is blown out the rear of the chassis. Ten litres is very small for a chassis however MSI has been careful to ensure there is enough room to allow air to flow without difficulty.
There was a humorous moment when we spotted the motherboard battery had been stuck to the single module of DDR4 memory, not because it was a problem or anything, but just because it looked funny.
Testing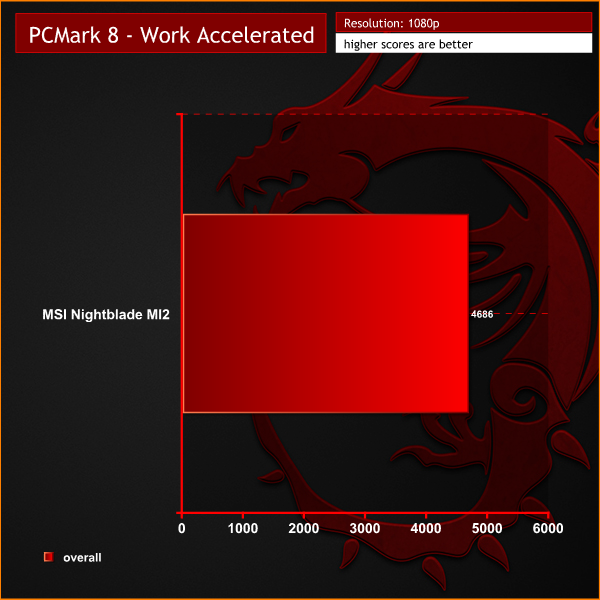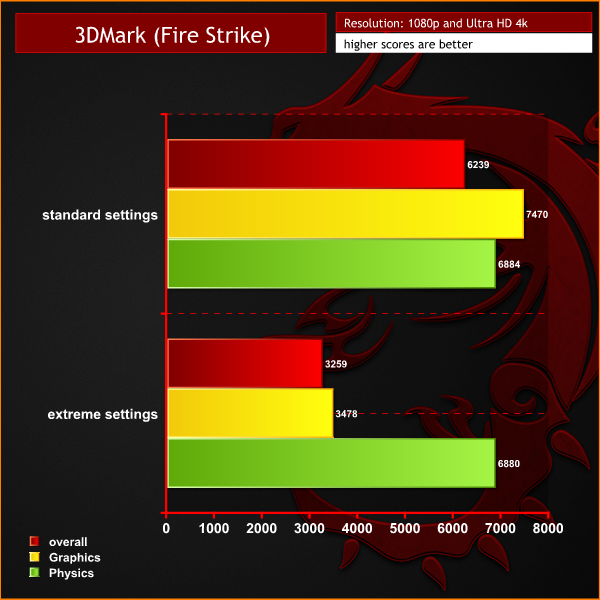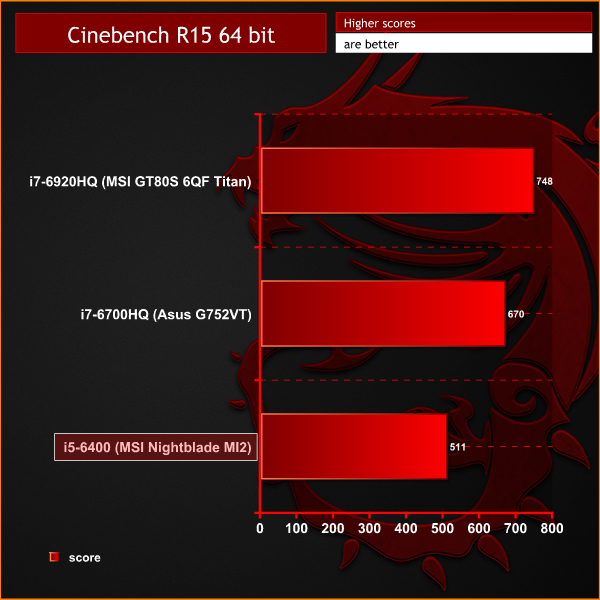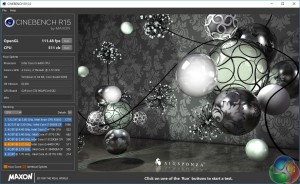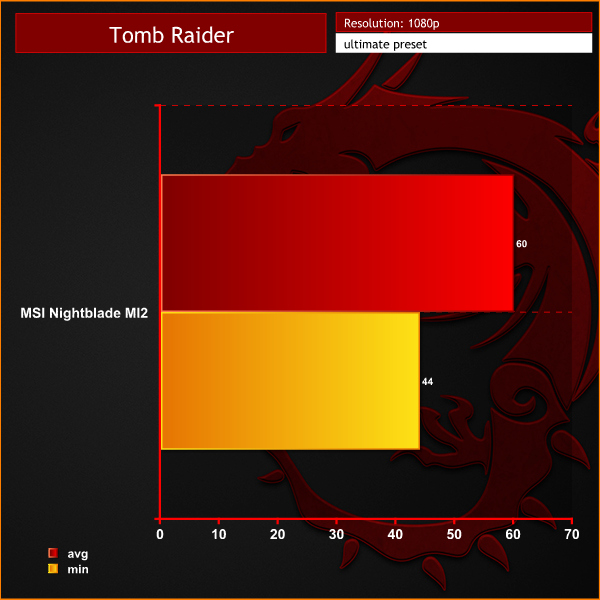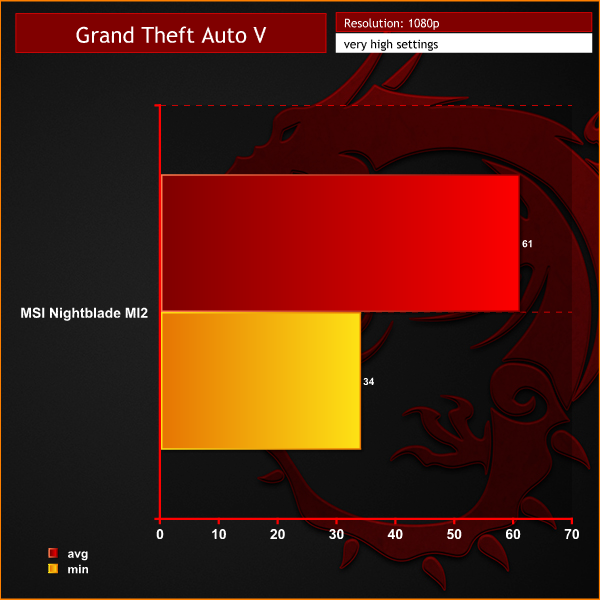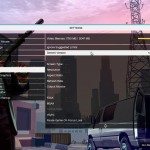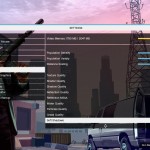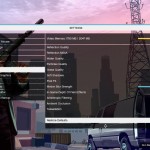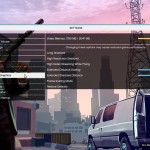 Testing the Nightblade MI2 started out in an unpromising fashion as Windows 10 takes a fair while to boot up, thanks to the relative slowness of the WD Blue hard drive. For the past few years most performance PCs and laptops have booted off SSD (even if they have a secondary hard drive for bulk storage) and the traditional HDD in this PC meant we had to wait longer than we expected.
Performance is solid, which is no surprise when you are looking at a Core i5 with 8GB of DDR4 and a GTX 960 graphics card, but neither is it breaking any speed limits. This version of Nightblade MI2 does a decent job and is sufficiently responsive that you won't suffer the occasional frustrations that you get with some small form factor PCs.
It was good to see that Nightblade MI2 is fully capable of playing games at 1080p without sacrificing image quality to any great extent.
Thermal Dynamics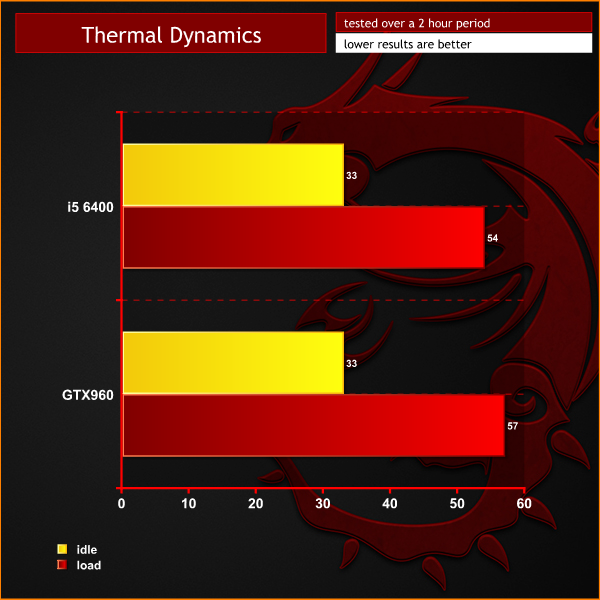 We used AIDA 64 to stress the CPU and GPU at 100 percent and the results you see in our screen grabs are that the silicon runs a few degrees hotter than a full tower PC but pleasingly cool for such a small form factor chassis. We have to assume the Core i7/GTX 970 version would run still hotter however that is a different question. The Nightblade MI2 we had on test passed with flying colours and was really impressive.
Acoustic Performance
We have but one complaint regarding noise levels from Nightblade MI2 and that relates to the tiny 40mm fan in the power supply. It isn't especially loud however its persistent tone can get vexing. The coolers on the GTX 960 and Core i5 are very quiet and while you can hear the fans when the system is working hard you will surely have no cause for concern.
Closing Thoughts
The MSI Nightblade MI2 is impressively small and compact for a Core i5 PC with GTX 960 graphics and this makes us all the sadder that we didn't get the Core i7/GTX 970 version in the same chassis. It's a curious fact about Nightblade MI2 that your opinion of the PC changes depending on whether or not you are looking at the chassis.
When you cannot see the MSI and simply concentrate on the screen it behaves like a decent PC that takes a minute or two to boot into life. On the other hand when the Nightblade MI2 is in your eye line it seems outrageous that such a small PC can power Grand Theft Auto V with decent frame rates.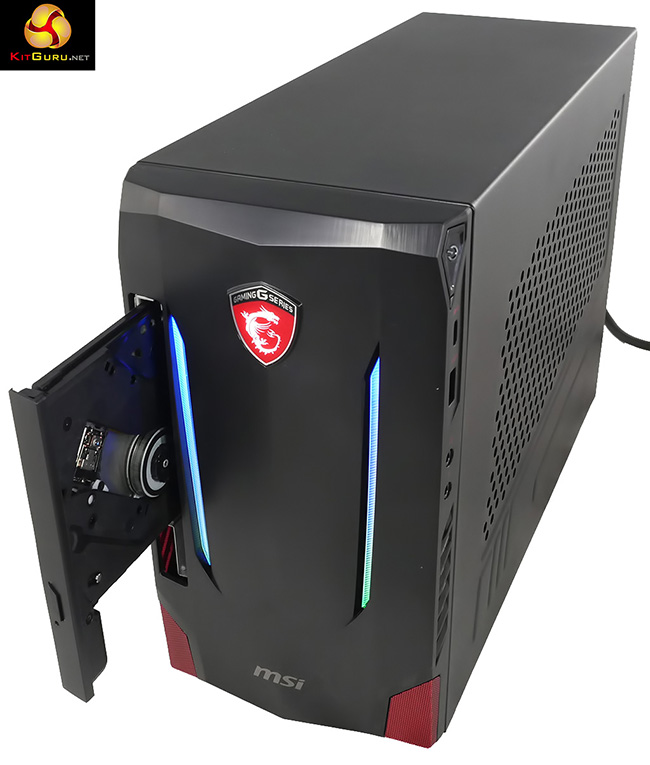 It is impressive that MSI has managed to squeeze so many drive bays inside such a small chassis, and the fact you get an optical drive and can easily add an SSD, M.2 or 3.5-inch hard drive is very good news.
One time-honoured gripe is the moan about software. While PC Mark 8 was installing there was a warning from Norton Security about 'high disk use' without any recommended course of action. Norton then decided to run a quick scan during a graphics driver update.
When you dig deep inside Nightblade MI2 you'll find the heart of this clever little PC is the cooling system that keeps the CPU under control. Added to that there are a few neat touches such as the memory slot on the back of the motherboard and the drive bays we have already mentioned. The upshot is an effective PC that works well, remains nice and quiet and costs relatively little.
Buy the MSI Nightblade MI2 from PCWORLD for £699.99 inc vat HERE.
Discuss on our Facebook page, over HERE
Pros:
Very small form factor for a desktop PC.
Plenty of options for upgrading the storage drives.
Intel 802.11ac Wi-Fi.
Low noise level.
MSI Gaming Centre software controls Mystic Light system.
Skylake Core i5 and GTX 960 do a fair job for gaming.
Slimline optical drive.
Cons:
Power supply cooler makes a constant high pitched noise.
We want the beefy version with Core i7 and GTX 970.
MSI registration software and Burn Recovery nag you to comply.
KitGuru says: MSI has packed a decent PC into a tiny chassis whilst avoiding the obvious pitfall of heat.