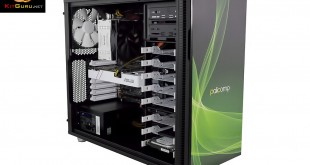 Palicomp i5 Aurora is a gaming PC that promises serious performance with a price that sneaks in just under the £1,000 mark. In addition to those two key points Palicomp has jazzed up the case with a green vinyl wrap that makes it stand out from the mainstream.
The PC you see in our photos and video comes in green to chime with the Nvidia GTX 970 graphics card but if you prefer you can choose a wrap in red, blue or flame at no extra cost. Perhaps the headline feature of the i5 Aurora is the Intel Core i5-6600K that has been overclocked to 4.8GHz on all four cores. That's impressive when you consider the Core i5-6600K has a base speed of 3.5GHz with a maximum Turbo of 3.9GHz so 4.8GHz is a massive increase of 23 percent.
Specifications:
Palicomp i5 Aurora
CPU 4.8GHz Intel Core i5-6600K Quad Core *Overclocked*
Cooler be quiet! Pure Rock
Motherboard Asus Z170 Pro Gaming
Memory 16GB Corsair Dominator LPX DDR4-3200MHz
Graphics Asus GeForce GTX 970 4GB
SSD 250GB Samsung 850 EVO
Storage drive 1TB Seagate SSHD
Case Fractal Design Define R5 with green vinyl wrap
Power supply 750W FSP 80+ Silver
DVD drive Samsung 24x Dual Format
Windows 10 Home
Warranty 3 year RTB (1 year parts, 3 years labour)
As you will see in our video, Palicomp has selected a decent list of hardware that centres around the Core i5 and backs it up with a decent Asus Z170 motherboard with Corsair DDR4 RAM and an Asus GTX 970 graphics card. To keep things speeding along you get a 250GB SSD and a 1TB SSHD data drive. Perhaps the biggest surprise is that Palicomp has selected a be quiet! Pure Rock air cooler with 120mm fan on the CPU, when we have pretty much come to expect a liquid cooler in any performance PC, however the be quiet! works perfectly well.
You can customise any part of the PC, changing any component as you see fit or adding accessories such as fans and fan controllers to your heart's content. Moving up to a Core i7 6700K will cost £114, which is a bit painful, while switching to a Corsair H60 liquid cooler will cost a mere £29.
As we point out in our video the vinyl wrap means you are unable to open the extra cooling vents in the side panel or the top of the case so you need to think carefully before you make any changes.
We investigated the BIOS of the Asus Z170 Pro Gaming motherboard to see how Palicomp achieved that overclock and found remarkably few changes to the settings. CPU core voltage has been raised to 1.4V, the DRAM runs at 1.35V and the CPU System Agent is set at 1.2V, and that is all it takes to raise all four cores to 4.8GHz.
The Asus GTX 970 is clocked 50MHz above reference speed with a base speed of 1089MHz and a boost of 1228MHz, which is about four percent extra.
Idling on the Windows 10 desktop the PC draws 90W at the wall socket, rising to 240W in 3D Mark and 255W when we used the AIDA64 stress test to push things to the limit. That really isn't very much power at all.
During our testing the i5 Aurora was rock solid and completely stable.
Testing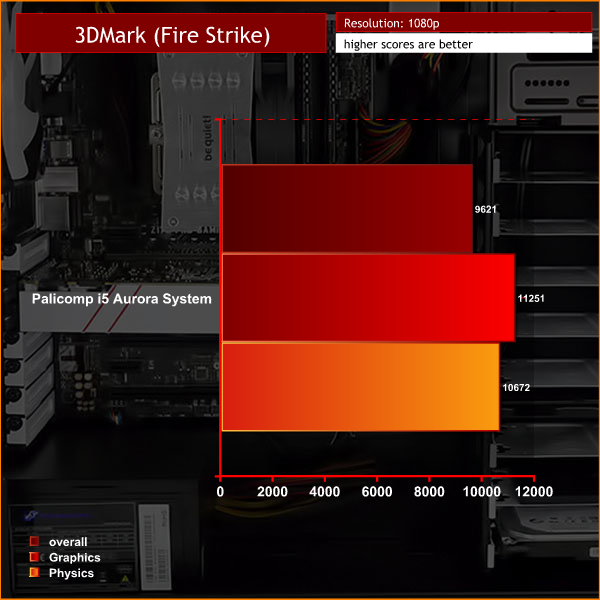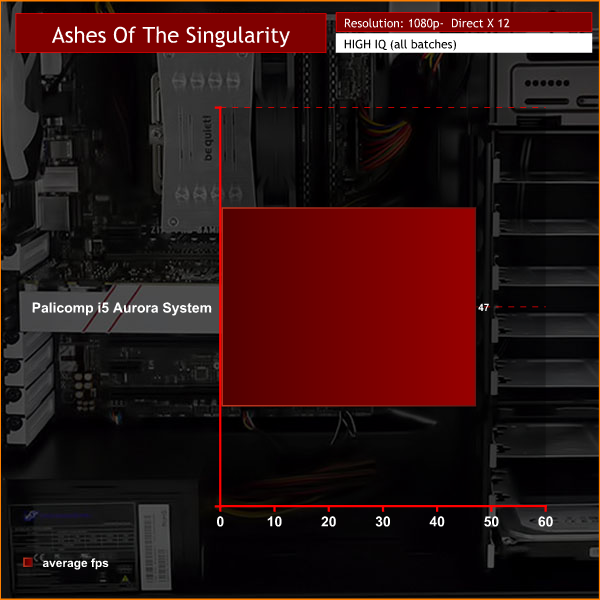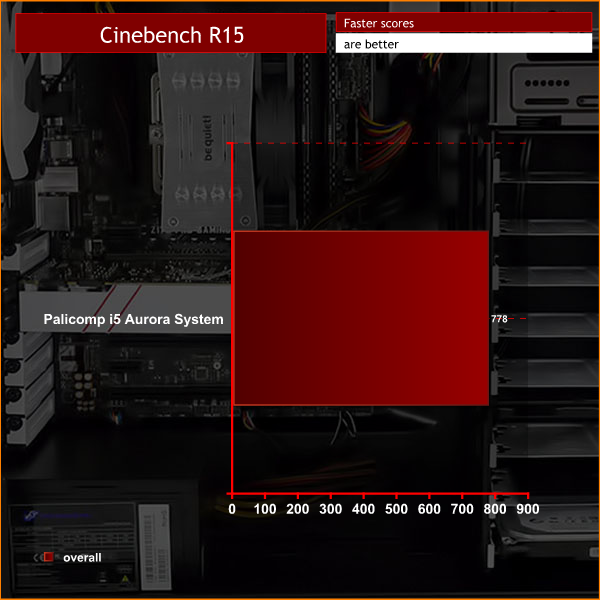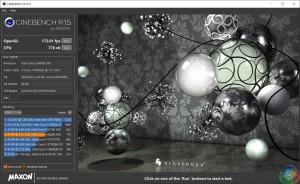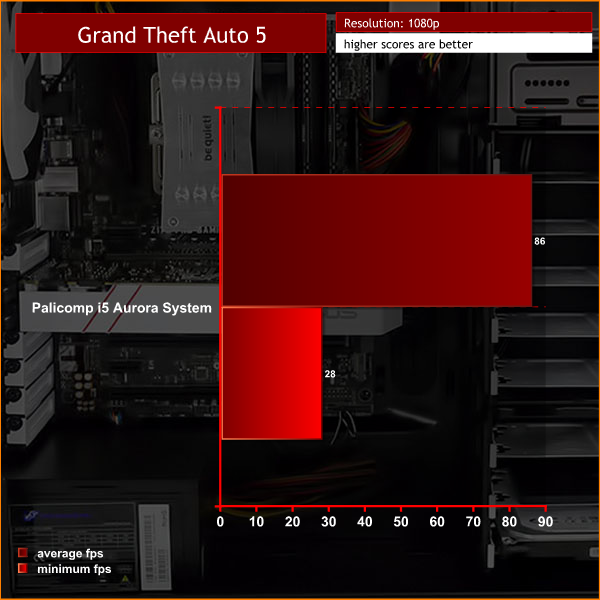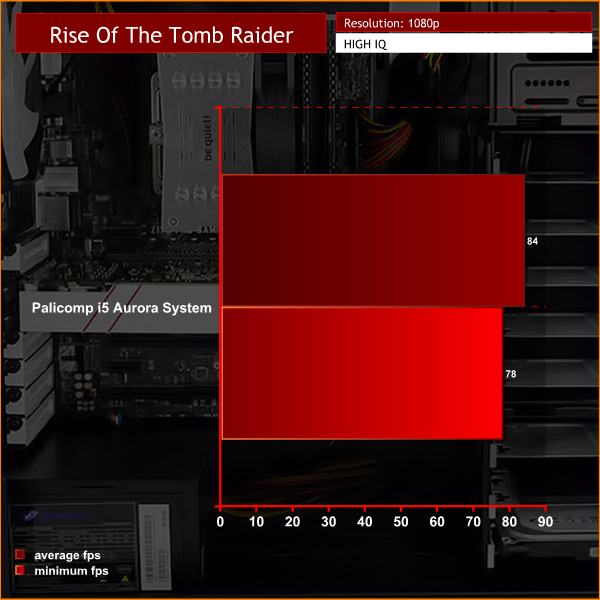 We were pleasantly surprised by the way the Palicomp i5 Aurora hauled its way through our benchmark tests as we generally see PCs that use Core i7 and it can be easy to forget the effectiveness of Core i5.
It is a similar story with GTX 970 which is a decent performer at 1080p and as you can see in the charts most games rush along at a decent pace. Grand Theft Auto V is the oddball, purely because we crank the settings up high and this is tough going for a GTX 980, let alone GTX 970. Adjust the image quality settings down a notch or two and all will be well.
Cooling Performance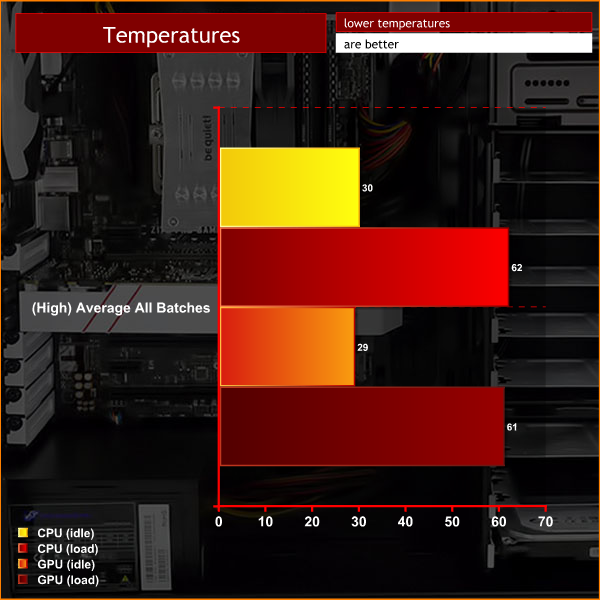 When we used Cinebench R15 the CPU and GPU ran at 43 degrees which is pretty darn cool. Under stress test conditions using AIDA 64 the temperatures went up significantly with the CPU hitting 62 degrees and the GPU 61 degrees. Those figures are lower than you typically see with a gaming PC so the choice of Core i5 and GTX 970 clearly works well in the Fractal Design case, despite the fact it has an overclocked CPU.
Acoustics performance
Palicomp has used a quiet case in the Fractal Design Define R5 and it has selected a suitable processor cooler in the be quiet! Pure Rock (the clue is in the name) but despite those choices this is not a silent PC. You can hear the air flowing through to keep that 4.8GHz CPU cool and to feed the GTX 970. We cannot claim it is noisy or distracting but it is certainly audible.
Closing Thoughts
We like the Palicomp i5 Aurora and admire the selection of components and attention to detail. In particular the vinyl wrap is eye catching and adds an extra point of interest that is welcome. Throughout our review it was clear that Palicomp had been working to keep the price below £1,000 and this has clearly influenced the choice of components.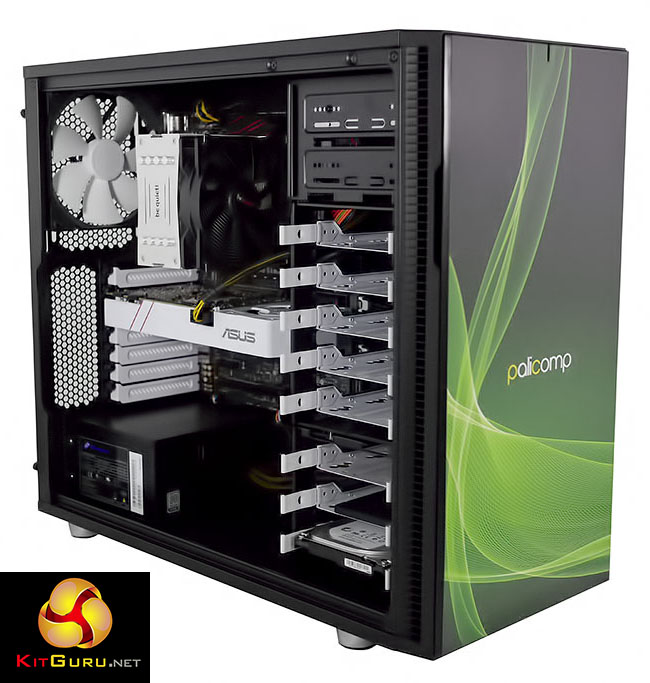 In particular the Silver rated power supply stands out as we really expect to see Gold or Platinum. On the other hand you get a proper 250GB SSD, rather than a 120GB tiddler, so the choices Palicomp has made are sensible and measured rather than thoughtless cost cutting.
This is a good gaming PC that uses enthusiast components in most areas and which could be improved here and there if you spent a bit of extra cash. But of course that would take the price past £1,000 and the key point is that i5 Aurora costs £999.99 and not a penny more.
You can buy this system from Palicomp directly HERE.
Discuss on our Facebook page, over HERE.
Pros:
Overclocked Core i5-6600K.
The price sits below £1,000.
Vinyl wrap adds to the appeal of the Fractal Design case.
GTX 970 has enough grunt for 1080p gaming.
250GB SSD has enough space for your games.
Tidy PC build.
Cons:
Vinyl wrap restricts your options for opening the air vents in the Fractal case.
Relatively basic air cooler on the CPU.
Silver rated power supply.
KitGuru says: Palicomp delivers a decent gaming PC at an entry level price.