Kitguru has been working with AMD on creating a bespoke custom system we nicknamed 'The BEHEMOTH' (see more HERE). This project creation took many hundreds of man hours and captured the attention of a large audience. When the project was completed AMD decided we should give it away to one lucky Kitguru reader. We had thousands of entries for the chance to win this, and one lucky chap – Cameron Marples ended up winning this £22,000 monster PC.
Shipping a system weighing close to 50KG isn't easy, and after the UPS shipping disaster with the Seasonic system, we decided to keep the competition inside the UK and drive the system ourselves by car to Cameron. At least this way we knew it wouldn't get destroyed.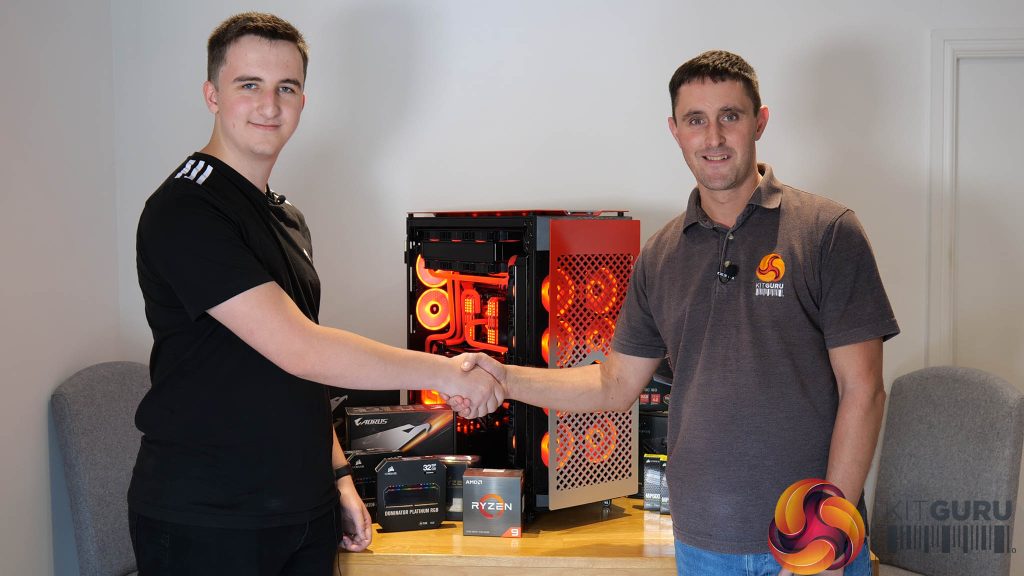 James filmed the handover so we can share with our readers today. If you missed it all be sure to check out all the AMD BEHEMOTH system content over HERE
Building two systems with individual custom cooling loops and 30, yes THIRTY(!), fans in one system was never going to be an easy task. However, we relish the challenge here at KitGuru and always see a project build through to the end. AMD Behemoth is possibly one of the most difficult builds we have done, with two very high spec systems, dual custom cooling loops, 30 Corsair LL120 fans and some of our own modifications and customisations to give it a unique appearance. It looks stunning now it is complete.
System Specification
Main System
Second System
Cooling
Learn more about AMD:
Radeon 6000 series: https://www.amd.com/en/graphics/amd-radeon-rx-6000-series
Ryzen: https://www.amd.com/en/processors/ryzen
Ryzen Threadripper: https://www.amd.com/en/products/ryzen-threadripper
Follow AMD on social media:
AMD UK
AMD US/HQ
Discuss on our Facebook page HERE.
KitGuru says: We hope you have enjoyed the AMD Behemoth series as much as we have enjoyed building the system. Congratulations to Cameron for being the lucky person to enjoy this system for many years to come!