Satya Nadella, chief executive officer of Microsoft Corp., on Thursday wrote an open letter to the company's employees revealing some of his thoughts about the future of the company and the world we are heading to. Among other things the CEO of the world's largest software developer said that the Xbox video game division is a critical asset for Microsoft that will evolve in different directions, including mobile gaming.
"I want to share some additional thoughts on Xbox and its importance to Microsoft," wrote Mr. Nadella. "The single biggest digital life category, measured in both time and money spent, in a mobile-first world is gaming. We are fortunate to have Xbox in our family to go after this opportunity with unique and bold innovation."
Earlier this year the head of Microsoft already quashed rumours that the company might spin-off or even sell its Xbox video game division. Back then Satya Nadella said that the Xbox was a part of the Windows ecosystem in general and thus is a major competitive advantage. This time Mr. Nadella also noted that many technologies originally developed for games are then used elsewhere. As a result, Microsoft will just continue to innovate the Xbox.
"Microsoft will continue to vigorously innovate and delight gamers with Xbox," said the head of Microsoft. "We also benefit from many technologies flowing from our gaming efforts into our productivity efforts – core graphics and NUI in Windows, speech recognition in Skype, camera technology in Kinect for Windows, Azure cloud enhancements for GPU simulation and many more. Bottom line, we will continue to innovate and grow our fan base with Xbox while also creating additive business value for Microsoft."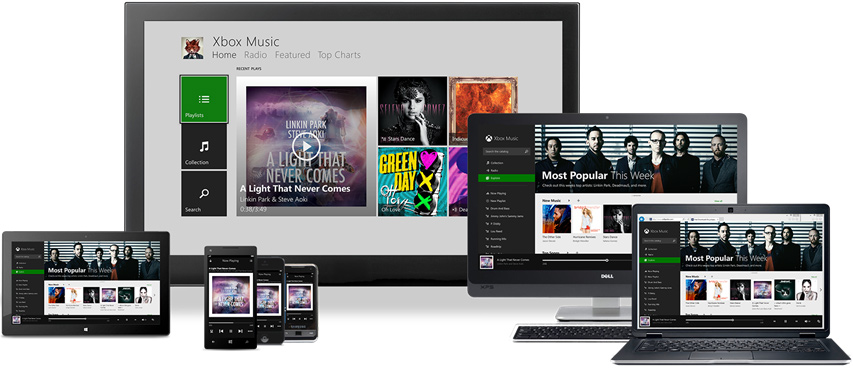 Microsoft Xbox Music platform is a good example of the future of the Xbox platform. The Xbox Music is everywhere, not only on the Xbox console. Going forward something similar should happen to other Xbox services.
While it is pretty hard to figure out Microsoft's exact plans concerning the future of Xbox in particular and video games in general from things like open letters or public statements, it is obvious that Microsoft takes this business very seriously and understands its importance.
One of the obvious strategies that Microsoft will use going forward will be cross-platform games for Xbox One, PC and mobile devices. Microsoft's DirectX 12 application programming interface will be compatible with all three types of platforms and therefore games developed using DX12 will potentially work on various devices. But while the new API is an important element of the future, it is certainly one of many elements. The other elements are still largely unknown.
Discuss on our Facebook page, HERE.
KitGuru Says: Microsoft's vision regarding video games is very logical and many strategic goals have probably been set already. What remains to be seen is tactics and specifics. While the Xbox One platform is doing okay, it is behind its main rival, Sony's PlayStation 4. Windows Phone and Windows RT operating systems still cannot capture a significant market share, whereas sales of Wind0ws-powered PCs are declining. While Microsoft will have a big ecosystem for games going forward, this ecosystem may just not be really successful…