Translations of tweets between over 40 different language pairs is now available to twitter users. In the same way as Facebook translations, Twitter is teaming up with Bing to provide these translations and this feature is available to everyone straight away. Having said that you may need to enable it for your account, instructions for this are below.
Translations of tweets were available on Twitter's website previously, but they were withdrawn for unknown reasons. Now that tweet translations are back, they are also launching on iOS and Android apps as well as Tweetdeck and of course on the Twitter website. When you see a Tweet in a different language, look for the globe icon and pressing this will show the tweet in your language.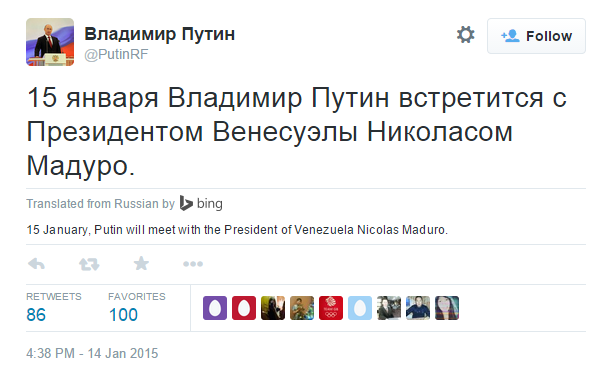 Twitter made a small announcement (that you can presumably translate if you don't speak english) mentioning that the service is powered by Bing translation service. Twitter does warn however that the tweet translations are automatic, may be incorrect and "often fall below the accuracy and fluency of translations provided by a professional translator".
We're introducing Tweet translation with @Bing Translator so you can read Tweets in multiple languages: https://t.co/RuraBeYa5S

— Twitter (@twitter) 22nd of January, 2015
You can find out more about what language pairs are supported and what to do if you see errors in the translations on the Bing FAQ website. If you do need to enable translations then you will need to go to your Account settings and change your Tweet translation setting by checking the box next to Show Tweet translations.
Discuss on our Facebook page, HERE.
KitGuru Says: Maybe this will help twitter become more international and help users from different parts of the world communicate, but I kind of doubt that. It seems that this will only be used when you occasionally see a tweet in a foreign language, which for me at least is pretty rare, but maybe that's just me?