After dropping a new trailer during Microsoft's E3 panel, Bethesda took to the stage for its own showcase, shedding light on Fallout 76. Approximately four times the size of Fallout 4, Fallout 76 will be an online-only survival game akin to Day Z and Rust, set just 25 years after the bombs were dropped.
Bethesda confirmed that, while the game can be played solo, Fallout 76 will be an "entirely-online" experience that is best played alongside friends. Co-operative gameplay is encouraged to strategically take down enemy monsters, craft intricate bases and fend off hostile players in a traditional player-versus-player environment.
The showcased combat plays a lot more like a traditional first-person shooter than Bethesda's Fallout games to date, making it uncertain as to whether the V.A.T.S mechanic will return. Base building is a core element, however, allowing players to build wherever they want. Players might want to bulk up their defences by raiding nearby nuclear missile sites for launch codes. Once all codes have been obtained, it grants the ability to nuke other players' bases.
Unlike the games that inspired it, Fallout 76 is a lot less punishing, opting for a system much more similar to that of Rockstar's Grand Theft Auto V. Those that go around killing other players will risk getting a bounty placed on their head as they traverse the roads of West Virginia, while those that die won't lose their gear.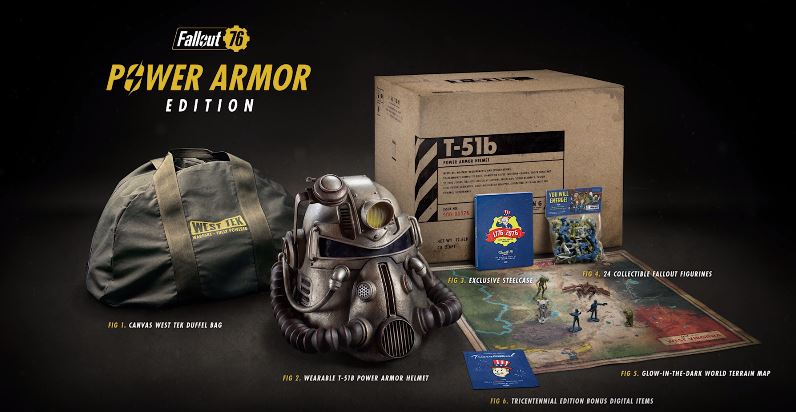 "I've read on the internet that our games have a few bugs," jokes Bethesda's Todd Howard at the company's E3 panel. It is for that reason that Fallout 76 will be receiving a beta testing period ahead of its November 14th, 2018 release. A limited Collector's Edition has already been announced, this time coming with a wearable helmet to go with the limited edition wearable Pip-Boy that the company offered with Fallout 4.
KitGuru Says: Both Bethesda and its fans have wanted to see multiplayer come to the Fallout series for quite some time, but do you think that Fallout 76 will live up to the hype? Personally, given its online-only take on the franchise, I'm not so sure. Do you plan to delve into the more colourful world of Fallout 76?