With the release of Windows 10 yesterday – July 29th, 2015 – Microsoft had launch events in 13 cities across the world. I was fortunate enough to be able to attend one such event in Old Billingsgate, London.
More than just a celebration of the new OS and its release as a free upgrade to current Windows 7 and 8 users, the events were also a 'thank you' to the 5 million-plus Windows Insiders who had been testing the pre-release versions of the new OS. It was an evening full of trying cool new things, exploring new features in the software and finding out what Windows is really capable of. And the answer is almost anything.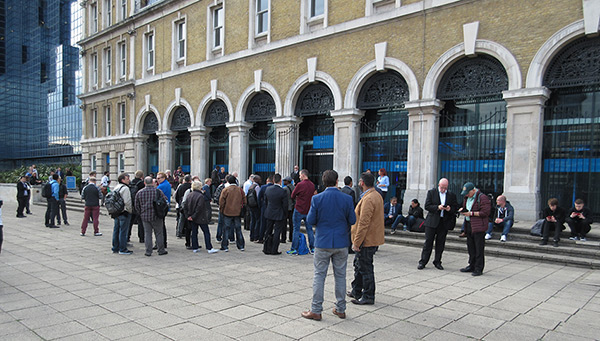 Arriving outside the event venue shortly before the 7PM start, it was clear from the very beginning that there was a buzz around the whole event. Other punters waiting outside with me were chattering away, many commenting on new Windows features – such as Edge, Cortana, Task View – before we had even got inside. With the mixed reception Windows 8 received, this excitement seemed a good sign to me.
Inside, it was easy to see why. Microsoft had clearly put in a lot of effort to the launch event, and there was a whole host of staff on-hand to demonstrate new system features. One employee, Nick, was eager to tell me how Windows 10 is one OS for everybody. He told me how a new, unified app store would be the home for all content users wish to download – across all platforms, too. This replaces the old way of getting music from the music app, videos from the video app and so on.
Nick was also keen to tell me how features in the new browser Edge – such as annotating web pages, for instance – mean everything is easy to share with your friends, via OneDrive or other means.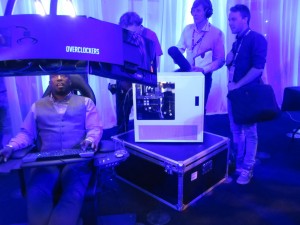 It was pretty clear to me that the Windows employees were just as excited for the new OS as the spectators were. This even seemed the case with third-party retailers, too. I had a chat with our friends at OverclockersUK, who arrived with the 8 Pack Polaris system and an Emperor chair, triple-monitor setup – which looked very tasty.
Mark Purdy, marketing manager, told me from his limited experience with the new OS that things feel as fast and compact as was the case with Windows 8, but there is also a return to the proper desktop feel of Windows 7. 'Rather than cramming a tablet UI on to your desktop, Windows 10 is back to your usual desktop OS,' he commented. Mark was also quick to mention that although we are waiting for new DirectX 12 games, he has seen some small performance gains from the new API already, as well as slightly faster boot times.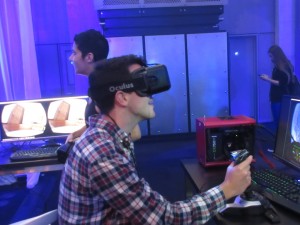 Oculus Rift even made an appearance thanks to ChillBlast
Even from this early stage, it was safe to say everything about Windows 10 seemed much more well received than Windows 8 had been at the same stage of its release. One spokesman took to the stage and made this clear, stating that from the Twitter reception alone, Windows 10 seemed to be going down very well. He also stressed that Windows would not be the same without its Insiders, who had helped shape the OS. 'We would not be here without you, the Insiders,' he stated emphatically.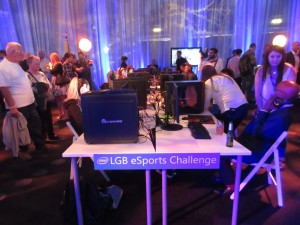 It was this gratitude to the millions of testers which had led to the event itself. And as another 'thank you', there were a number of competitions across the night. One included the chance to go up against LGB –  a professional eSports team playing CS:GO (this reporter managed a grand total of 0 kills across 5 rounds against the pros). Mostly a light-hearted affair, it was a small way of Microsoft giving back to the community which helped them grow their OS.
Throughout everything, though, it was clear that there is a real sense of positivity about Windows 10. From the myriad of employees keen to tell me about any aspect of the OS, to Minecraft developers who had flown in from Seattle just for this launch event – everyone seemed excited about the new OS. Genuinely excited. And I have to say it was infectious. Previously I had resolved to wait a month or two before upgrading to Windows 10, just so any initial bugs could be ironed out. But now I am going to take the plunge straight away. Because I want to try the new Edge browser, and I want Cortana help me organise my life, and I want a Start menu with my favourite apps (like Windows 7) as well as my new app tiles (from Windows 8.)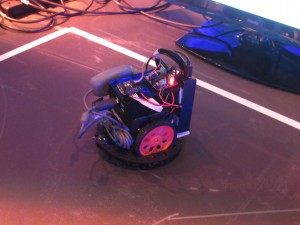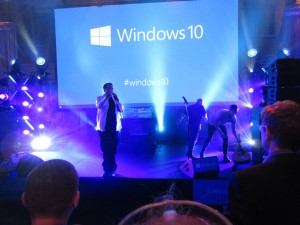 There was such enthusiasm about all aspects of the OS that I cannot help but try it now. Microsoft seemed so genuinely excited about their product, not to mention grateful to all the Insiders, that I could not think of this launch as anything other than a resounding success. There were a lot of toys on show – like a Raspberry Pi-controlled robot, and live music from ABANDOMAN, for example – but it was clear Windows 10 is a serious attempt to create one OS across all platforms – one OS for everybody. It seems to marry the best of Windows 7 with the new mobile features of Windows 8, while also adding in fresh experiences of its own.
But don't take my word for it – try it out! It's free (assuming you have Windows 7 or 8), and seems to have the full support of just about every Microsoft employee I came across. If this triumphant launch is anything to go by, we can expect big things from Windows 10 – now and well in to the future.
Discuss on our Facebook page HERE.
KitGuru says: It was a lot of fun going to the launch event last night. Despite the laughs and music, it was clear that Microsoft are fully behind their new OS as it enters the commercial world. If this launch is anything to go by, Windows 10 could just be everything we were hoping for.