As the most popular free to play MOBA in the world, League of Legends has a lot at stake when it comes to developing new features. They don't all need to be winners, but they do need to offer an experience that's going to keep people coming back if they get a little tired of the standard custom and ranked play games. Unfortunately, in the new Nemesis mode that Riot introduced, where players can choose the champions that the opposing team uses – in a sort of, reverse draft system – a lot of people are simply quitting the game and eating the wait penalty in order to play with better champions.
The idea with the game mode was to encourage the use of less than popular champions, that in turn might improve people's knowledge of their play style, as well as encouraging a breaking of the meta-game with different champion combinations. It's only on the beta environment at the moment too, so it's not like the wins and losses matter that much compared to the more serious game modes – but that isn't stopping people from dodging out from the game.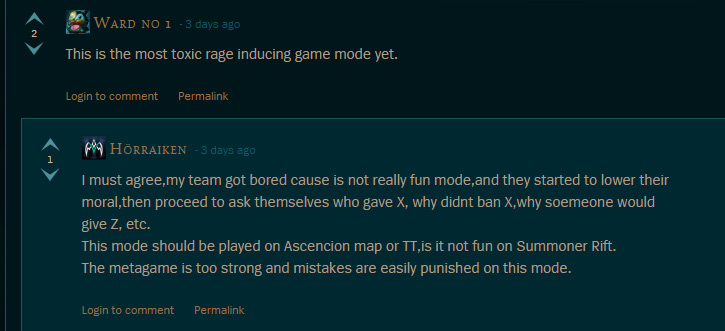 Kotaku has it that a lot of players have been venting frustration on the official LoL forums that getting a game of Nemesis was difficult, because inevitably in a game involving 10 people all being given a character that is designed to not be very useful, someone decides they want to play someone better and quits. They do have to wait for a five minute punishment timer to be up, but for some that's well worth missing out on 20 minutes+ of losing.
For the most part, other players want to see a stronger penalty put in place for those that dodge out of Nemesis games to discourage this sort of time wasting play. However, even if you get in a game a lot of people are finding the mode a breeding ground for toxic play, where people complain about why people chose a certain champion or didn't pick another.
But even without the complaining, games are often filled with the same unpopular champions, since of course people pick characters for their opponents that aren't played a lot in the main Summoner's Rift games and those are almost universal.
Discuss on our Facebook page, HERE.
KitGuru Says: Have any of you been playing Nemesis mode? If so, what do you think?