Many PC gamers grew frustrated with Ubisoft last year following the abysmal launch of Assassin's Creed: Unity, to the point where many were skeptical about this year's release, Assassin's Creed: Syndicate. Today we are taking a look at the PC version of Syndicate and seeing how it runs on a range of GPUs to see if anything has improved this time around. Can Ubisoft regain the trust of PC players this year?
The settings menus contain most of the graphics options you would expect to find in a decent PC game, though motion blur is missing. It would also be nice to have separate options for MSAA and FXAA, rather than trying the two forms of anti-aliasing together.
The game itself looks fairly impressive, though even with 2x MSAA there can be some aliasing issues and stepping things up to 4x MSAA will tank your frame rate. On top of that, the lower presets don't quite look up to snuff, the different between 'high' environment quality and 'ultra high' is very noticeable.
While the options menu is okay, the main thing we all want to know is: 'does this run better than Unity?', so let's dive in to performance. We have received a lot of good feedback from our PC port posts over the last few months, so while I don't review graphics cards for KitGuru, the hardware team has hooked me up with a few additional GPUs for game testing.
Today, I will be running Assassin's Creed: Syndicate on a system using an Intel Core i7 5820K, 16GB of Crucial Ballistix DDR4 RAM, a 240GB Kingston V300 SSD and an MSI X99S SLI Plus motherboard. For graphics cards, I will be benchmarking a reference GTX 980Ti, an MSI GTX 970 4G, a Sapphire Vapor X R9 290 and an XFX R9 390x Ghost Edition. None of the cards were overclocked for this test and we used the latest drivers from both AMD and Nvidia.
Since Assassin's Creed: Syndicate uses Nvidia GameWorks effects at higher settings, we modified the ultra preset a bit, turning shadows down to high, trading HBAO+ for SSAO and 2xMSAA+FXAA, rather than TXAA. You can see our settings in full in the screenshots above.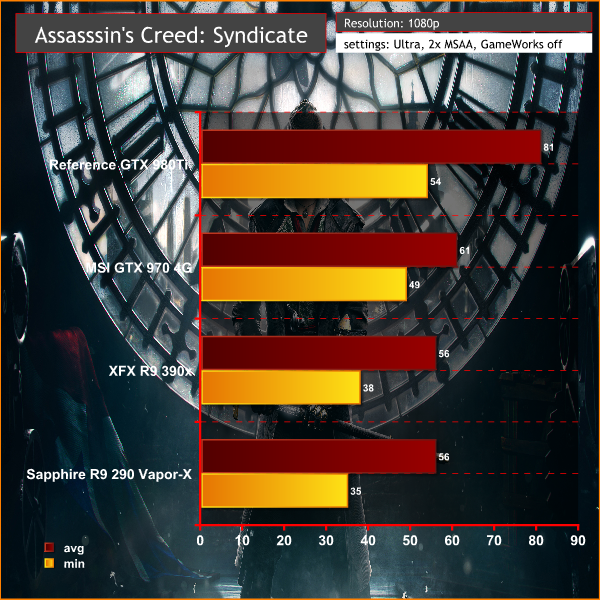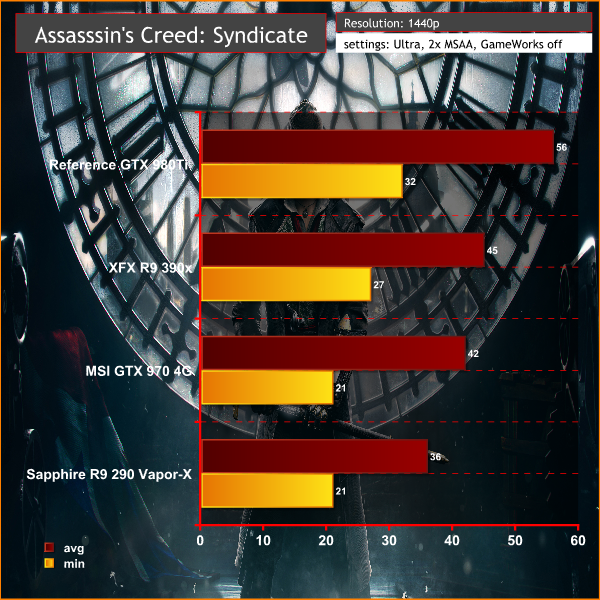 I have seen a lot of sites singing the praises of Assassin's Creed: Syndicate's PC port. While I wouldn't go as far as to say it is anything special, it is a significant improvement on what we saw last year.
I've put around four hours in to Assassin's Creed: Syndicate so far on the PC and the frame rate has been steady enough, though it does have an issue with frame slow down, which can occur randomly at any time, even in the main menu. It doesn't happen often and I'm not entirely sure what the cause is but it is hard to ignore when it occurs.
Assassin's Creed: Unity was notorious for its bugs, like the 'no face bug' pictured above. Fortunately, Syndicate isn't afflicted with any issues quite as bad. During my time with the game I have noticed some texture pop-in and shadow flickering occasionally but for the most part, it has been a pretty painless experience.
I did encounter a slight issue with dual-monitor behaviour. Upon launching the game, a black square with appear on my second monitor and all of my windows will re-size themselves. Once the game loads, it will minimize itself, requiring me to tab back in to it, after which the black square on the second screen will disappear. This might not affect everyone but it is still worth pointing out just in-case.
Overall, I'm not a huge fan of the Assassin's Creed series, I didn't like Ezio and Black Flag was probably the only game in the series I really truly enjoyed – well until now. Assassin's Creed: Syndicate is a really fun game, the London setting is fantastic and the characters are interesting, especially the Frye twins who have some excellent dialogue moments.
If you have a fairly modern gaming PC, you should be able to run Assassin's Creed: Syndicate, though performance won't be anything special. Even on my GTX 980Ti I suffered some pretty harsh frame rate dips, so do be prepared for that going in. Hopefully that is something Ubisoft can patch out in the next couple of weeks.
Discuss on our Facebook page, HERE.
KitGuru Says: Ubisoft has managed to offer up a substantial improvement over last year's Assassin's Creed: Unity. The port isn't anything special and something does need to be done about those random frame rate drops, but aside from that, the game runs without any game-breaking bugs and I'd say it is worth playing for the story and new characters.