Last night, you may have received a seemingly random email from EA claiming that you've redeemed an Origin Access membership code. As you might expect, this caused a lot of people to think their account may have been hacked but it turns out, EA is actually just giving out Origin Access membership trials and phrasing it very strangely. 
Back in October, EA announced that it would be giving a free month of Origin Access to those who switched on two-factor authentication. All of the 'code redeemed' emails being sent out last night was apparently EA's way of letting you know that they made good on that offer: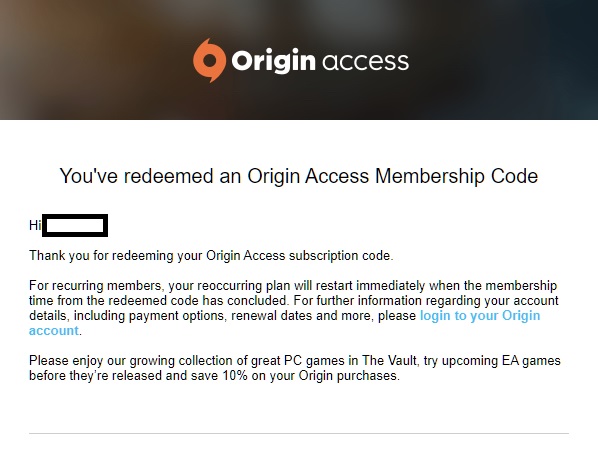 Of course, the email itself doesn't actually mention that it is a free month of Origin Access, nor does it remind users what they did to receive it. The email simply says they've redeemed a membership code, which would ring alarm bells for most  if they in fact did not pay for or redeem anything.
Currently, EA itself has yet to issue a statement on what happened here but the EA Help Twitter account has been replying to some concerned users trying to get confirmation on their account security and whether or not they were charged for Origin Access. The good news is, the free month that you may now find on your account does not renew, so you won't suddenly find yourself paying for Origin Access next month.
Discuss on our Facebook page HERE.
KitGuru Says: I received one of these emails last night and had a quick check over my security settings to make sure everything was in order. Hopefully EA addresses this a bit more publicly. Free stuff is nice but the messaging here has been sufficiently off base.