Since Google first announced Stadia as its cloud gaming platform, there have been questions surrounding the game library and the business model. Many assumed it would adopt the Netflix model, as we've seen with similar services. Instead, Google is borrowing pieces of the Netflix model but will also sell full-price games. On the content front, there will be 31 games at launch, some will be part of a subscription library, others will need to be bought separately.
Stadia is launching in November across 14 countries, including the US, Canada, UK and several other countries in Western Europe. A 'founder's edition' pre-order is going live today for $129 that will bundle the Stadia gamepad with a Chromecast Ultra, a copy of Destiny 2 and three months worth of Google's 'Pro' level subscription. On the subject of subscriptions, this is where the Netflix comparisons come in to play. Stadia will offer two subscription tiers, one will offer 1080p streaming and the 'Pro' subscription will offer 4K streaming for $9.99 per month. The base level subscription does not include a games library but the Pro tier will, although it is described as containing mostly 'older' games.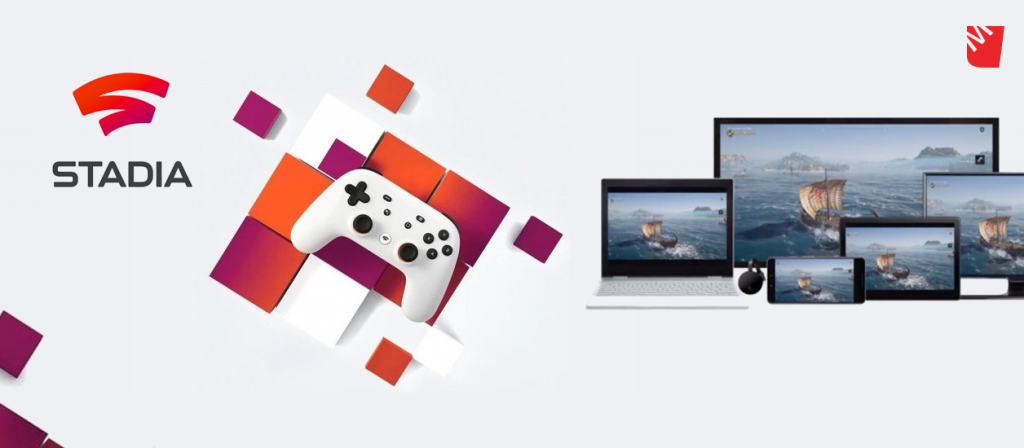 So in the case of DOOM Eternal, you would need a Pro subscription and you would need to purchase the game on Stadia in order to stream at 4K. Other games currently confirmed to be coming to Stadia include Destiny 2, Assassin's Creed Odyssey, The Division 2, DOOM Eternal and Square Enix's Tomb Raider reboot trilogy. There will be 31 games at launch in total, so there are still plenty of unknown games that we have yet to hear about.
In order to use Stadia at launch, you will need a Chromecast. At some point next year, Stadia will work on any Google device as well as on Google Chrome. We aren't sure if 'any Google device' means any Android device, or specifically Google's first-party hardware, like the Pixel. Beyond specific device limitations, you will also need a 10mbps download and 1mbps upload to meet the minimum requirements for 1080p streaming. For 4K streaming, you will need a 35mbps connection.
KitGuru Says: I wanted to give Google Stadia a chance but the pricing and device limitations have really muddied the waters. Paying full price to stream a game with no guarantee of a quality experience isn't going to work. We'll have to wait and see how things play out.