Over the last decade, there has been a sharp rise in the popularity of console controllers on PC. While there are still many keyboard and mouse purists knocking around, sitting back with a gamepad has grown tremendously and Valve's latest breakdown of the stats offer plenty of proof.
Back in the day, controller compatibility was decided by individual developers on a game by game basis but that has changed. Steam has its own set of controller compatibility tools to promote consumer choice and Microsoft's Xinput technology is widely adopted. Since 2015, over 30 million players have registered at least one controller on Steam and half of those have used more than one gamepad.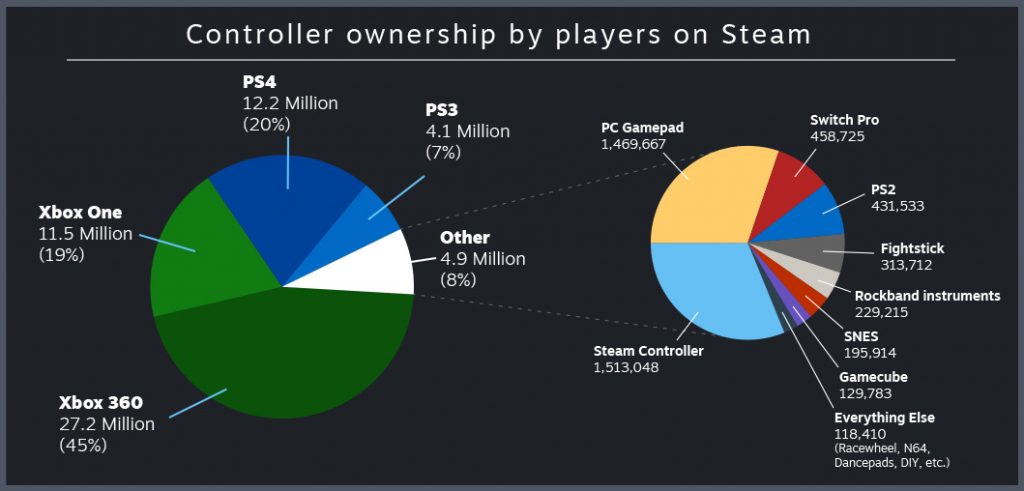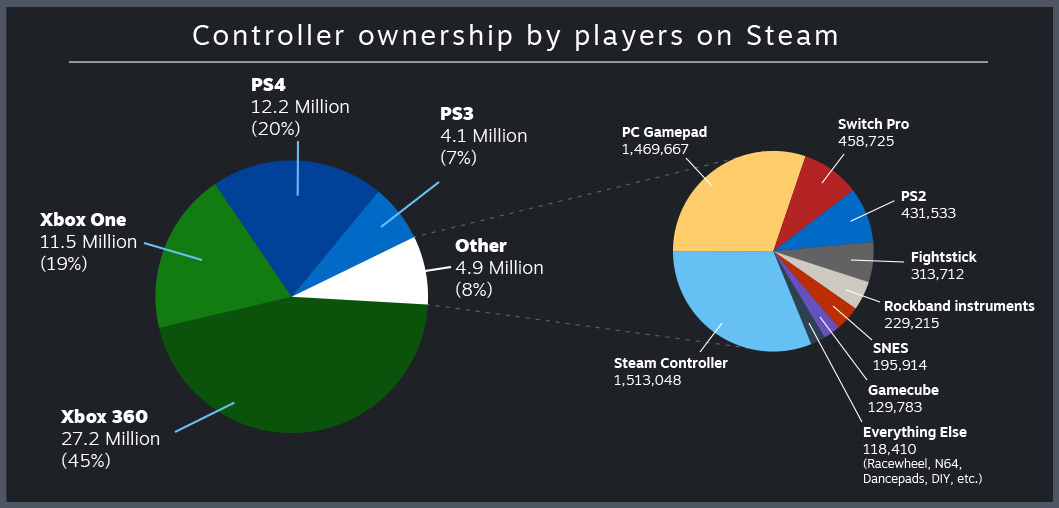 Console controllers like the Xbox One, Xbox 360, DualShock 4 and DualShock 3 make up 92 percent of controllers used on Steam in the last three years. The remaining 8 percent amounts to nearly 5 million controllers, ranging from Nintendo gamepads, to the Steam controller, to more obscure input methods like fightsticks, dancepads and Rockband instruments.
Unsurprisingly, thanks to the widespread adoption of Xinput, the Xbox controller is the most common. There are 27.2 million players using an Xbox 360 gamepad and 11.5 million using an Xbox One controller, accounting for almost 60 percent of all gamepad users on Steam. Interestingly though, the PS4's DualShock 4 is more widely used on PC than the Xbox One gamepad, with 12.2 million users, or 20 percent of gamepad userbase.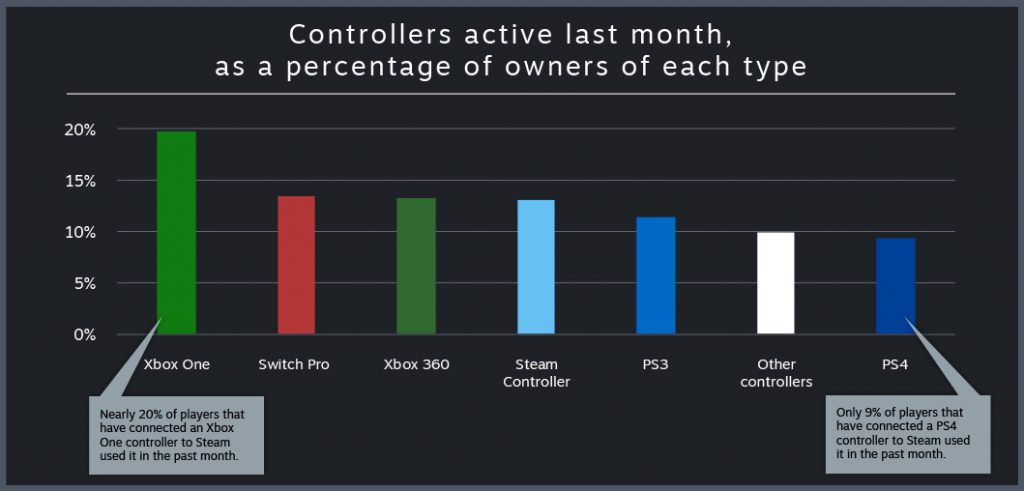 The PS4 controller's popularity is surprising as not all games natively support the DualShock 4 on PC. In some games, you'll still get Xbox input prompts rather than PlayStation ones, which does put players off. Valve supplied an active usage chart of the different controllers to prove this, with DualShock 4 owners using the controller just under 10 percent of the time last month. Meanwhile, the Xbox One gamepad is used more frequently.
Valve does have a way to fix the input prompt issue via Steam but it requires developers to support full Steam Input Integration. If developers shifted to that, then Steam can work out button prompts based on controller type.
The last surprising tidbit is that the Nintendo Switch Pro controller is quite popular on the PC. Around 500,000 users have registered this controller but player engagement with it is on par with the Xbox 360 gamepad. This is impressive for a controller that was released just last year.
On Valve's own end of things, the company has revealed that it has sold 1.3 million Steam Controllers to date. The pad has less marketshare than the big console makers but boasts a more diverse selection of use cases. The Steam controller has been used in almost twice as many unique games compared to the Xbox 360 controller.
KitGuru Says: I'm a bit of a stats nerd, so I love breakdowns like this. The PS4 controller being more popular than the Xbox One pad was surprising, although Xbox One gamepad users seem to have more engagement. There is still a vast number of Xbox 360 controller users out there too. Do many of you use a gamepad while gaming on PC? Which controller do you use?