PC gamers have been getting used to digital-only gaming for years now and console gamers are adopting it pretty fast with this current generation of consoles. However, one of the big downsides to owning a game digitally is not being able to sell it on when you're finished, so over the weekend, Microsoft began asking if customers would be open to 'selling back' their digital game purchases.
The question was part of an Xbox customer survey that was actually under NDA. However, one Reddit user broke the silence and posted the information online, the post has been removed but the picture is still floating around. The survey said: "If the console digital games store for the console you owned offered customers the option to 'sell back' their digital games to the store for 10 percent of the purchase price in store credit, would you be interested in such an offer?"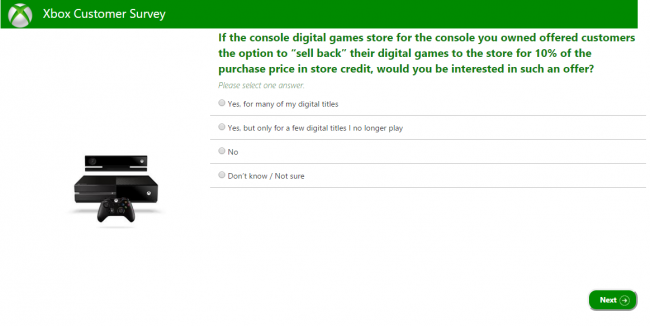 It seems that a 10 percent buy back price is what Microsoft is sticking to for now. Right now on the Xbox One digital store, most games arrive with a £55/$60 price tag, so as long as you sold back while the price was still high, you would get $6/£5.50 back from your purchase. Doing this would revoke your digital license for a game and put credit in your Microsoft account, with no option of transferring that back to your bank account.
Microsoft hasn't spoken out on this just yet but it seems to be an idea they are playing around with internally right now.
KitGuru Says: This is a good idea but I do think that a 10 percent offer is a bit low. I would rather see a digital games refund system put in place before something like this, similarly to how it is handled on Steam right now. What do you guys think of this? Would you sell back your digital games?