According to some recently leaked images courtesy of cnbeta, it seems that Microsoft is exploring a new dark theme for Windows 10 with some very flat iconography. While all we have right now are these photos showing a concept of a dark taskbar with some white outlined icons and the Spartan browser there may be more leaks to come before the Windows 10 preview event on the 21st of this month.
While it is certainly possible in Windows 8.1 to turn your taskbar and window colour black today, when you put this together with the flat outlined icons for both programs and the system tray, as well as the search box for Cortana access right next to the Start button, it does look like quite a dramatic change, even if it isn't that huge. Also worth bearing in mind is the time on the computer that, if correct, indicates that this was taken in July last year, so this may be quite an old and out of date concept and the previews released to Windows 10 testers so far do not have this theme.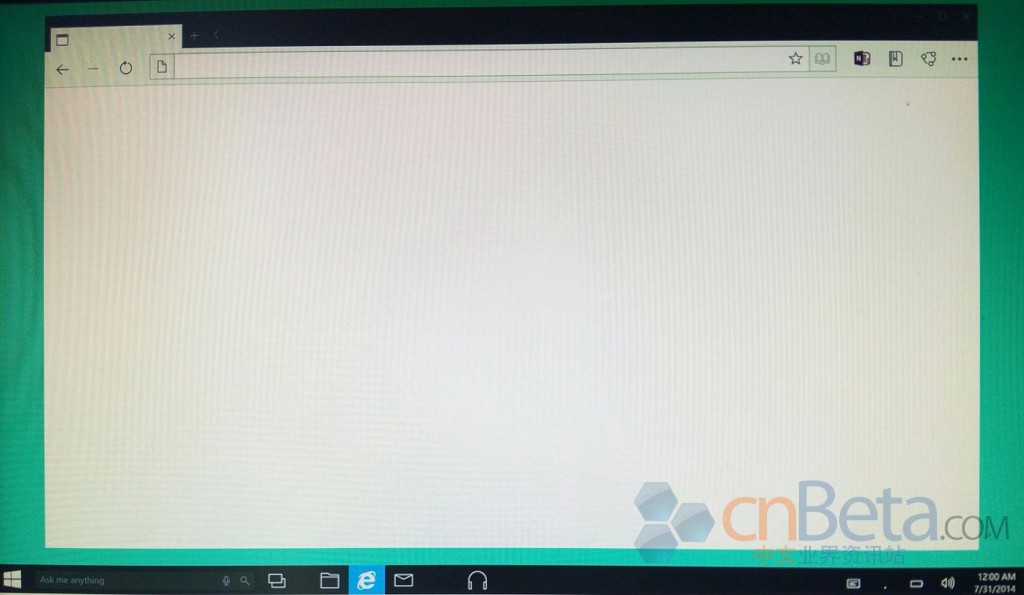 If this high contrast theme is in the works for the final release of Windows 10, which is scheduled for a mid-2015 launch, then hopefully we will know a lot more in 12 days after the day long Windows 10 preview event. This is also likely to include information about several new features, including Cortana the digital assistant from Windows Phone 8, the new Spartan browser and Continuum, a feature that will change the way Windows works when connecting and disconnecting a keyboard.
Continuum has been pretty widely discussed and shown off already, Cortana as well is available on Windows phones today, but the new Spartan browser we know very little about, we don't even know its final name yet. It is rumored to be replacing the Modern or Metro Style full screen IE browser that was included with Windows 8. As the image below shows it will have tight integration with Bing and Cortana that will apparently allow it to be voice controlled as well as knowing about things like your location and schedule.

Spartan will also include features that allow note taking on web pages so that you can annotate websites and then share them with friends via Onedrive. On top of this there will be a plug-in system similar to Chrome and Firefox that will allow third-party developers to make add-ons for Spartan, something that is not possible with Modern IE today and is very limited in the desktop version. It's also worth nothing that Internet Explorer will not be going anywhere for now due to the requirements of millions of businesses that rely on it for compatibility reasons.
Discuss on our Facebook page, HERE.
KitGuru Says: In much the same way as Windows 7 was really a relatively small set of changes, made on top of the massive changes that Windows Vista brought, I think that Windows 10 is looking like a set of small changes made on top of the Windows 8 base. As a Cortana user I'm really looking forward to the Cortana integration the most, if it's done correctly it will be amazing. Are you looking forward to any of the changes?
Source: CNbeta (Chinese), CNet