Microsoft may end up distributing future Windows 10 updates using a peer-to-peer protocol. The company traditionally uses the Windows Update service to deliver its operating system updates from a single source but the latest build of Windows 10 has leaked, showing a move towards P2P.
The option allows Windows 10 preview users to enable "updates from more than one place", this means that apps and OS updates will be obtained from multiple sources, it is basically the same way torrents work. This could give download speeds a bit of a boost as well.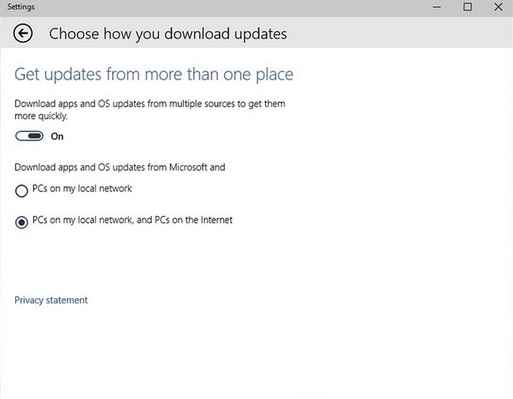 Apps and OS updates can be downloading from both Microsoft and other PCs on a local network or over the internet. There were some prior signs indicating that Microsoft would do this. Back in 2013, the company acquired Pando Networks, a software maker that developed peer-to-peer technology.
Microsoft has yet to officially announce its P2P plans but given that it is integrated in to a new, leaked Windows 10 build, we can probably expect to hear some news fairly soon.
Discuss on our Facebook page, HERE.
KitGuru Says: Using P2P networks to distribute operating system updates will likely cause some security concerns. However, Microsoft will likely have come up with some security measures in place. An announcement hasn't been made just yet to some of the finer details are still up in the air. What do you guys think of Microsoft's new plan to utilize P2P technology? 
Via: The Verge