Windows 7 is still alive and kicking, with current marketshare stats showing that 33.37 percent of desktop users are still running the ageing OS. However, with the Windows 7 'extended support' window soon coming to an end, Microsoft is getting antsy, adding full screen pop-up warnings for Windows 7 users.  
This isn't the first time that Microsoft has experimented with annoying pop-ups to push users into upgrading their systems. Back when Windows 10 was first rolling out, pop-up notifications like this became very controversial. However, this time around, Windows 7 is going to be losing support for security updates, leaving those users vulnerable to zero-day exploits and attacks. As a result, the pop-ups are returning, urging users to upgrade from Windows 7 before the 14th of January 2020.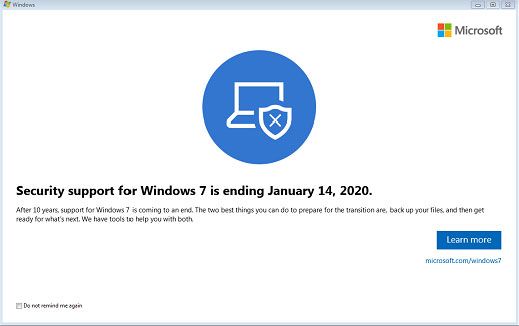 Mainstream support for Windows 7 ended back in 2015 following on from the launch of Windows 10. Extended support for security updates was offered for an extra five years but that too will be coming to an end on the 14th of January 2020. When that day comes, security patches and bug fixes will no longer be pushed out. Microsoft might make an exception for a few special cases, but it will result in added cost. Back in the day, the US Navy forked out $9.1 billion to continue receiving updates for Windows XP after support ended, which gives you an idea as to how expensive it is to convince Microsoft to continue specialised support.
With all of that out of the way, it is likely going to be cheaper for most enterprises to upgrade to Windows 10, rather than risking security vulnerabilities or paying a hefty fee for extended three-year support.
Discuss on our Facebook page, HERE.
KitGuru Says: Are any of you still sticking with Windows 7? Do you plan to upgrade before support ends, or will you be blocking Microsoft's warnings and going about your business?