Have you ever lost small items at home or in office and then spent a lot of precious time to find them? Or maybe left home without keys? Or forgot something precious in a taxi? With Nokia Corp.'s new invention, this will never happen again. Nokia on Wednesday introduced "Treasure Tags", small elements that notify when marked items get lost or separated and help to quickly locate those using smartphones with NFC technology.
Each treasure tag (TG) should be paired/connected with a particular Nokia Lumia smartphone (other handsets will be supported later) using Bluetooth/NFC technology. The first time a TG is paired with a smartphone, the latter prompts its owner to download a special app. If one leaves the house without one or the other (smartphone or TG), the two will emit a loud tone to alert the owner of this fact. If the situation arises, it will be easy to locate the forgotten thing thanks to the sound it emits. In case the audio alert is missed, then the app will help to locate the lost item on a map.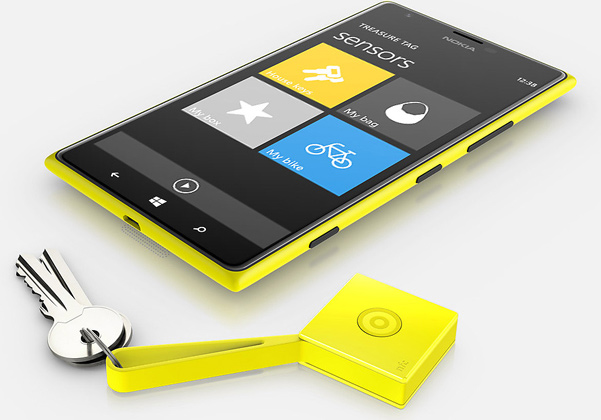 One can have up to four different Nokia Treasure Tags simultaneously connected to a Nokia Lumia. Each TG connected to Lumia can be placed onto Start screen as a Live Tile and give updates as to when the tag was last seen. If one decides to leave a tagged bag/thing at home for the day, a long press will deactivate the TG. Alternatively, it is possible to mute the alarm or put it into sleep mode from the Nokia Tag app.
Nokia Treasure Tags rely on a standard coin cell type batteries (CR-2032), which are replaceable, and can last for up to six months.
Nokia Treasure Tag comes in four different colours: cyan, yellow, white and black. With a recommended retail price of €24.90 ($29.90), Nokia Treasure Tag is expected to start selling in April to retailers globally.
Nokia Treasure Tag will work with Lumia phones that have the Lumia Black update. There will also be third-party applications for Treasure Tag to support Google Android and Apple iOS devices.
KitGuru Says: The Treasure Tag seems to be a good device and useful for keys, bags and other relatively big things. For small things, they are just too bulky.