Many analysts expect the market of wearable computing devices to grow significantly next year after Apple launches its Watch. The stylish timepiece will allow the company to grab a significant share on the market of wearables. Still, the Android operating system (in different forms) will continue to almost dominate the market.
"Android has enjoyed unprecedented success within this market with products such as the Samsung Gear series (the original Galaxy Gear smartwatch was based on heavily modified version of Android – KitGuru) and Sony smart watches; however, the Apple Watch will pose a significant threat," said Thomas McCourtie, a research analyst at ABI Research.
According to ABI Research, total available market of wearable computing devices will be around 35 – 36 million units next year. The company expects about 15 million units to be powered by Google Android (either by Android Wear or by proprietary builds of Android), which will account to 42 per cent of the market. ABI predicts that Apple will sell 12 – 12.5 million Watch devices and will thus command 35 per cent of the market of wearable computing devices.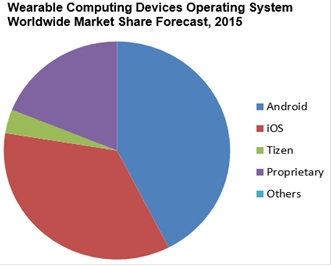 "Judging by the previous sales performance of newly released Apple products, ABI Research anticipates a high number of sales of the Apple Watch upon its initial release," said Mr. McCourtie. "The iPad sold almost 5 million units during the first two quarters of release (Q2 2010 and Q3 2010), and the Apple Watch will be no exception. The high number of loyal and affluent multiple Apple device owners alone will drive significant numbers of sales."
Discuss on our Facebook page, HERE.
KitGuru Says: Apple Watch will clearly attract Apple's fans around the world and will help Apple to earn tons of money. However, since the Watch will be much more expensive ($1000 for steel version, several thousand for premium Watch Edition), extreme sales volumes are not guaranteed.