SanDisk Corp. this week introduced a solution that could be useful for many owners of the latest iPhone, iPad and iPod touch devices with limited amount of built-in NAND flash memory. The SanDisk iXpand flash drive features the Lightning connector and can be used to store various media files saving precious storage space.
SanDisk's iXpand flash drives are available in 16GB, 32GB and 64GB versions; the storage devices feature Lightning as well as USB 2.0 connectors to connect to Apple's mobile devices as well as to Mac OS X or Windows personal computers.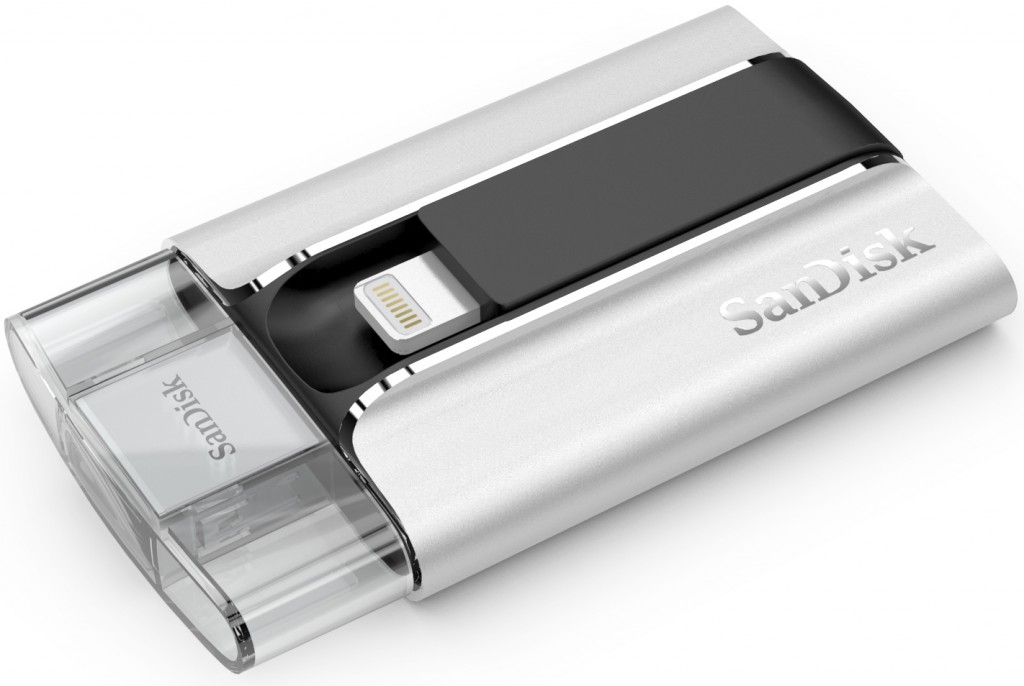 A special app that SanDisk supplies with the drive allows to quickly offload photos and videos from smartphones and tablets to free up storage space. In addition, the application – which launches when the iXpand Flash Drive is plugged into an iPhone or iPad – allows to playback videos in PC formats (AVI, WMV, MKV, MP4, MOV) on Apple iOS devices.
The iXpand sync app also supports cross-platform encryption, offering consumers the ability to transfer and access their sensitive files from iPhone, iPad, PC and Mac computers. Using the iXpand sync app, files can be password-protected on the drive directly from an iPhone or iPad and then easily decrypted on a Mac or PC and vice versa.
The iXpand Flash Drive will be available in the U.S. at Best Buy stores and at BestBuy.com. Starting November 16, Best Buy stores will exclusively offer the 32GB iXpand Flash Drive at an MSRP of $79.99. The iXpand Flash Drive is available now at SanDisk.com, and is coming soon to select retailers globally. The 16GB and 64GB capacities will be available at $59.99 and $119.99, respectively.
Discuss on our Facebook page, HERE.
KitGuru Says: Keeping in mind that loads of Apple iPhones and iPads are bought with only 16GB of NAND flash storage, various ways to expand that storage inevitably get rather popular. So far, those ways either required expensive external hard drives with built-in Wi-Fi or cloud-storage. Today, there are at least two USB drives with the Lightning interface designed specifically for Apple's mobile devices are on the market. While the iXpand drive looks rather neat, it is just too expensive. $60 for 16GB in 2014 is clearly not a good price for the consumer. But a good way for SanDisk to earn!