Huawei was expected to unveil the P40 series of phones at a global launch event in Paris earlier this year. However, Huawei announced that due to the recent COVID-19 outbreak the company had decided to take the curtains off the P40 and P40 Pro at an online-only event on March 26th. That day has come and gone, with Huawei unveiling their P40 series of phones.
Huawei has finally revealed its P40 series of phones. Many improvements have been made since the release of Huawei's P30 series. On the list on of upgrades made is 5G support, a new Kirin processor, better (and more cameras) and a wider range of apps outside of Google Play Store.

Image Credit: Huawei
Right of the bat it's easy to see – on the picture displayed above – that Huawei likes screens that cover the whole front of the phone – with the new P40 series of phones being no exception. The screen is of the AMOLED variety, with the P40 shipping with a 6.1″ 1080×2340 display and the P40 Pro getting a slightly larger 6.58″ 1200×2640 display.


Image Credit: AnandTech
One of the things that Huawei emphasises with the new phones is the cameras. The P40 comes with three cameras, where the P40 Pro comes with five. The company makes a point of comparing the sensor size in its P40 phones with the ones of its competitors – saying that the sensor in its new phones takes in more light, which leads to better pictures.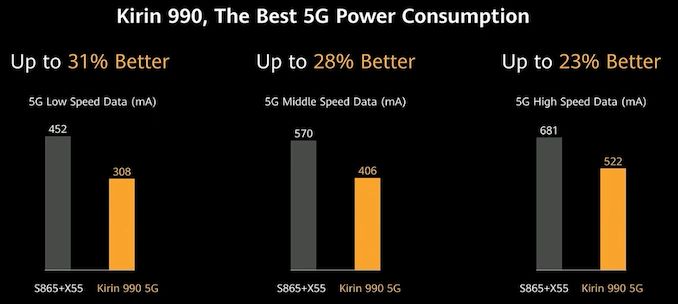 Image Credit: AnandTech
The processor of the new phones is a Kirin 990 5G and is produced using TSMC's enhanced 7nm+ EUV process. The chip can boast about having eight cores and also sports a lower power consumption compared to some of its competitors.


Image Credit: AnandTech
One of the big questions about Huawei's new phones is how the company is going to tackle its exclusion from Google Play Store. Huawei is working hard to make up for it by enhancing its on AppGallery. However, it remains to be seen if it's enough to convince costumers to opt for a phone from the new P40 series.
Full specs and additional information can be found on Huawei's website HERE.
Discuss on our Facebook page HERE.
KitGuru: Huawei finally uncovered the P40 and P40 Pro. What do you think of the new phones? Do you already have a Huawei phone, if so what are your thoughts?