Performance
Powering the Mate 10 Pro is the Kirin 970 chip – an octa-core processor, it is comprised of 4×2.4 GHz Cortex-A73 cores & 4×1.8 GHz Cortex-A53 cores. Alongside this is 6GB of RAM.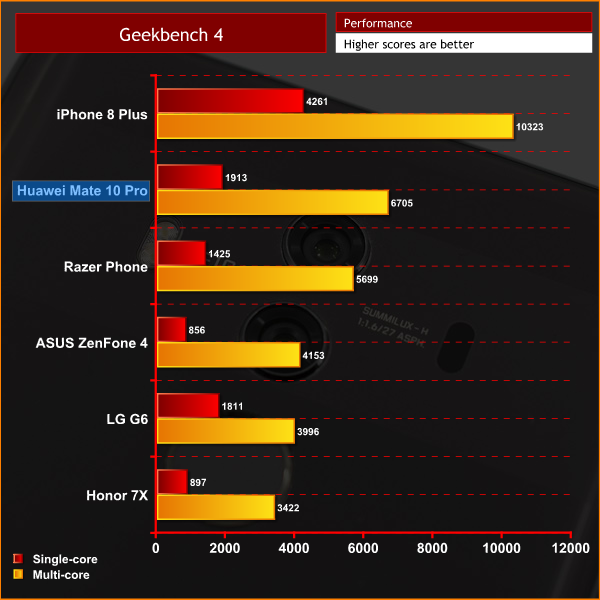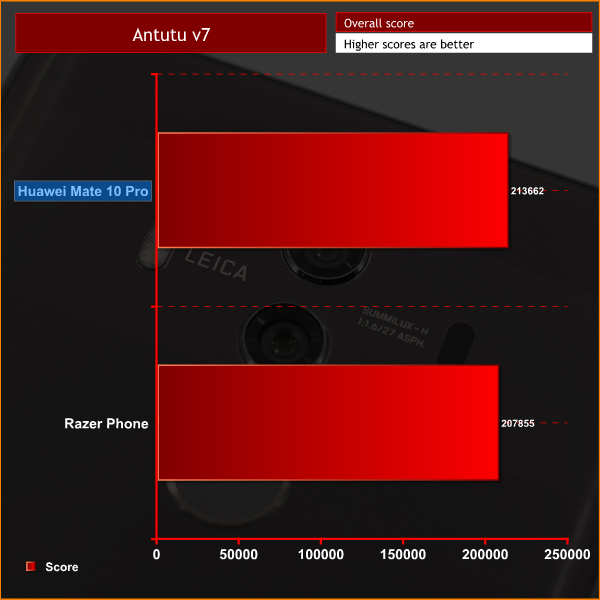 As our synthetic benchmarks confirm, performance of the Kirin 970 is very, very good. Day-to-day I've had no issues with it at all – apps open very quickly and everything feels smooth and responsive. I also have to give a special mention to the fingerprint scanner which has to be the fastest I've ever used.
Interestingly, Huawei reckons there should be no performance drop-off from the day you buy the phone until at least 18 months later due to the integrated Neural Processing Unit (NPU) which automatically keeps everything in tip-top condition. We obviously can't test that yet, but perhaps it is something to revisit at the end of 2019…
However, what we can say in regards to the Mate 10 Pro's AI is that it is a bit underwhelming. It's been marketed as quite a big feature of the phone, but day-to-day I can't say I noticed much going on behind the scenes. The Kirin 970 chip supposedly understands how you use your phone and optimises performance as a result, but there was no point in time where I stopped and thought: 'ah, that was the AI doing something for me.'
The area I actually noticed the AI most was when taking photos (more on that on the next page), but for now I think there needs to be a bit more clarity about what the AI is actually doing, as based on my time with the Mate 10 Pro, the answer seems to be 'not a lot.'
Software
In terms of software, the Mate 10 Pro is running Android Oreo 8.0, with Huawei's EMUI 8.0 skin on top. To get right to it, I find the software to be frustrating and intuitive in equal measure.
The frustration starts, really, with the EMUI launcher. By default, there is no app drawer – something done seemingly in homage to iOS. On its own, that would be OK, but what is frustrating is that to actually enable the app drawer you have to go into the system settings and the option is listed under the display settings which I find a bit odd. It's just much more complicated than it needs to be.
Other annoyances include an Android System notification whenever an app is running in the background. Fair enough, that's handy to know. However, when you're actively using something like Spotify to stream music, having this notification – which cannot be removed – gets really annoying and it takes up room on your notification panel too.
One more thing I want to point out is the drop-down quick settings. I just don't know why Huawei has designed it to use blue icons on a black background, especially since the icons look quite 'old-school.' The whole panel looks very dated and could do with a face lift to bring it into 2018.
However, there are a few hidden gems within EMUI which help make using the Mate 10 Pro a real pleasure. My favourite of these is the ability to hide the home buttons completely – enabling this setting adds an extra downward arrow to your home button panel, and pressing it hides the panel until you swipe up from the very bottom of the screen. It sounds simple, but it gives users that extra bit of screen real estate which makes the display look extra large. It is also very pleasing when reading text-based apps, like the news, as whatever you are reading will take up the entire screen instead of just 90% of it.
There are also plenty of detailed battery settings, too, which give you estimates of how long your phone battery will last based on your current usage. We will touch on battery life on the next page, but the ability to change the screen's resolution, as well as enable power saving and ultra power saving modes is great to have.
All-in-all, the software is likely to prove divisive. It keeps the core Android experience that we like, but adds in a few annoyances here and there, though there are a few nice touches as well. I can't help but think a more stock Android experience would help the phone – certainly in terms of visuals and the UI at least. In any case, I was still able to do everything I would normally do on my smartphone with EMUI 8.0, so it is certainly not terrible, but I do think it be a bit more refined.