Linksys has introduced the first-to-market motion-sensing Mesh Wi-Fi technology, which will offer a home security system linked to a smartphone app through a subscription-based service.
Linksys has announced it will be introducing a new first-of-its-kind subscription-based home security system. Linksys Aware, which is connected to the Linksys Smart Wi-Fi app available on the Apple App Store and Google Play, can detect motion in Mesh Wi-Fi environments to provide a home security solution.
The new system will be available initially on Linksys Velop Tri-Band AC2200 routers. Linksys Aware utilizes Velop's existing Intelligent Mesh Wi-Fi network to sense motion without the use of cameras or additional hardware.
"Motion-sensing in Mesh Wi-Fi has incredible potential to change the way the general public taps into the capabilities of their routers," said Matthew Keasler, Linksys Aware Product Manager. "No longer will the router just be a device that enables Internet access in a home, it will be the cog that drives the smart home. Since Linksys is first-to-market, we anticipate playing a large role in that revolution."
Linksys Aware will detect activity using Wi-Fi signals and then send motion alerts to the user through the Linksys Aware App when any motion activity occurs. Users can enable, disable or snooze motion alerts as they choose, or adjust the motion sensitivity levels in the home to avoid any false alarms.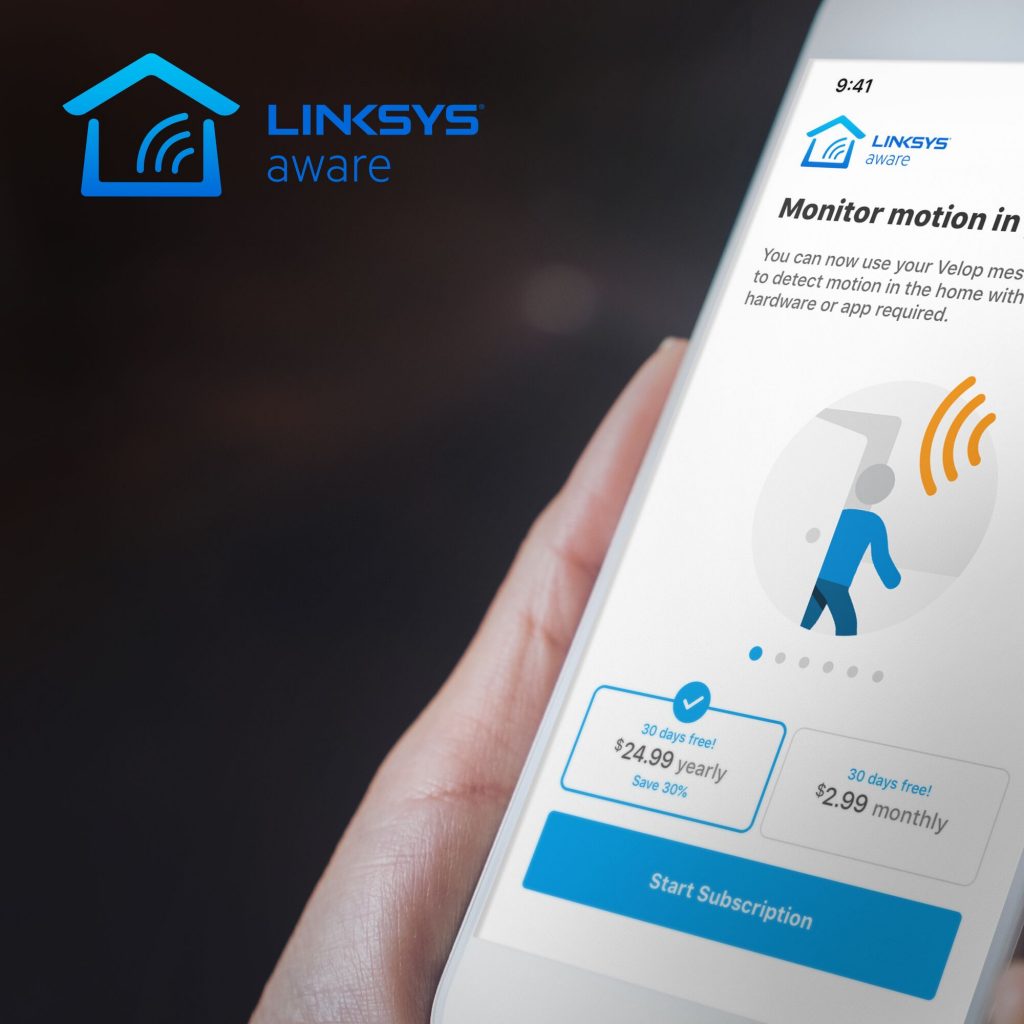 Once Linksys Aware has been establish on the Velop Tri-Band platform, it will be introduced in a phased approach to other applicable Linksys Mesh Wi-Fi devices, to make the home Mesh WIFI experience more flexible and saleable.
Linksys Aware joins Linksys Shield on the company's subscription software platform. Linksys Shield was introduced earlier this year and offers protection against unwanted content on children's devices to keep them safe while online.
Linksys says the new Aware subscription will be available worldwide in most countries, to users of Velop Tri-Band routers, through a firmware and app update available on Apple App Store and Google Play. It's free for the first 90 days, following that, it will cost $2.99 per month or $24.99 for 12 months.
kitGuru says: With smart home products becoming ever more popular, home security seems like a great area for manufacturers to improve on with smart devices. What do you guys think to the introduction of this new system from Linksys?