Apple has a lot of patents, many of which it will never use or even investigate, but that doesn't mean it isn't interesting to imagine what it might do with some of them. Take for example a patent recently revealed for an "Electronic Device Housing," that would allow for the automatic deployment of buoyant flotation devices from the corners in the case of submersion, as well as providing additional shock and drop protection.
The idea would be to use a smartphone's on board accelerometer (or possibly even a microphone and speaker using echo location) to detect if the device is falling, and therefore react by deploying shock absorbing materials to help mitigate impact damage. In another scenario, the device may detect if it is getting wet and could deploy flotation devices to make sure it does not sink below the pressure threshold which it is rated to resist the water.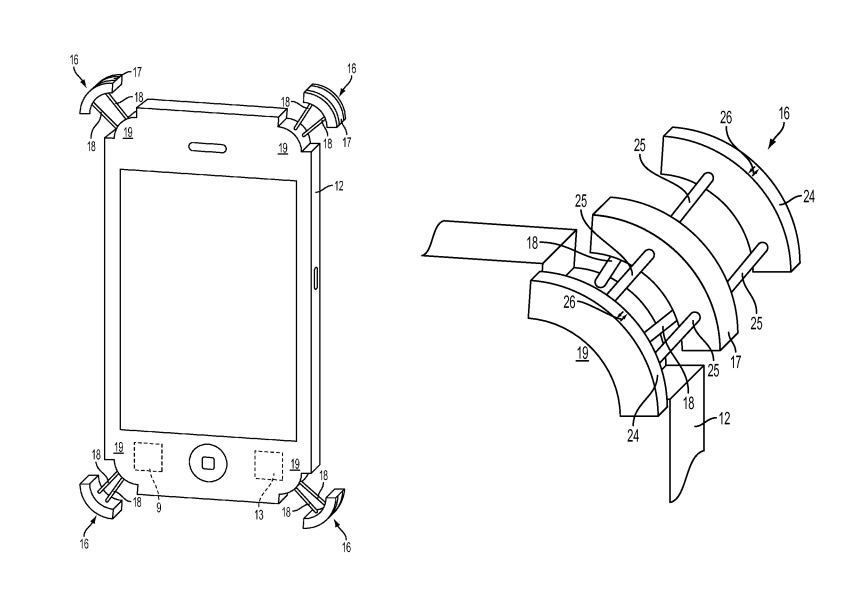 Apple also makes considerations within the patent to replace the shock absorbers once they have been deployed or have degraded over time, which would presumably keep them effective throughout the life of the device (as per AppleInsider).
This would be less necessary in protecting the device against water damage, as the protective bumpers don't need to extend to add additional buoyancy to the device – though there is no word on whether that happening would impact water resistance. If it did, we would have to wonder what would happen if you dropped your smartphone from a height into water. Would it know that it shouldn't extend them to improve resistance?
That said, it seems unlikely that Apple would end up using a patent like this to make its devices float in their own right. It would be more likely that it would make an external case with similar design features.
Discuss on our Facebook page, HERE.
KitGuru Says: Chances are it simply filed it to make sure no one else made a phone that did something similar. Apple loves a good patent lawsuit.
Thumb source: Lars Ploughman/Flickr