In conclusion, the Dream Machines RG2070S-17EU31 performed well, it held its own during our testing and in real world scenarios it did great. If you want to game but also edit videos in Premiere Pro or edit photos, this will get the job done. The understated design is welcomed here, no aggressive styling and we can appreciate that here at KitGuru.
Sadly there were some downfalls, the vents next to our mouse hand got incredibly hot and after the 30 minute mark almost becomes unbearable. That's not the only thing getting hot within this machine though, seeing the Intel i7-10750H reaching almost 100 degrees is this systems greatest downfall. It is within the processor's 105 degree C rating but being almost at its limit certainly throttled our performance. Running Cinebench R20 once saw temps spike to 98 degrees and even after 10 runs it only dropped down to 94 due to the massive 700Mhz clock sleep drop.
During extended game play this hot laptop managed to keep up without dropping much FPS, with respectable scores across the board of games we tested, which is thanks to the full RTX 2070S found inside. Gaming is where this laptop excels, the 240Hz FHD screen looks amazing and gaming is certainly immersive, if you can get over the heat issues.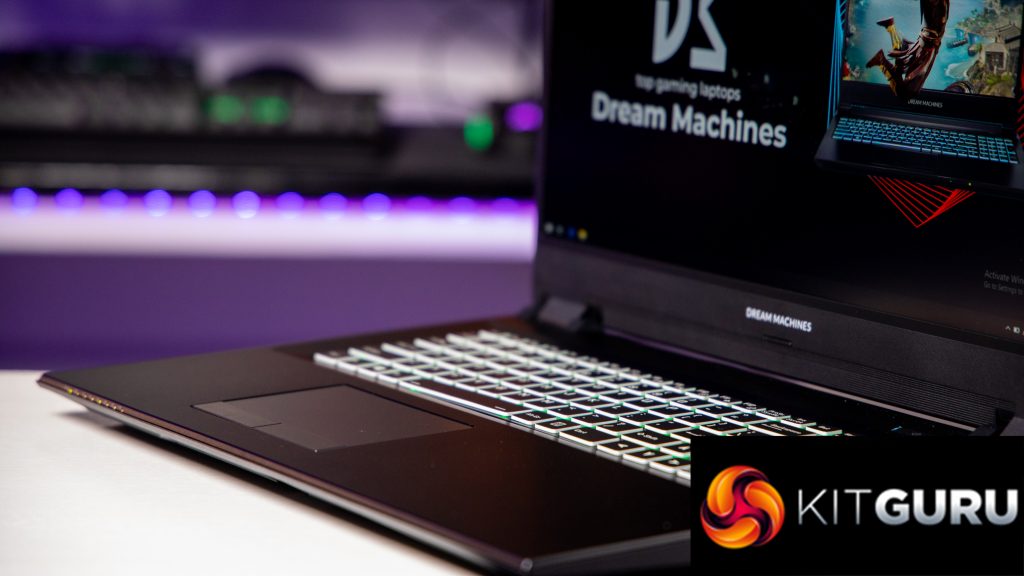 Everything else about the keyboard feels great and the understated look makes it clean and stylish. It may not be perfect, but it's hard to argue with the performance on offer here if you look at this machine as a gaming workhorse only.
If heat wasn't such a huge factor then we'd absolutely love what Dream Machines are offering here but that huge drop in clock speed over time makes this laptop fall short of our highest award.
You can purchase the Dream Machines RG2070S-17EU31, for €2049.99, HERE!
Pros:
Understated, subtle design.
240Hz wide viewing angle 17.3" FHD screen is excellent.
Full RTX 2070 Super 8GB breezes through games.
Excellent component pairing.
Keyboard is great to type and game on.
Number pad and arrow keys.
Adjustable RGB.
Dream Machines Control Center 3.0 software is good.
Easily removable battery.
Lots of intake vents and exhausts.
Cons:
Screen and keyboard flex.
CPU gets close to 100 degrees Celsius.
Side exhaust fans make your mouse hand uncomfortable.
KitGuru says: Dream Machines have created a good contender as a higher-end desktop replacement laptop; it may have a silly name but the test results speak for themselves. It's a shame the CPU temperature let it down but we still think this is suitable for gaming.
Be sure to check out our sponsors store EKWB here