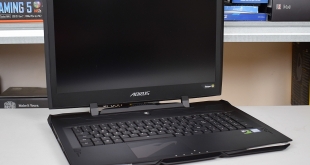 Back in October KitGuru got a preview of the Aorus X9, but sadly we were never able to bring our readers a full review of the laptop. Today, however, we are looking at the new Aorus X9 DT, complete with an overclockable, six-core i9-8950HK processor, GTX 1080 graphics and 144Hz IPS display. The specs are delicious.

Priced at £3799 on Overclockers UK it's safe to say the Aorus X9 DT isn't cheap. Gaming laptops – particularly high-end ones – have always come with hefty premiums over similarly specced desktops, though, and the Aorus X9 DT is one of the most powerful laptops we have ever seen. If you want to drop some serious cash on a top of the line gaming machine, is the X9 DT the way to go?
Watch the video via Vimeo or over on YouTube at 2160p HERE
Note: if the above gallery is not displaying properly, you may need to disable Ad Block as it is known to interfere with out display code.
World's Fastest 8th Gen. Intel® Core™i9-8950HK Overclockable Processor (2.9~4.8Ghz)
NVIDIA® GeForce® GTX 1080 GDDR5X 8GB
Massive and expandable storage: 1TB PCIe M.2 SSD + 1TB HDD 7200rpm
World's Thinnest Chassis with True Laptop Mechanical Switches
World's First 17.3" Laptop With Quad Fans
17.3″ FHD 1920×1080 144Hz IPS Anti-Glare Display
NVIDIA® G-SYNC™: Tear-free, Super Smooth Display
Exotic Design with Maximum Aluminum Coverage
X-Rite™ Pantone® Certified Display
Exotic Design with Maximum Aluminum Coverage
Tri-Storage : Up to 2X PCI-E Gen 3 NVMe SSDs and 1X 2TB HDD (installed: 1TB PCIe M.2 SSD + 1TB HDD 7200rpm)
DDR4 2666MHz: 2 x 16GB installed ( expandable Up to 64GB)
Quad Ports: Thunderbolt 3, USB3.1 Type C, MiniDisplayPort 1.3
ESS Sabre Hi-Fi Audio DAC
Quad Audio: 2X speakers 2X Woofers
Unique central Multifunctional RGB HUD Lightbar and Chassis RGB Fusion Lighting
AORUS RGB Fusion: 16.7 million Per-Key RGB Backlighting
Multi External Display Support: 3 Surround Display
Versatile Fan Control | 15 Stage Deep Fan Control
Xsplit + TriDef: Stream Like a Pro
Killer DoubleShot Pro: Optimized Gaming Network
Dolby Atmos® Audio
AORUS Exclusive: International 2 Year Warranty
Aside from the monstrous gaming performance – which we will get to later – the X9 DT has both an excellent trackpad and keyboard which makes using it for work, as well as play, an equally rewarding experience.
The trackpad could certainly be bigger – if the Huawei Matebook X Pro can fit a trackpad as big as it has, surely the X9 DT can squeeze in something a little bigger – but, despite that, it performs really well. Tracking is smooth and responsive, while the integrated buttons have distinct and snappy clicks. I also had no issues using multi-finger gestures.
Aorus has also implemented RGB lighting into its keyboard, but the most important thing here is the fact that the keyboard is mechanical. That means you get keys with deep (2.5mm) travel, plus a lovely tactile bump which I personally love for gaming and typing. Considering the (relatively) slender nature of the X9 DT as well, the excellent keyboard helps the laptop excel if you need to get some work done on the move.
Elsewhere, eyebrows may have been raised by the fact that the 17.3-in IPS display is 'only' 1920×1080 – or Full HD – despite the fact that the X9 DT sports Nvidia's GTX 1080. I actually think this was a very smart decision, as by opting for the GTX 1080, Aorus has allowed the user to truly get the most out of the 144Hz panel. We know a GTX 1060 can run the latest games at 1080p/60FPS – but to really push the frame rate up, a GTX 1080 is necessary.
It's also worth noting the fact that the X9 DT is quite easy to upgrade. Aorus has left two spare SODIMM slots, which can each take 16GB sticks of memory, while the is a spare M.2 slot as well. That M.2 slot only supports SATA SSDs, so a PCIe NVMe drive won't work, but it still represents an easy way to add extra Solid State storage to the laptop.
Performance
To test the X9 DT, we ran all of our benchmarks in three different modes. The first was with the laptop left at stock clocks, then we also tested with both the CPU and GPU overclocked to the limit via Aorus' Command & Control software. Lastly, we tested with 'Quiet Mode' enabled – something which actually downclocks both the CPU and GPU quite significantly.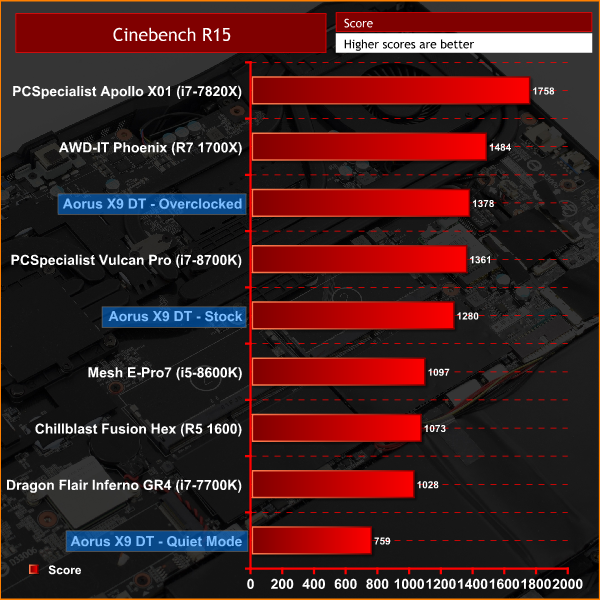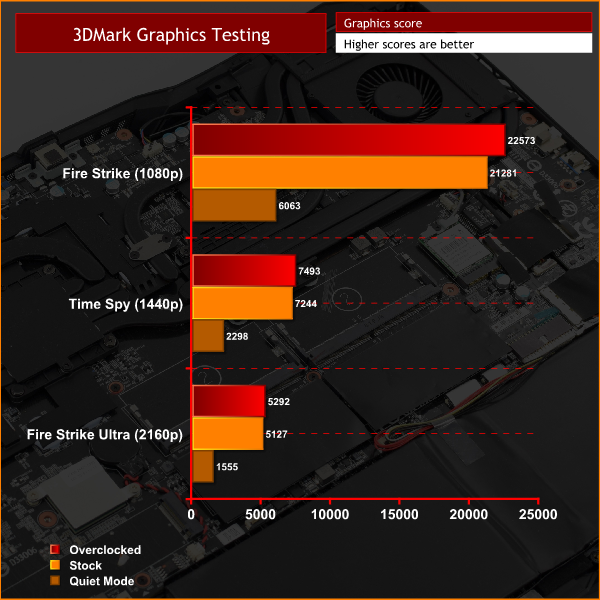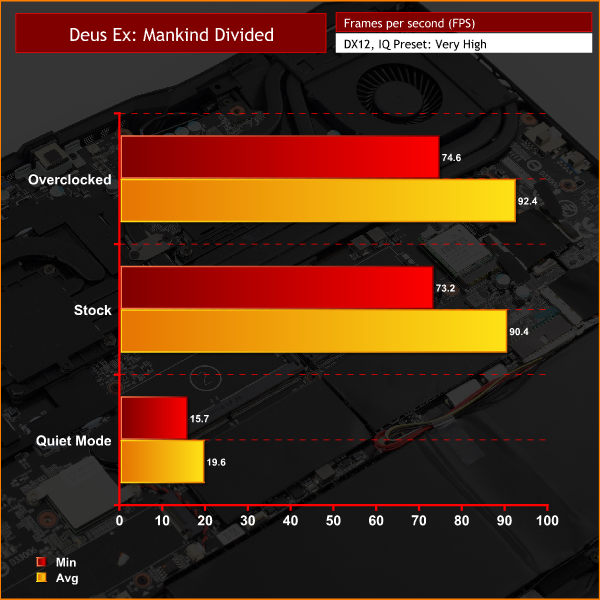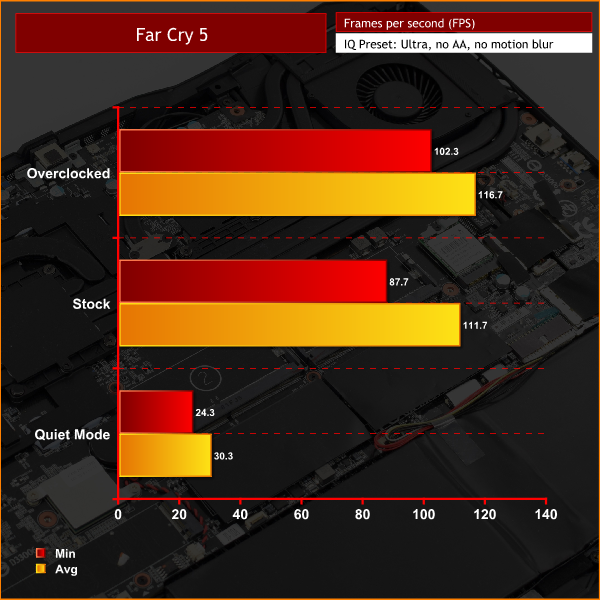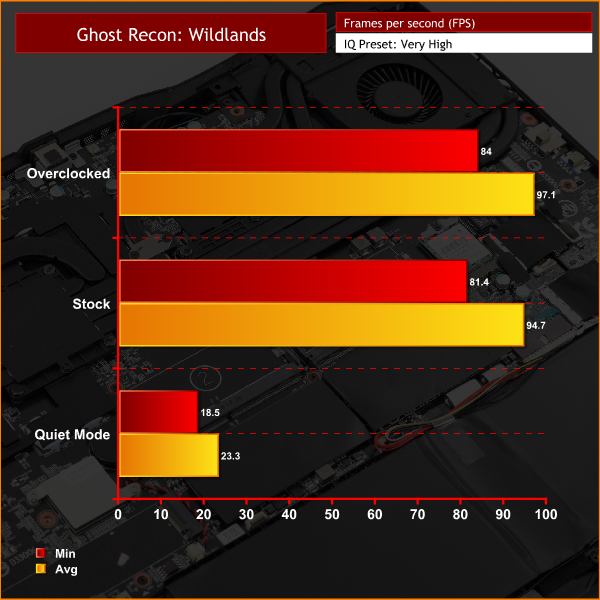 Performance is clearly very good – even at stock clocks. Overclocking does bring some performance gains, but the improvements are marginal. I also encountered some stability issues with both the CPU and GPU cranked up to the max, so I would suggest to anyone who buys this laptop that they dial the settings back a notch.
Thermal dynamics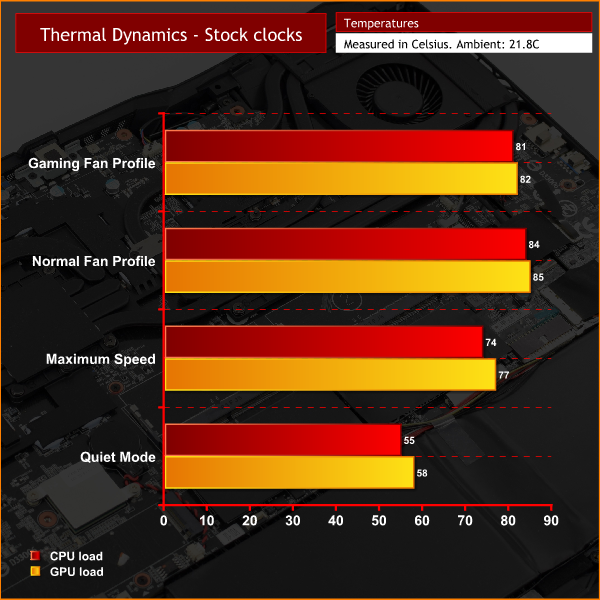 With the X9 DT at stock clocks, we tested four different fan profiles, as you can see above. For a laptop of this calibre, the results are just fine and we encountered no thermal throttling. As a reminder – if you are surprised by the 'Quiet Mode' results, that mode actually downclocks the CPU to just 2.6GHz, so the peak CPU temperature of 55C makes sense.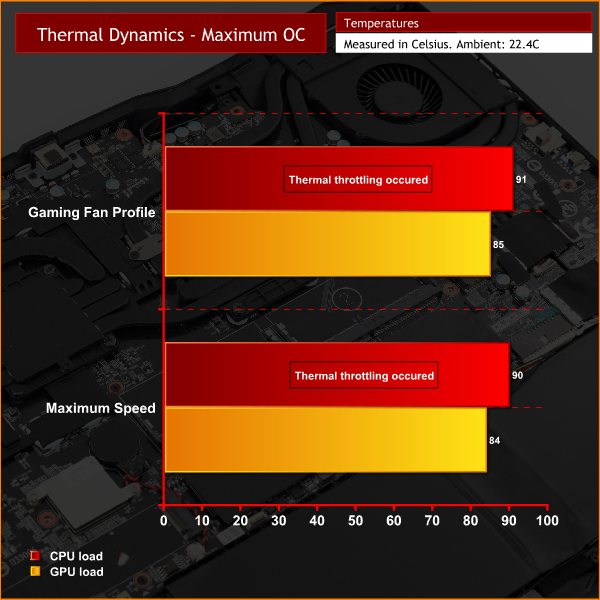 Once we overclocked the system to the limit, the cooling solution began to creak slightly and we saw some thermal throttling occur when stress testing the system in AIDA64.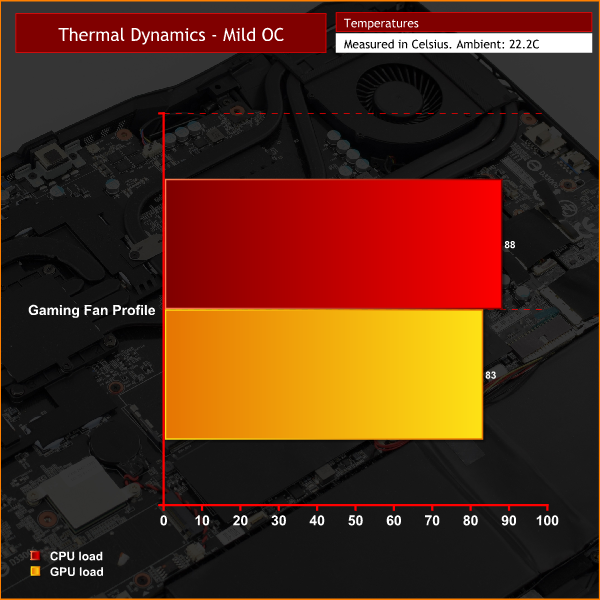 Dialling back the overclock settings by one stage in Command & Control proved enough to prevent thermal throttling, with the CPU peaking at 88C.
Power consumption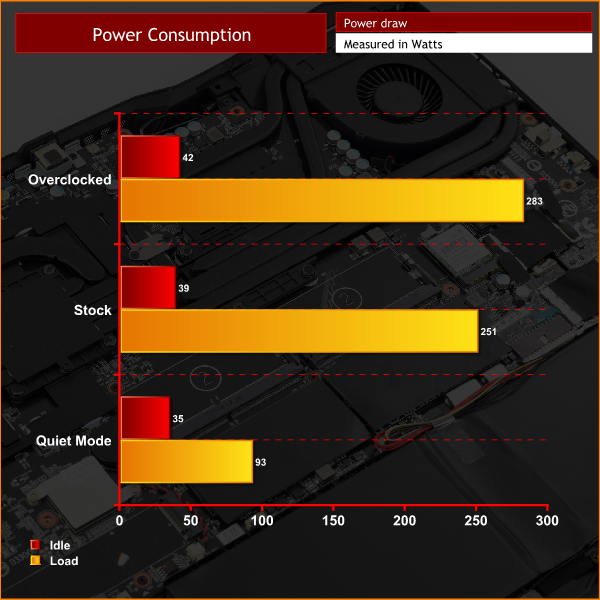 The X9 DT is quite impressive in that it ships with a single 330W power brick, and only draws up to 283W under full load, while overclocked. Considering the MSI GT75 Titan comes with two 230W power bricks, despite it sharing the same core spec as the X9 DT, Aorus seems to have done very well to bring the power consumption levels under control without negatively affecting performance.
Battery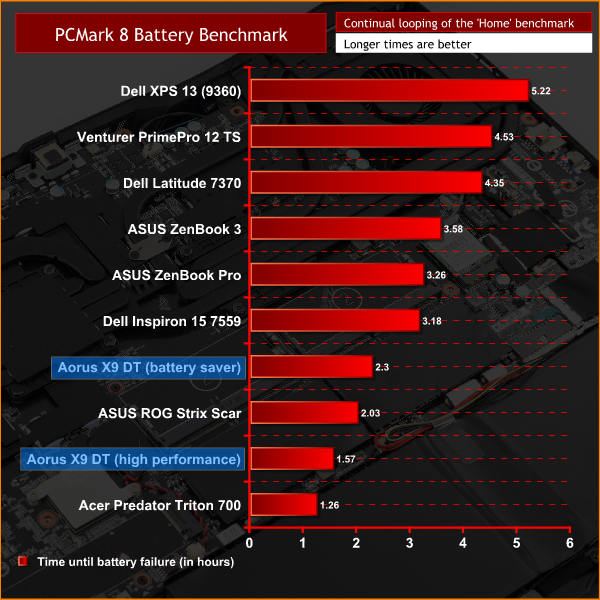 For battery testing, we first tested with the 'high performance' power mode enabled, and that gave a total time of 1hr57 in PCMark 8. Enabling 'battery saver' upped that result to 2hr30. Obviously, neither result is going to rival the likes of the Dell XPS, but for a gaming laptop of this spec, the results are pretty good.
You'll still need to carry the power brick around if you will be doing anything remotely intensive, but for general office tasks the X9 DT should last a good few hours away from the mains.
Closing Thoughts
I'm quite impressed with the Aorus X9 DT. It's well-built thanks to its aluminium body, and for a laptop with a Core i9 and GTX 1080, it's actually quite portable. It's by no means an Ultrabook, but considering the full-fat GTX 1080 chip used inside, I do think it's impressively slim.
The keyboard is almost certainly the best laptop board I've ever used, while the display and trackpad are also excellent.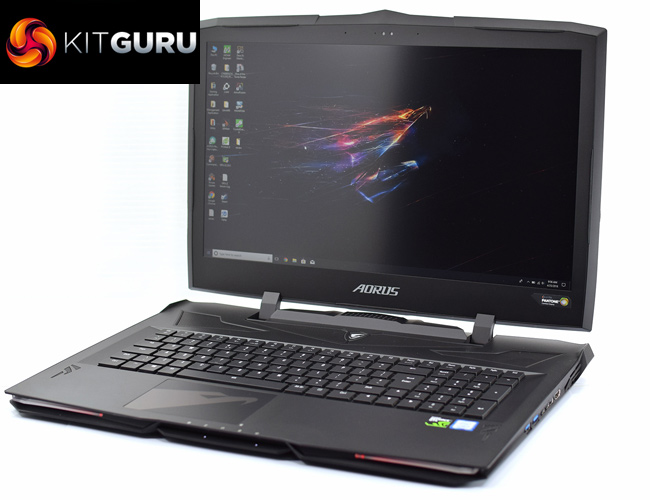 Gaming performance is also stellar, as we'd expect from the i9-8950HK and GTX 1080. You'll easily be able to run the latest games, at very high image settings, while still getting the most out of the 144Hz display.
The downsides to the X9 DT are really just the cooling and fan noise, as the cooling solution could not quite manage with both the CPU and GPU overclocked to the limit.
For any gamers with deep pockets, though, the Aorus X9 DT is a very appealing proposition. It would definitely suit those looking for a desktop replacement, while still offering impressive portability and all-round quality.

You can buy the laptop for £3799.99 from Overclockers UK HERE.
Pros
Attractive aluminium chassis.
Excellent, mechanical keyboard.
Smooth and responsive trackpad.
Very good gaming performance.
Display is IPS, 144Hz and supports G-Sync.
1TB PCIe SSD.
Easy to add in extra memory and storage.
Cons
CPU thermal throttled when overclocked to the limit.
Gets loud under load.
KitGuru says: The X9 DT is an excellent laptop. It's a shame the cooling solution can't quite handle overclocking both CPU and GPU to the limit, but the X9 DT shows its class in almost every other area.
Be sure to check out our sponsors store EKWB here