MSI's GE76 Raider is a fast gaming laptop, no doubt about it. It harnesses the power of Nvidia's RTX 3080 16GB Laptop GPU, with a 165W power budget, to deliver high frame rates in the latest AAA titles like Cyberpunk 2077. If you're playing modern but slightly less demanding titles, such as Hitman 3 or Resident Evil Village, frame rates will be even higher, as we averaged over 170FPS in both of those games.
The Intel i9-11980HK is also a great option for gaming, but unfortunately the GE76 Raider isn't quite able to tame it. We are of course talking about the thermal performance of the chip, with regular spikes up to 96C observed while gaming. MSI's Cooler Boost fan-speed feature is on hand to bring that down below 90C, but then you are having to decide between your CPU running at almost 100C, or the laptop sounding like a jet about to take off – and that's certainly not a choice you want to be forced into when paying over £4000 for a laptop.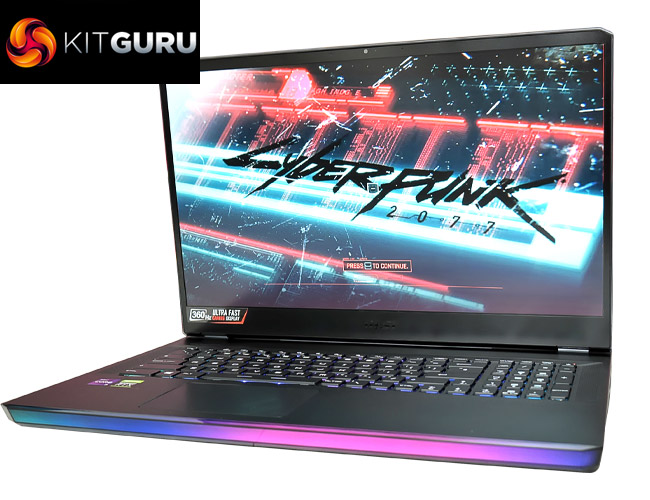 There are also some component choices that just leave me pondering who exactly this laptop is aimed at. Gamers don't need 64GB of memory for instance, instead that would say to me there's at least a suggestion of the GE76 Raider being used for some work. But if that really is the case and you want a laptop for getting work done,  AMD's Ryzen 5900HX is clearly faster than the i9-11980HK for CPU workloads, so that doesn't quite add up for me.
On the other hand, I also take the view that the only people who really need a 360Hz display are those ultra-serious, competitive gamers – who I don't think would be using a laptop to begin with if that was the case. I would have preferred to see the GE76 Raider equipped with a 1440p panel at 165Hz, rather than the 360Hz 1080p display used here.
Factor in the niggles about the trackpad being on the small side and the lack of a mechanical keyboard, I think there is room for improvement with the GE76 Raider. Yes, as we have made clear, it is fast and it is great for gaming, but when you're spending £4200 on a gaming laptop, I don't think it's unreasonable to expect something pretty close to perfect, and that's not what we are getting here with the GE76 Raider. It's a solid foundation, but MSI needs to make a few changes before we could justify giving this a firmer recommendation.

The GE76 Raider was previously listed at £4199.95 from Overclockers UK HERE, though it is now out of stock and we are told it may take until late August for more to come in, but that isn't a guarantee. The GE76 Raider Tiamat Edition is in stock, but at a £200 premium, HERE.
Discuss on our Facebook page HERE.
Pros
RTX 3080 16GB Laptop is very fast with the 165W power budget.
2TB PCIe 4.0 SSD, plus a spare PCIe 3.0 slot.
Smart styling.
Good selection of I/O, including Thunderbolt 4.
Decent FHD webcam.
Colour accurate display.
Cons
Ryzen 9 5900HX is faster than the i9-11980HK for CPU workloads.
CPU runs very hot.
Cooler Boost, which is necessary to keep temperatures below 90C, makes fan noise incredibly loud.
Would've liked to see a mechanical keyboard at this price.
64GB DDR4 is overkill for gaming.
A 1440p/165Hz display would make more sense to me than 1080p/360Hz.
KitGuru says: The MSI GE76 Raider is fast and will play any game you throw at it, but it makes a number of compromises elsewhere, which is a tough pill to swallow considering the asking price.
Be sure to check out our sponsors store EKWB here