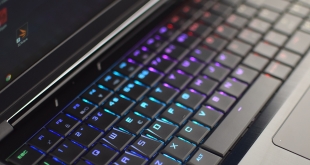 The PC Specialist Recoil II is the latest laptop to come through our labs sporting an Intel 8th Gen mobile processor. We have already seen the likes of the Gigabyte Aero 15X, the MSI GS65 and the Cyberpower Tracer III – so we have plenty of opportunity to make comparisons. Priced at just £1149, however, the Recoil II is the cheapest laptop we have seen to-date that sports the hexa-core i7-8750H. Is it money well spent, or have too many corners been cut?
Watch via Vimeo (below) or over on YouTube at 2160p HERE
Note: if the above images are not displaying properly, you may need to disable your ad block software as they are known to interfere with our display code.
Specification:
Chassis & Display: 15.6″ Matte Full HD 72 % NTSC LED Widescreen (1920×1080)
Processor (CPU): Intel® Core™ i7 Six Core Processor 8750H (2.2GHz, 4.1GHz Turbo)
Memory (RAM): 16GB Corsair 2133MHz SODIMM DDR4 (2 x 8GB)
Graphics Card: NVIDIA® GeForce® GTX 1060 – 6.0GB GDDR5 Video RAM – DirectX® 12.1
1st Hard Disk: 1TB SEAGATE 7mm SERIAL ATA III 2.5″ HARD DRIVE WITH 128MB CACHE (5,400rpm)
1st M.2 SSD Drive: 256GB SAMSUNG PM961 M.2, PCIe NVMe (up to 2800MB/R, 1100MB/W)
Memory Card Reader: Integrated 2 in 1 Memory Card Reader (SD, MMC)
AC Adaptor: 1 x 150W AC Adaptor
Battery: Recoil II Series 46WH Lithium Ion Battery
Power Cable: 1 x 1 Metre Cloverleaf UK Power Cable
Thermal Paste: STANDARD THERMAL PASTE FOR SUFFICIENT COOLING
Sound Card: 2 Channel High Def. Audio + SoundBlaster™ Cinema 3
Bluetooth & Wireless: GIGABIT LAN & WIRELESS INTEL® AC-9560 M.2 (1.73Gbps, 802.11AC) +BT 5.0
USB Options: 1 x USB 3.1 PORT (Type C) + 2 x USB 3.1 PORTS + 1 x USB 2.0 PORT
Keyboard Language: PER-KEY RGB BACKLIT UK MECHANICAL KEYBOARD
Operating System: Genuine Windows 10 Home 64 Bit – inc. Single Licence [KUK-00001]
Operating System Language: United Kingdom – English Language
Windows Recovery Media: Windows 10 Multi-Language Recovery Image – Unlimited Downloads from Online Account
Office Software: FREE 30 Day Trial of Microsoft® Office® 365 Anti-Virus BullGuard™ Internet Security – Free 90 Day License inc. Gamer Mode Browser Microsoft® Edge (Windows 10 Only)
Notebook Mouse: INTEGRATED 2 BUTTON TOUCHPAD MOUSE
Webcam: INTEGRATED 1MP HD WEBCAM
Warranty: 3 Year Standard Warranty (1 Month Collect & Return, 1 Year Parts, 3 Year Labour)
On a hardware level, the PC Specialist Recoil II is almost identical to the Cyberpower Tracer III we reviewed in June. That means it has the latest i7-8750H processor (which is not overclockable) as well as a GTX 1060 6GB graphics chip – which, it is worth saying, is not the slower Max-Q version, but the 'full-fat' GTX 1060. Alongside this we have 16GB of DDR4 memory rated at 2133MHz, although the Tracer III machine did use slightly faster 2400MHz memory.
Unlike the Aero 15X or GS65 Stealth, however, the Recoil II 'only' has a 1080p 60Hz display – the Gigabyte and MSI machines both sport 144Hz refresh-rate panels. While this does mean your gaming experience won't be as silky with the Recoil II, you do save several hundred pounds – this machine is priced at £1149, whereas the MSI machine costs £1900.
Still, for that money you get a very well-built laptop. The Recoil II has a lovely brushed aluminium lid, and the inside of the laptop is also made from aluminium. While this makes the machine feel very sturdy, it is still impressively light at just over 2.1KG. Considering it is also 19.9mm thick (excluding the rubber feet), the end result is a sleek and very portable laptop.
It is also worth noting the impressively thin bezels that surround the 15.6in display. My measurements put the side bezels at less than 5mm thick, while the bezel on the top edge (which also houses a 1MP webcam) is only slightly thicker at around 9mm. Looking back to the Tracer III, this PC Specialist machine does make it look quite dated in comparison.
Thus, while the internal components of the Recoil II and Tracer III are essentially the same, you are getting a thinner, lighter and more refined packaged with the PC Specialist laptop. Before we get too carried away, however, we will have to see just how the laptop performs in the real world.
Be sure to check out our sponsors store EKWB here