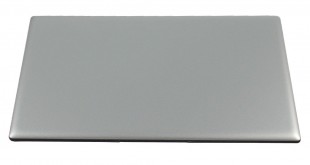 Ultrabooks have become increasingly popular over the last few years thanks to their portable yet powerful nature. However, prices remain high – in many cases you can be paying over £1000 for a new Ultrabook. PCSpecialist's Lafité aims to change that. Priced at just £499, Lafité ships with the latest Broadwell-U CPU, a 1080p display panel and SSD storage. Is this the Ultrabook you should be getting?
Watch via our VIMEO Channel (below) or over on YOUTUBE HERE
Specifications
Chassis & Display: Lafité Silver Aluminium Chassis: 13.3″ Matte Full HD IPS LED (1920 x 1080)
Processor (CPU): Intel® Core™ i3 Dual Core Processor i3-5010U (2.10GHz)
Memory (RAM): 8GB KINGSTON SODIMM DDR3 1600MHz (1 x 8GB)
Graphics Card: INTEL® HD GRAPHICS 5500 (Only with Intel® Core™ CPUs)
Memory – Hard Disk: 240GB KINGSTON V300 SSD, SATA 6 Gb (450MB/R, 450MB/W)
Dimensions (W x D x H): 325mm x 219mm x 18mm
Weight: 1.42Kg
Card Reader: Integrated 2 in 1 Memory Card Reader (SD, MMC)
Sound Card: Realtek 2 Channel High Definition Audio + MIC/Headphone Jack
Bluetooth & Wireless: GIGABIT LAN & WIRELESS INTEL® AC-3160 M.2 (433Mbps, 802.11AC) + Bluetooth
USB Options: 1 x USB 3.0 PORT + 1 x USB 2.0 PORT
Battery: Lafité Series 4 Cell Lithium Ion Battery (6,300mAh)
Power Lead & Adaptor: 1 x UK Power Lead & 40W AC Adaptor
Keyboard Language: LAFITÉ SERIES INTEGRATED UK KEYBOARD
Operating System: Genuine Windows 8.1 64 Bit – inc DVD & Licence DPK
DVD Recovery Media: Windows 8.1 (64-bit) DVD with paper sleeve
Office Software: FREE 30 Day Trial of Microsoft® Office® 365
Anti-Virus: BULLGUARD INTERNET SECURITY – FREE 90 DAY TRIAL
Notebook Mouse: INTEGRATED 2 BUTTON TOUCHPAD MOUSE
Webcam: INTEGRATED 720P 30 FPS HD WEBCAM
Warranty: 3 Year Standard Warranty (1 Month Collect & Return, 1 Year Parts, 3 Year Labour)
Insurance: 1 Month Free Laptop Insurance inc. Accidental Damage & Theft
Being an Intel certified Ultrabook, PCSpecialist have had to meet a few criteria to get that certification. Perhaps the most obvious of these criteria is the thin and light chassis, which is very portable and attractive. Lafité weighs just 1.42KG, and is a mere 18mm thick. Both figures are hugely impressive, and mean you will have absolutely no problems carrying Lafité around with you. It is so light it is barely noticeable when carried in a rucksack, for instance.
The silver aluminium design also adds a touch of class, though there are inevitable comparisons with the MacBook Air – especially considering Lafité has the same tapered chassis design and a black island keyboard. Still, such comparisons are no bad thing as MacBooks are well constructed laptops in their own right. Given that the outer chassis is also completely devoid of any logos or branding, Lafité looks simple and clean while the aluminium feels durable and classy.
In terms of connectivity ports, what we have is a fairly standard affair for a thin and light laptop. The left edge features a charging port, 1x USB 2.0, a combo audio jack and a reset pinhole. The right edge has an SD card reader, 1x USB 3.0, a HDMI port and a Ethernet port. So there are not masses of options, but anything more is getting unreasonable for a laptop which is just 18mm thick.
Once the lid has been opened, the black Island keyboard greets you, which contrasts nicely against the silver body of the laptop. The keyboard itself is in a standard UK configuration, though it is important to note the power button is part of the keyboard rather than a separate button positioned elsewhere. There is next to no key travel, but this has to be expected from such a thin laptop. It takes some getting used to but is still usable.
My main area of contention is the trackpad, as it makes a noticeable 'sweeping' sound as you use it. It is not awful, but it is not the smoothest trackpad I have ever used. Responsiveness improved when I adjusted the pointer speed in Windows, but with the default settings it is somewhat sticky.
Inside, we have a Core i3-5010U CPU – the U denoting Ultra Low Power, as the CPU has 15W TDP. This is paired with 8GB of single-channel RAM, while storage is provided by a 240GB Kingston V300 SSD. This makes for a very responsive and speedy system, and a competitively priced one at that.
You will have no problems at all with general tasks like media playback or web browsing, with the PCMark Vantage score below is a real testament to how good a general computer Lafité is. Some fairly light Photoshop work is also comfortable, but that is only really an added bonus as Lafité is not meant for any serious imaging work.
It should go without saying that Lafité is not a gaming machine. It crawled through 3DMark Fire Strike as slowly as you would expect, so just to be extra clear – you will not be gaming on this Ultrabook. The general system responsiveness, though, is exceptional, which makes Lafité a great option for office tasks, particularly as it is so portable.
Benchmarks
As for the benchmarks, I have already mentioned that Fire Strike was far too demanding for the integrated Intel HD 5500 graphics as you can clearly see by the scores. Cloud Gate was able to run more smoothly but Lafité is in no way, shape or form going to be handling the latest games. The Handbrake encoding time of less than 8 minutes is noteworthy in that it is the fastest I have seen so far.
Battery life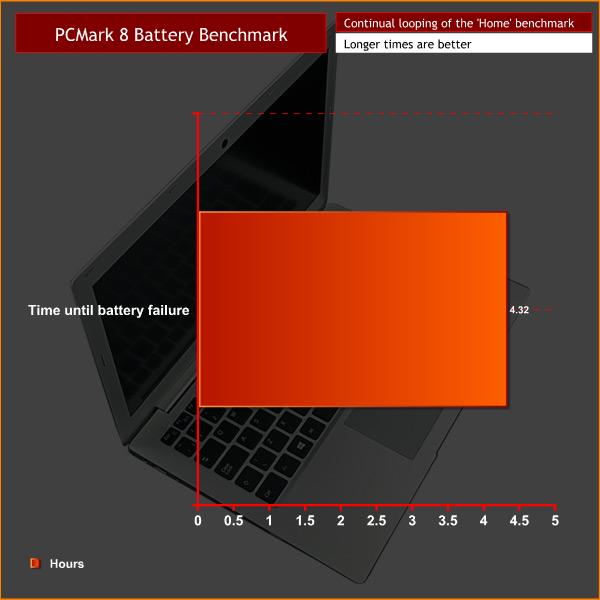 In the PCMark 8 battery benchmark test, Lafité lasted just over four and half hours. This is a very strong score, and you can be assured of all day battery life when using Lafité for everyday tasks as office jobs are not battery-intensive at all.
Closing thoughts
All in all, PCSpecialist's Lafité is a very capable Ultrabook at a very competitive price.
For £499, you get a thin and light aluminium chassis, which houses the latest Broadwell-U i3 processor, 8GB RAM and a 240GB SSD for storage. Of course, as Lafité is from PCSpecialist, it can be configured with different processors and storage options to name but a few. Our specific review model costs £499.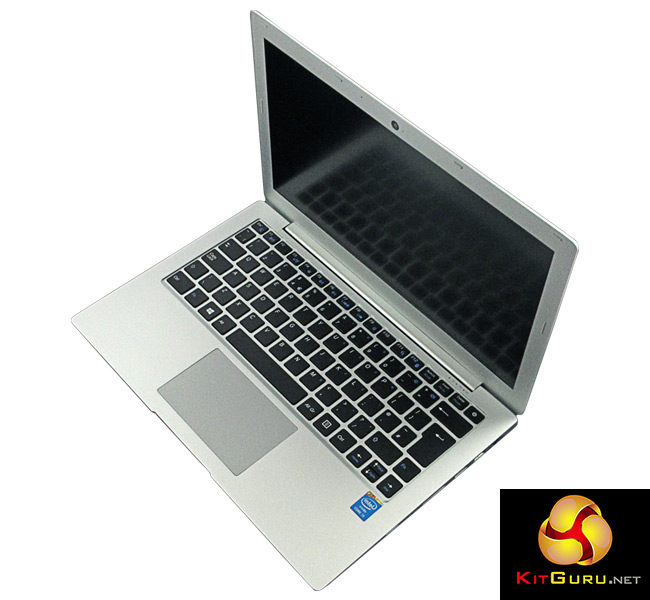 Lafité is very attractive and slim – weighing just 1.42kg and measuring just 18mm thick. Despite that, it is still very responsive and fast thanks to the Kingston SSD and i3-5010U. These components are a great combination, which makes Lafité a perfect solution for almost anybody looking for a laptop for general computing tasks.
You can buy the pre-configured model I tested from PCSpecialist for £499 inc VAT, or you can configure your own laptop here.
Discuss on our Facebook page, over HERE.
Pros
Ultra-thin and ultra-light.
Attractive aluminium chassis.
Very affordable Ultrabook solution.
Sharp 1080p display.
i3, SSD and 8GB RAM make for a nippy system.
Cons
Trackpad is a bit noisy and can feel sticky.
Limited storage space.
KitGuru says: PCSpecialist have made a great Ultrabook with Lafité. It is super-portable and can handle everyday computing with consummate ease.