Yesterday saw the Made By Google 2019 event take place in New York City, where the company launched all kinds of new devices and gadgets. If you didn't catch the live stream of the event, we have a round-up of what went down for readers to check out what they missed.
One of the main features of the event was the announcement that Google's cloud-based game streaming service Stadia will officially launch on 19th November. Google suggest Stadia will change the way we play games, instead of using traditional hardware for gaming, Stadia will render games in the cloud, which will then be then pushed to a Chromecast or similar device for gamers to play on the fly. The subscription will cost around £10 per month and will include approximately 30 games on launch, with Red Dead Redemption 2 headlining.
Another big but somewhat unsurprising announcement is the new Pixel 4 smartphone series. The Pixel 4 has been widely leaked over the past few months, however, it's now official that the Pixel 4 will feature a 5.7-inch display, 2800mAh battery and run Snapdragon 855 chipset with 6GB RAM. Alongside that, will be the Pixel 4 XL which comes in at 6.3-inches with a 3700mAh battery with the same Snapdragon chipset and RAM capacity as the Pixel 4.
Both new Pixel 4 smartphones feature "Project Soli" radar chips which allow users to control certain aspects of the phone by waving a hand at the device rather than actually touching it. According to Techcrunch, the main focus is the cameras in the Pixel 4, where Google is using the idea of machine-learning and AI-centric software to improve photos with features such as HDR preview, AI-driven learning white balance and an improved Night Sight. Both phones have two rear cameras, 12.2-megapixel for the main camera and a 16-megapixel telephoto lens with a Single 8-megapixel front-facing camera.
Google also announced the arrival of a new Chrome OS laptop at the event. The Pixelbook Go will feature a 13.3-inch HD or 4K display, up to 16GB RAM and up to 256GB of storage. Other features of the Pixelbook Go will include are a range of Intel Core CPUs, including m3, i5 and i7 depending on model, two built-in USB Type-C ports and a choice of "not pink" and black designs. The Pixelbook Go will start from $649 for the entry-level version.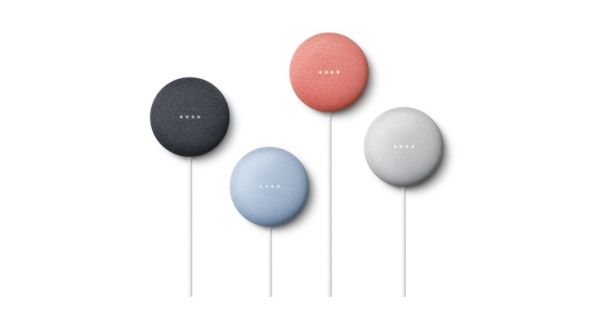 Along with the new Pixel devices, Google announced a range of new Nest smart gadgets, including the Nest Mini which is a follow up to the popular Google Home Mini smart speaker. The new device is wall mountable without adaptors, it has a new machine learning chip, the speakers are claimed to offer double the bass over previous iterations and includes more microphones for improved performance in louder environments.
Additionally, Google announced the Nest Wi-Fi which is a mesh Wi-Fi router featuring Google Home speakers, available on 4th November. Furthermore, there is a new Nest Aware subscription which is a cloud-based storage for Nest camera recordings. The subscription will cost $6 or $12 per month depending on how much storage you require. Nest Aware also allows your Nest hubs and Nest Mini devices to be put into a security-centric listening mode which sends you notifications accordingly.
Finally, Google announced the Pixel Buds, a new set of wireless earbud speakers which are Google's answer to the Airpods. The Pixel Buds should provide five hours of battery life per charge with a charging case offering an additional 24 hours' worth of power. Integrated microphones will adapt the sounds coming from the Pixel Buds depending on environmental noise, to help cancel the background out background sounds. The Pixel Buds are expected to arrive in Spring 2020 and will cost $179.
KitGuru says: Did any of you guys watch the official live stream of the Made By Google event and see anything that you might be purchasing? I love the idea of Google Stadia but I'm not sure how UK broadband will cope, especially in rural areas.