The Asus Republic Of Gamers G551J laptop delivers the styling cues we have come to expect so you get a black and red colour scheme with red accents on the WASD keys and red back lights for the keyboard. If you take a squint inside the cooling exhaust vent you'll find it is red inside there too.
Perhaps more importantly when you look beneath the surface you'll find this particular G551J (there are many variants) has a solid list of features that starts with a Core i7 processor that is allied to GTX 960M graphics.
On top of that you get 12GB of DDR3L RAM, a Full HD 15.6-inch screen and a small 128GB SSD that is backed up by 1TB of HDD storage.
Asus ROG G551J Gaming Laptop Specifications
Processor Intel Core i7 4720HQ Processor (Turbos to 3.6GHz)
Operating System Windows 8.1
Chipset Intel HM86 Express Chipset
Memory 12GB DDR3L 1600MHz SDRAM, 2 x DIMM socket for expansion up to 16 GB SDRAM
Display 15.6″ IPS FHD (1920×1080)
Asus Splendid Video Intelligent Technology, Zero Bright Dot, anti-glare
Graphics Integrated Intel HD Graphics 4600
NVIDIA GeForce GTX 960M 2GB DDR5
Storage 128GB SSD with 1TB HGTS TravelStar HDD
Optical Drive Blu-ray DVD Combo
Card Reader 3 -in-1 card reader (SD/ SDXC/ MS/ MS Pro/MS Pro Duo/ MMC)
Camera HD Web Camera
Networking BT 4.0 support (on WLAN+ BT 4.0 combo card)
1 x Microphone-in jack
1 x Headphone-out jack (Audio-in Combo)
3 x USB 3.0 ports
1 x RJ45 LAN
1 x HDMI
1 x mini Display Port
Audio Built-in 2 Speakers and microphone
Bang & Olufsen ICEpower
SonicMaster Premium
MaxxAudio support
Battery 6 Cells 5200 mAh 56 Whrs
Power Adapter 19 V DC, 6.3 A, 120W
Dimensions 383 x 255 x 28 ~31.5 mm (WxDxH)
Weight 2.7 kg
Warranty: 2 Years
This is a 30mm thick chassis (actually 28mm-31.5mm depending on where you measure) so there is space for all the usual laptop bits and pieces such as a Blu-ray combo drive and an Ethernet port. In addition you get three USB 3.0 ports, HDMI, Mini DisplayPort and a headset jack so there is absolutely no cause for complaint.
This model is not a thin and light, such as the G501JW, but neither is it horrendously heavy as the weight comes in at 2.7kg.
It was an interesting experience to pull the G551J apart for the photos as the construction is quite novel. Once you've removed the optical drive, 2.5-inch HDD and battery then pulled a handful of screws, the keyboard lifts out of the chassis. The intriguing thing is that the keyboard comes away complete with the motherboard, graphics, RAM, SSD, Wi-Fi card and cooling hardware. On the face of it this laptop would be a doddle to configure at the factory before it is assembled and shipped.
If you feel the need to perform maintenance it shouldn't cause you too many problems but does feel as though you are going deep inside and essentially dismantling the laptop. It is curious to see the lightweight nature of the empty plastic casing once the innards have been removed. The only noticeable downside to the construction of the G551J is that the mouse buttons feel a bit clicky, which might be due to a lack of physical support for the mechanism.
Testing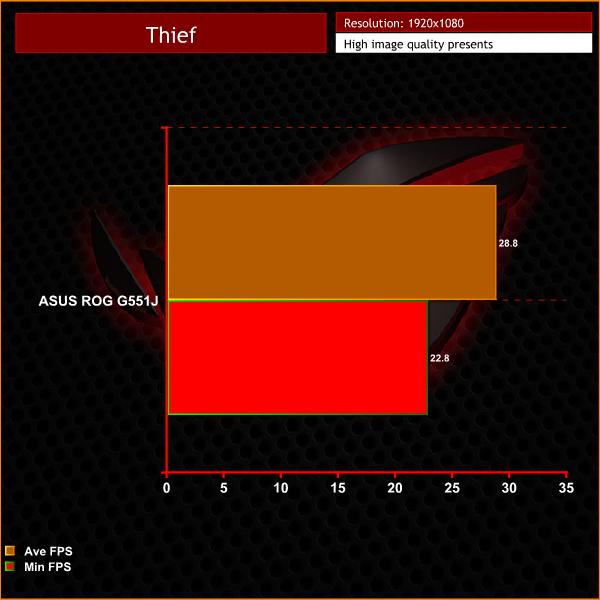 During our testing the G551J performed exactly as expected. The combination of Core i7, GTX 960M and Full HD screen are mainstream and well understood and we found that Thief played at High presets just below 30fps while Tomb Raider was close to 60fps. This is very much a gaming laptop, however it isn't an out-and-out powerhouse that can handle any graphics settings you care to use as that would require a GTX 970M or 980M. The chassis and cooling have clearly been designed to accommodate a GTX 960M without any fancy hardware, whilst keeping the price down to a sensible level..
Having said that, the G551J is available in different forms with SSD, HDD or combination of the two and our review sample came with a 128GB Kingston M.2 SSD to boost performance and a 1TB HDD to provide adequate storage. In an ideal world you simply pay more money for a huge SSD however that is an expensive luxury.
This laptop has more than enough grunt to handle daily office duties, as well as other trivial tasks such as YouTube and email.
Thermal Dynamics
The combination of a 4th Gen Core i7 and GTX 960M in a roomy 30mm chassis means that Asus has felt no need to employ an especially clever or sophisticated cooling set-up. There are two flattened copper heatpipes that are routed from the CPU, via the GPU, to a single cooler that exhausts to one side of the chassis. The other side is taken up by the Blu-ray combo drive so there is no option for dual coolers on the CPU and GPU.
Running a combination of Furmark and Cinebench cranks up the temperatures to the max and the silicon runs at 75-80 degrees inside the chassis, however the casing of the laptop is nice and cool at 30 degrees.
Acoustic Performance
At idle the G551J is effectively silent. When the thermal loads increase and the fan spins up you can certainly hear the increase in noise level but it is nothing to complain about and certainly not a problem.
Battery life
Battery life isn't great, delivering two and a half hours of continuous work in a loop of PC Mark 8. This equates to five hours of regular use in the real world.
The reason for this relatively short battery life is simply a matter of compromise. The battery is fairly small at 56Wh partly (we guess) to reduce costs but also to keep weight down. It would be all too easy to include a larger battery that took the weight of the laptop up to 3kg and that would be problematic.
Closing Thoughts
The Asus ROG G551J shows signs of compromise and balance at every turn. The 15.6-inch chassis and Full HD IPS panel set the tone for the laptop and the combination of Core i7 CPU and GTX 960M GPU do a fine job of powering it along. There are occasional signs the cost cutting may have gone slightly too far, such as the choice of 802.11n Wi-Fi rather than 802.11ac. No doubt this saves some cash but you have to wonder just how much difference it makes.

Overall the choices that have been made are sensible and the resulting laptop is a reasonable 30mm thick unit that weighs an acceptable 2.7kg and delivers plenty of gaming performance. Pricing is slightly on the steep side and would have felt more comfortable at £999, but the fact is that Asus charges a premium for ROG products and the market appears to be willing to pay a little extra. At the time of going to press, this model was £1,099.
Discuss on our Facebook page, over HERE.
Pros:
Full HD IPS panel looks good and doesn't have a silly shiny coating
Intel Core i7 delivers plenty of power
Nvidia GTX 960M graphics do a fine job for gamers
Kingston M.2 SSD handles Windows and applications
1TB HDD for extra storage
Smart Asus ROG red and black styling
The weight is reasonably low
Blu-ray combo drive
Cons:
Battery life is acceptable but marginal
Price is a little on the high side
Unnecessary levels of Asus bloatware
Mouse buttons feel a bit clicky
KitGuru says: Asus ROG G551J delivers decent levels of gaming performance without breaking the bank.