Alert KitGuru readers may well feel the Asus ROG G752VS looks familiar as it uses the same chassis as the G752VT that KitGuru reviewed at the beginning of 2016. While Asus G752VS looks outwardly identical to G752VT, it has received an extensive list of upgrades to its internal components. It's best not to get too bogged down in detail as there are different specifications and SKUs of G752VS, but the big news is that this new laptop sports GTX 1070 graphics with 8GB of GDDR5 memory.
Our sample came with a rather fine 17.3-inch 1920×1080 IPS panel with a 75Hz refresh rate and G-Sync technology. The version currently listed on the Asus website apparently has a 60Hz panel and we see in the reviewer's guide there are options of 4K resolution and 120Hz refresh. One thing is for sure, which is that Nvidia's Optimus technology doesn't work with G-Sync so you can forget about Intel graphics stepping in to save battery life; this laptop is Nvidia all the way.
Watch via our VIMEO Channel (Below) or over on YouTube at 1080p60 HERE.
Asus ROG G752VS-XB78K OC Edition Specifications:
Display: 17.3″ FHD IPS LED (1920×1080) with G-Sync
Processor Type: Intel Core i7-6820HK
Processor Cores: 4 (8 Threads)
Processor Clock Speed: 2.7GHz (3.6GHz Turbo Mode)
Hard Drive Supplied: 1x 1TB HGST Travelstar 7K1000
Solid State Drive: 512GB Toshiba XG3 NVMe M.2
Memory: 64GB DDR4-2400MHz
Graphics Chipset: NVIDIA GeForce GTX 1070
Graphics Memory: 8GB GDDR 5
Optical Drive: Blu-ray Combo
LAN: Realtek Gigabit
Wireless: Intel Dual Band Wireless-AC 8260
Bluetooth: v4.0
USB 3.0 Port(s): 4
Thunderbolt USB 3.1 type C
Graphics outputs: HDMI, Mini DisplayPort
Microphone Jack(s): 1
Headphone Jack(s): 1
LAN Port(s): 1
Card Reader: SD
Web Camera: HD type
Dimension: 428mm (W) x 334mm (D) x 43mm (H)
Operating System: 64-bit Windows 10 Pro
Product Weight: 4.06kg with 6-cell battery, 4.36kg with 8-cell.
Price for review system: $2999 direct from Asus in the US. £2499 in the UK when it hits retail in Q4, according to Asus.
We had few criticisms of G752VT, apart from the obvious points that it was big and heavy, and we were unimpressed by the tiny 128GB SSD. As G752VS uses the same chassis it is a statement of the obvious that it continues to be big and heavy, although the criticism of the SSD has been swept away. You now get a huge 512GB Toshiba XG3 which is an OEM version of OCZ RD400 with NVMe that has suddenly appeared in a number of laptops. Backing up the SSD we have a 1TB HGST Travelstar hard drive.
While we like a decent amount of fast storage, those points are sideshows to the main event which is the arrival of GTX 1070 graphics. This GPU makes the previous GTX 970M look absurdly limp and our figures tell us the G752VS would also destroy the G752VY with GTX 980M graphics. That is a simple reflection of the increase in the number of shaders/CUDA cores – GTX 970M has 1,280 shaders,  GTX 980M has 1,536 and GTX 1070 uses 2,048. You also get a significant boost in clock speeds and an increase in graphics memory from 3GB to 8GB.
Balanced against that, the GTX 1070 is more toasty than the GTX 970M so Asus has carried over the vapour chamber cooling system it used in G752VY in what must surely be the world's most straightforward piece of product development.
Nvidia tells us there are no mobile versions of the 10-series graphics chips however this isn't entirely accurate. The desktop GTX 1070 has 15 SMs but this mobile GTX 1070 chip has 16 SM units that run at slightly lower clock speeds. This creates a package that is intended to deliver the same results as the desktop GTX 1070 but goes about it in a slightly different way.
In actual fact the combination of seven percent more shaders and four percent less clock speed means a mobile graphics chip that is potentially faster than its desktop equivalent, but that is a relatively minor detail.
Asus has enhanced the hardware with a modest degree of overclocking. The Core i7-6820HK has been overclocked from 3.6GHz to 3.8GHz and the GTX 1070 receives around 150MHz of extra speed. Specifically when you are running on mains power, the base speed is raised from 1,443MHz to 1,583MHz, Boost speed climbs from 1,645MHz to 1,785MHz and memory speed is increased from 2,002MHz to 2,152MHz
Testing – CPU and Productivity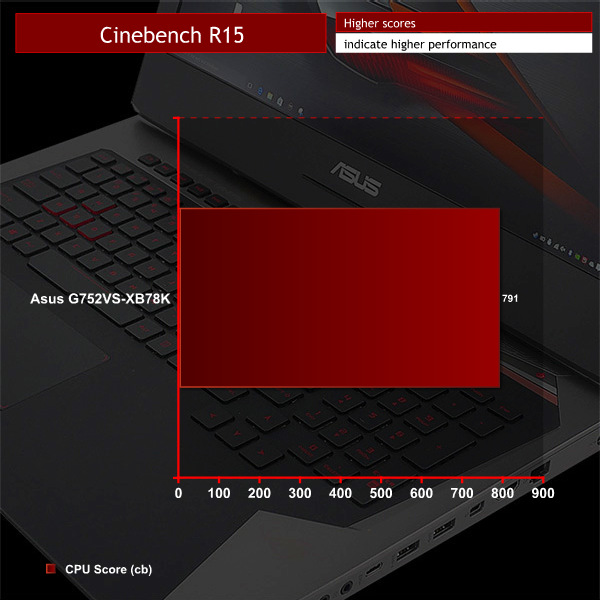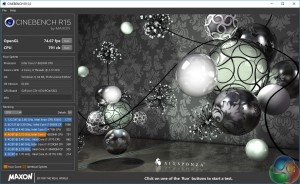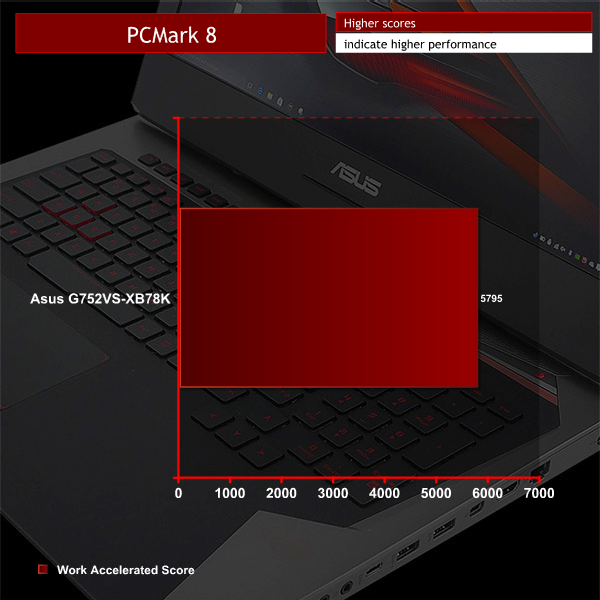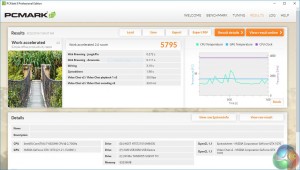 A Cinebench score just shy of 800 points is slightly faster than what you will get from an overclocked desktop Core i5 6600K. A good showing for a laptop CPU.
Testing – 3DMark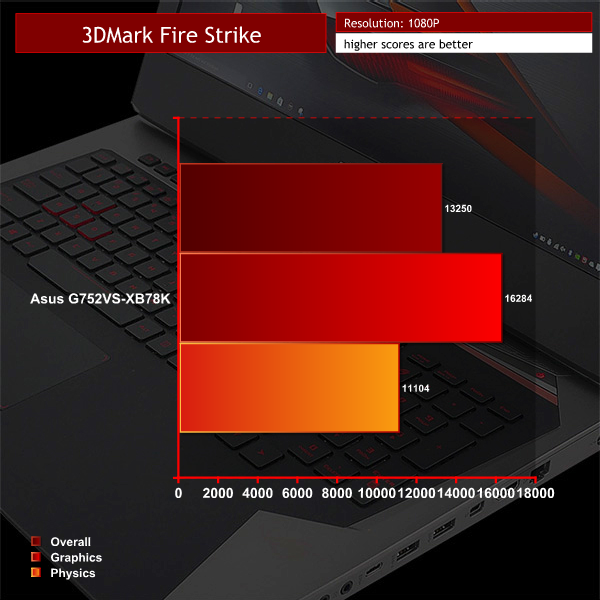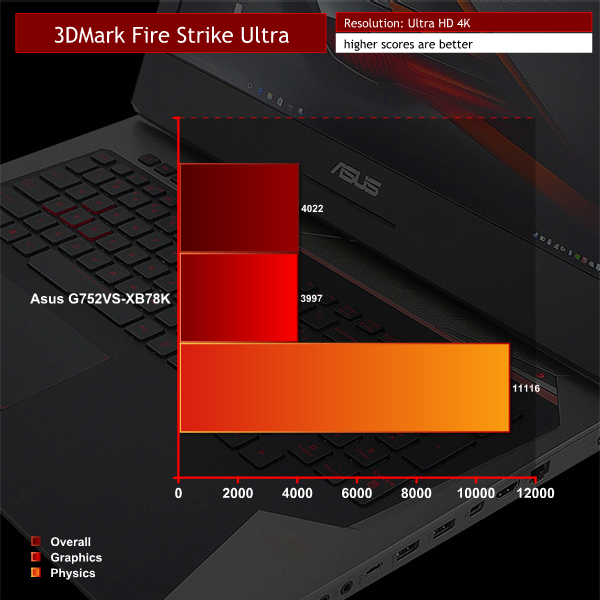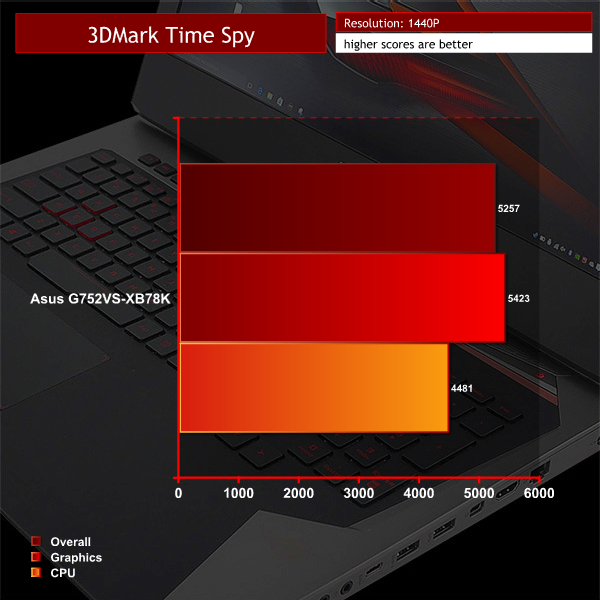 Testing – Games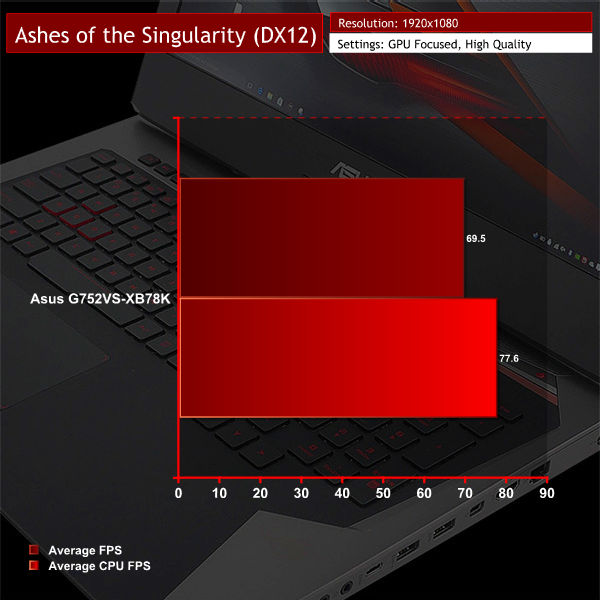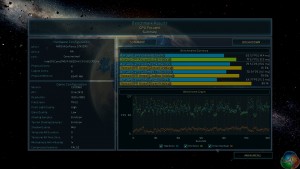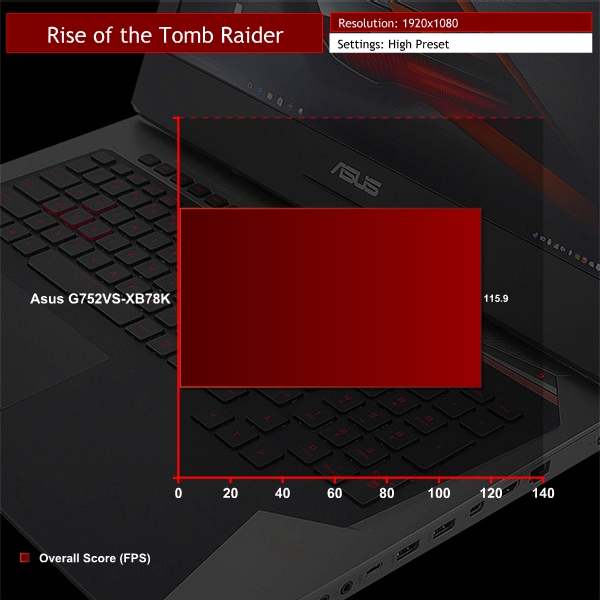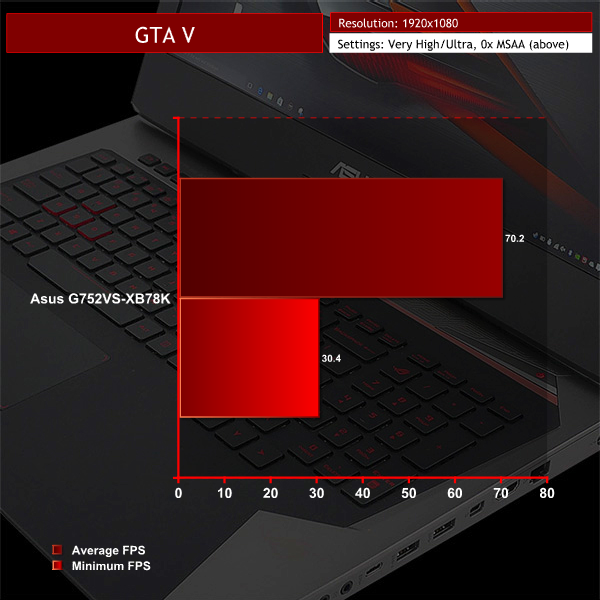 Asus ROG G752VS stomped our gaming benchmarks. The combination of an overclocked GTX 1070 and Skylake Core i7 pushed the 1080p IPS panel along briskly and delivered a superb gaming experience. This laptop gives you the gaming power of a desktop PC in a relatively small package.
While you may not like the idea of 1080p gaming, it works very well on a 17.3-inch display and looks superb.
Battery Life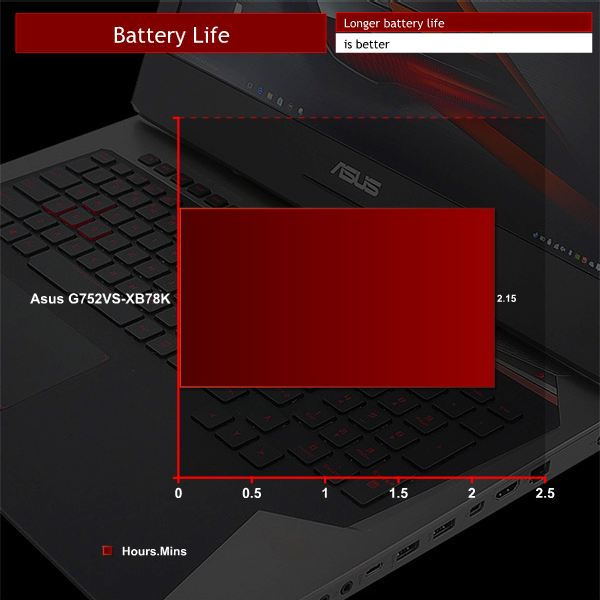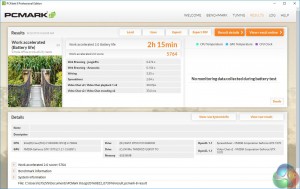 Just like any other gaming laptop, you shouldn't expect all-day battery life from the G752VS. You can get just over a couple of hours when away from a wall socket, though.
Cooling Performance.
Ambient = 25°C.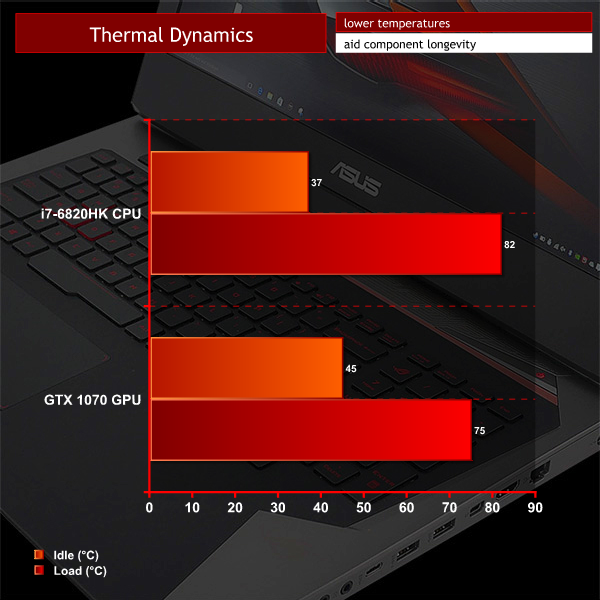 GTX 1070 clearly works the cooling harder than GTX 970M and we saw a GPU temperature of 75 degrees under extreme load. While this is heading towards the sort of temperature that counts as 'hot', we are on the correct side of 80 degrees and consider that Asus has done a good job with the cooling. No cause for concern here.
Acoustics performance.
The G752VS is fairly noisy, even when you are doing regular office work, and gets slightly louder when you start gaming. Having said that, we doubt you heard the laptop during our video and that is probably the best way to summarise it – audible but not a problem.
Closing Thoughts
We are deeply impressed by the Asus ROG G752VS. Asus has used an impressive chassis that was employed with 9-series graphics and has performed a significant upgrade to 10-series Pascal that blows the doors off the previous model.
We commented that the previous model was big and heavy and this is clearly still the case. However, when you factor in the increased performance you are less inclined to harp on about 4kg of bulk.
We hope Asus doesn't persist in supplying the UK version of this laptop with 64GB of DDR4 memory as that would be hellish expensive. 32GB is clearly sufficient. Other than that, it would be nice to see a slightly superior keyboard, and that is pretty much the only criticism we can level.
Oh yes, the software. Asus has some fine utilities but the bloat can get a bit annoying. In this instance less would be more.
Other than those small points this laptop is a winner that deserves to be a great success.
The Asus ROG GX752VS-XB78K OC Edition currently sells for $2999 in the US. Asus tells us that the laptop will be available in Q4 for £2499 in the UK.
Discuss on our Facebook page, over HERE.
Pros:
Overclocked GTX 1070 graphics
Full HD IPS screen with G-Sync
512GB NVMe SSD
Intel Skylake Core i7
Useful suite of Asus software
Clever cooling system for CPU and GPU
Lovely copper styling
Cons:
This is a heavy laptop that weighs in at more than 4kg
Keyboard is uninspiring
There is a certain amount of bloat in the software
KitGuru says: Asus has delivered a winning laptop in G752VS and we count ourselves as impressed and slightly overawed.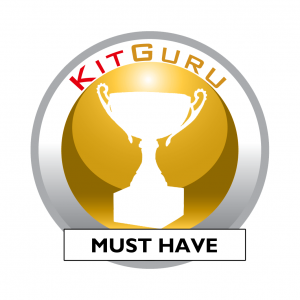 Be sure to check out our sponsors store EKWB here