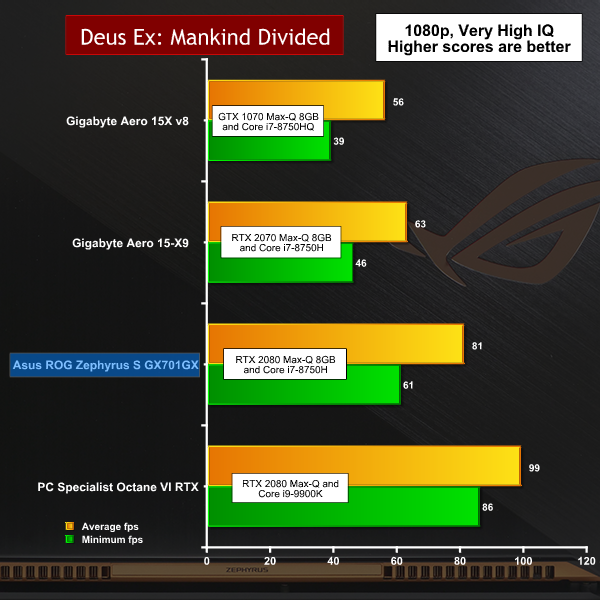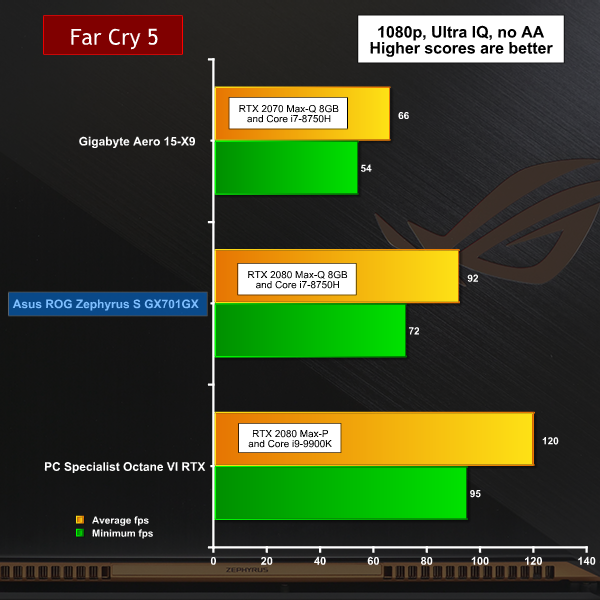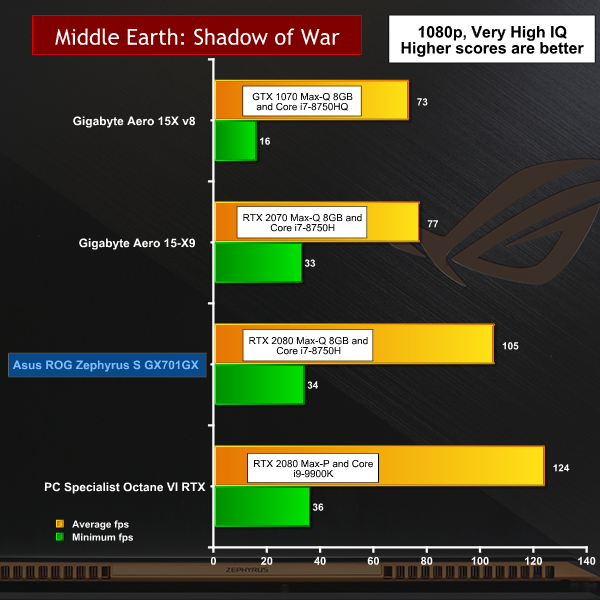 Performance Overview
During our testing we monitored the Core i7-8750H CPU and saw all six cores would initially boost to 3.9GHz. After a short period of time the clock speeds dropped back to 3.2GHz on non-AVX workloads. With an AVX workload such as Blender, the clock speed dip a further 300MHz to 2.9GHz. The nominal rating of the CPU is 45W and we monitored the silicon drawing up to 55W under load.
Of course TDP is not the same thing as power draw, however there is some correlation between the two figures and our testing confirmed the CPU was behaving as expected.
The curious thing is that when we monitored the Gigabyte Aero 15-X9 that uses the same i7-8750H CPU we saw 3.4GHz on all cores. Despite that, the Asus GX701 beats the Aero 15-X9 consistently in the performance stakes, which doesn't quite add up. Monitoring the true clock speeds of modern CPUs is a thankless task and sometimes all we can do is report the facts as we record them.
We were intrigued to see the RTX 2080 Max-Q graphics in action. We recently reviewed a PC Specialist Octane VI RTX desktop replacement with full-on RTX 2080 Max-P graphics that draw 150W under load while these RTX 2080 Max-Q graphics only draw 90W under full load.
When we tested the PC Specialist laptop we were surprised to see the Max-P graphics core speed running at 1,600MHz, as that approaches the speed of a desktop RTX 2080 that typically draws 230W. In other words you save loads of power and don't sacrifice much speed.
We fully expected the RTX 2080 Max-Q graphics in Asus GX701 would run at a snails' pace and had seen figures that suggested a boost clock speed around 1,200MHz, however we saw the Asus running at a solid 1,200MHz with bursts way beyond to 1,600MHz. That seems like an absurd claim, however the graphics in GX701GX delivered results that were amazingly close to the RTX 2080 Max-P in the PC Specialist, typically only running ten percent behind.
Take a look at the gaming test results and we are confident you will be impressed by the way Asus GX701GX performs.