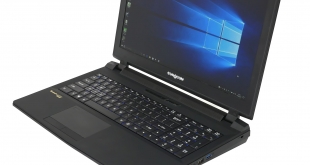 There are two ways we can tackle our review of the Eurocom Sky X4E2. The first approach is to talk about the combination of desktop Kaby Lake CPU with GTX 1070 graphics that allows you to rock your games along at 1080p. Added to that you get a huge number of upgrade paths that make use of the four drive bays you'll find inside the chunky Clevo chassis.
Those are headline features however we cannot avoid the second angle where we mention that Eurocom is a Canadian company, as we simply had no idea the Canadians were suppliers of laptops. In this instance the Sky X4E2 was assembled in Canada and then shipped to their Czech distributor before it made its way to the UK.
That's unusual, but even so we won't drag up a weak joke about Bryan Adams, Rush or maple syrup. It is worth pointing out the International nature of this laptop means that currencies play their part in the pricing as we Brits work in GBP and Sterling while the Czechs use Euros. When you configure and buy the Sky X4E2 the pricing is in Euros with VAT added at the end, which means it can all get a bit complicated.
Watch via our VIMEO Channel (Below) or over on YouTube at 2160p HERE
Eurocom Sky X4E2 Specification
Processor: Intel Core i7-7700K Socket LGA 1151
Chipset: Intel Z170
GPU: Nvidia GeForce GTX 1070 8GB Modular MXM 3.0
Camera: 2MP FHD
Display: 15.6″ FHD 1920×1080 @60Hz; IPS eDP
G-Sync: up to 4 active internal and/or external displays; up to 3084×2160 @ 60Hz
Memory: 32GB DDR4-3000MHz SODIMM (maximum 64GB)
Total Storage – Up to 4 physical drives
512GB Samsung SM951 M.2 NVMe
Hitachi 1TB 7K1000 2.5-inch HDD
Card Reader
6-in-1 Push-Push Card Reader MMC/RSMMC, SD/mini SD/SDHC/SDXC, UHS-II
Audio Architecture: High Definition Audio; Realtek ALC892 /PDIF Digital Output
Built in microphone
Built in two 2W speakers and subwoofer
Sound Blaster X-FI MB5 7.1CH output (headphone, mic, line-in and S/PDIF)
ESS Sabre HiFi DAC for high resolution headphone audio
LAN/WLAN/Bluetooth 1Gb Ethernet LAN on-board; Killer E2400
– WLAN Intel Wireless-AC 7265
– prewired for 3G/4G/LTE
Keyboard: Backlit full size keyboard with numeric pad
TouchPad with multi-gesture and scrolling W/A/S/D Gaming key
Battery: 8-cells Smart Li-Ion; 82Wh/5400mAh
Weight: 3.4kg w/ battery
Dimensions: 386(w) x 262 (d) x 38(h) mm
Operating  System: Windows 10 Pro
Eurocom puts a significant emphasis on the fact that the Sky X4E2 can be upgraded to a huge extent. The Clevo chassis used in the Eurocom Sky X4E2 has a Z170 chipset and was originally used with a desktop Skylake CPU however Eurocom has upgraded to a Kaby Lake Core-i7 7700K CPU that supplies extra clock speed. The stock clocks are 4.2GHz base and 4.5GHz boost however there is scope for overclocking if you feel the urge.
In addition, the graphics module uses an MXM 3.0 interface and Eurocom makes the point they will offer upgrades as far in the future as possible.
This is pretty much in the hands of Intel and Nvidia as there might be changes in power, heat or physical form factor that prevent an upgrade but it is very encouraging to hear from a laptop manufacturer with a proven track record in this field.
The laptop we were supplied came with a decent specification including a Full HD screen (rather than 4K) with G-Sync and 120Hz refresh rate. The GTX 1070 graphics chip is the fastest that Eurocom supplies for this chassis and as you will see in our video there is plenty of scope for upgrading the memory and drives.
Eurocom has only filled half the slots and bays in the chassis and if you take a look at our photos you will see there is an empty 2.5-inch SATA bay, an M.2 slot and two DDR4 SODIMM slots. If you choose to buy extra drives when you specify your new laptop you will find you are offered the option of joining them together in RAID.
We were impressed by the way the chassis is covered in ports and connectors; on one side you get Ethernet, two USB 3.1 type C (Thunderbolt 3) and two USB 3.0 ports. On the other side there is a USB 2.0 for your mouse, a USB 3.0 and a bunch of audio jacks. Turn to the rear and you'll find two mini DisplayPorts and an HDMI 2.0 output.
Testing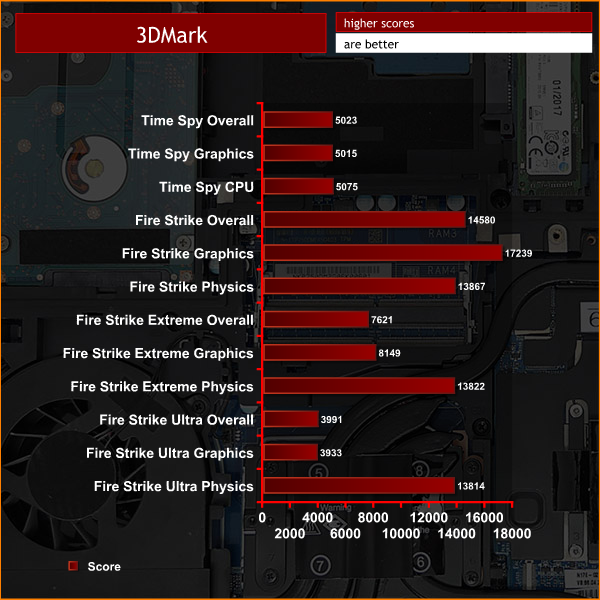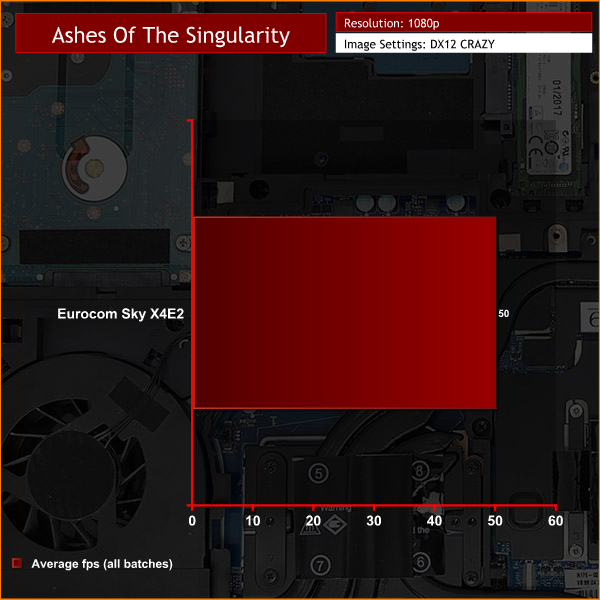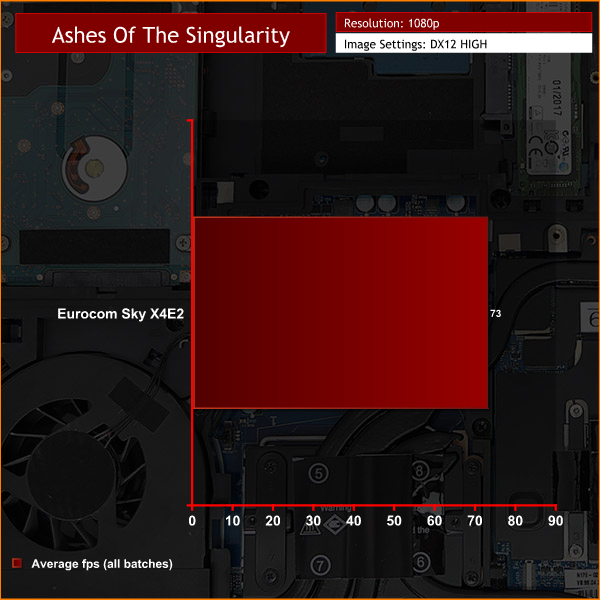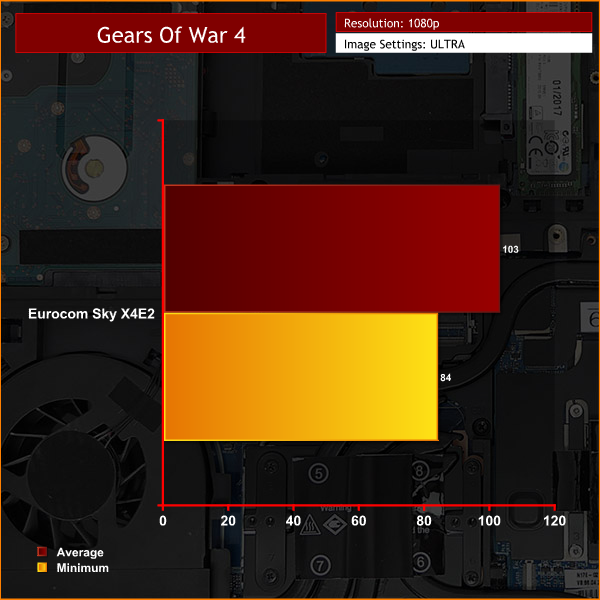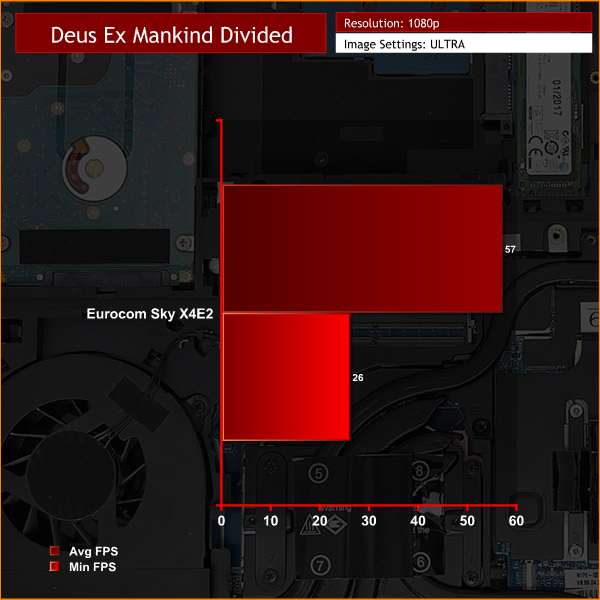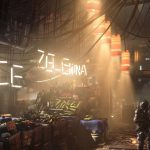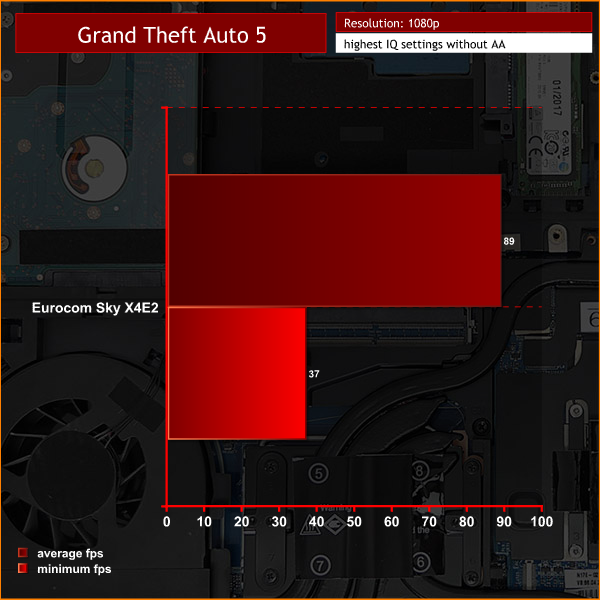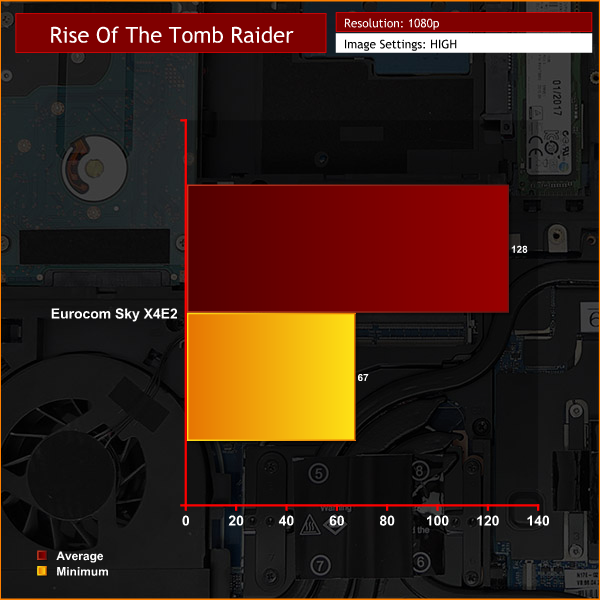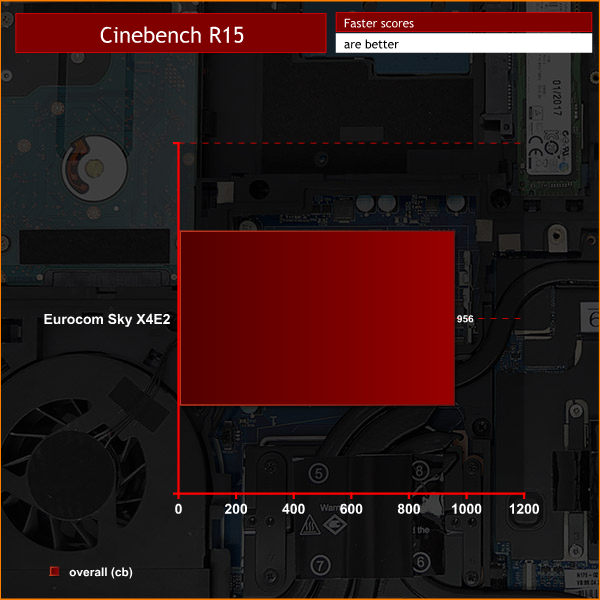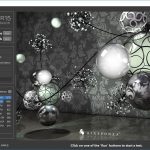 The test results from Eurocom Sky X4E2 show that this is a gaming laptop that delivers the goods. It is interesting to refer back to the PC Specialist Vortex VI which uses a Core i7-6700K as the Kaby Lake used by Eurocom clearly delivers extra performance.
We didn't test the two laptops at the same time with the same drivers so it would be unfair to put them on the same graph but nonetheless we can see the benefit of Kaby Lake.  It is also clear the extra clock speed of the desktop CPU gives significant gains when compared to the mobile Core i7 you typically find inside a high end laptop.
On the graphics side of things the GTX 1070 GPU does the business, exactly as we would expect, and delivers frame rates north of 50fps in Deus Ex: Mankind Divided and a crazy 128fps on average in Rise of the Tomb raider.
Cooling Performance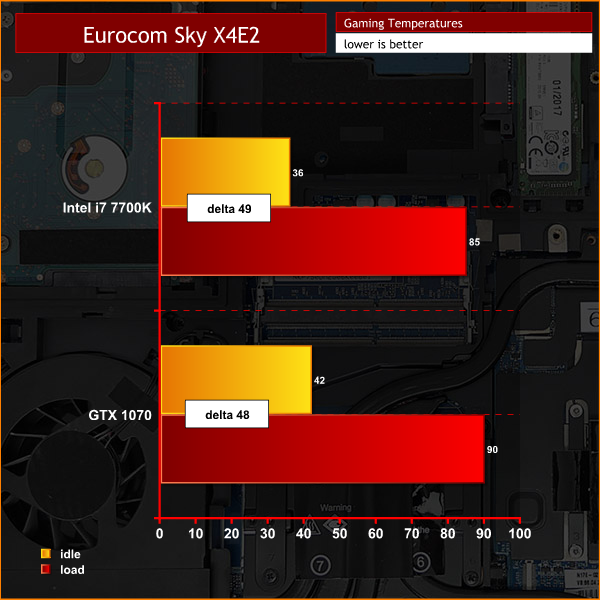 As you can see in our video and photos the cooling system inside the Eurocom Sky X4E2 looks entirely conventional with an array of heatpipes that shift the heat from the CPU, GPU and chipset and expel it through the exhausts vents at the rear. It was quite noticeable that the right hand exhaust was hotter than the left and this is reinforced by our  thermal photos.
Having said all that, both the CPU and GPU were cooled sufficiently to avoid problems. The CPU topped out at 85 degrees under extreme load and the GPU hit 90 degrees. This is pushing the limits but stopping just short of throttling and Clevo and Eurocom have done a good job of keeping the temperatures under control.
Acoustic performance
When the laptop works very hard the fan noise is certainly audible however the fan curve is completely smooth and progressive with the result that the noise is almost of no concern. This is impressive and while we would prefer the fans to be quieter we had very few complaints.
Battery life
Looping PC Mark 8 continuously gave us a battery life of 2 hours 26 minutes. In the real world you can double that figure to four and a half hours which is pretty impressive for such a powerful gaming laptop.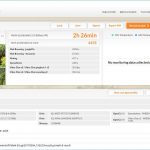 Closing Thoughts
The Eurocom Sky X4E2 is an impressive gaming laptop that offers a great many upgrade paths both at the time of order and also in the future. Right now in 2017 we have little idea about the plans of Intel and Nvidia and have no clue whether Eurocom will be able to offer a next generation CPU or GPU for this laptop. All we do know for sure is that they will do their best.

When it comes to pricing the Eurocom Sky X4E2 gives us a bit of a problem. It is certainly expensive, and every upgrade or change to the specification adds to the cost. Eurocom tells us the price is only a starting point and isn't set in stone so there may be some flexibility here.
In terms of performance and build quality, the Eurocom Sky X4E2 lives up to Clevo's usual high standards. The ports and connectors are first rate and you have a huge number of options. The screen gave us a really good gaming experience and worked well with the GTX 1070 graphics chip while the Kaby Lake CPU kept everything moving at a brisk pace.
Configure and buy Eurocom Sky X4E2 HERE
Discuss on our Facebook page, over HERE.
Pros:
Good selection of ports and connectors
Eurocom offers future upgrade paths as your laptop gets older
Massive number of options when you order your laptop
Solid gaming performance from the GTX 1070 and Core i7 combo
Cons:
Pricing at the Eurocom web store is very high
The rubber coated mouse buttons and touch pad are imprecise
Under heavy load the CPU and GPU get fairly hot
A chunky and heavy laptop
KitGuru says: Sky X4E2 is a solid gaming laptop with a long list of good features.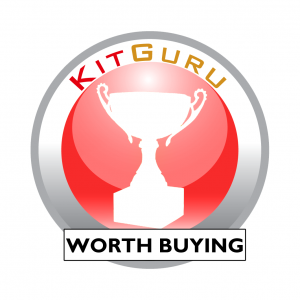 Be sure to check out our sponsors store EKWB here