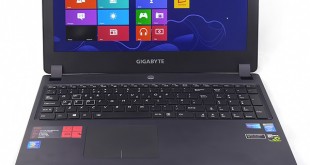 The Gigabyte P35K UltraBlade is a sleek 15.6-inch laptop that measures a mere 21mm thick when the lid is closed. Open the lid and the main part of the chassis is less than 17mm thick which is pretty amazing when you discover the P35K is powered by a Core i7 processor and Nvidia GeForce GTX 765M graphics. We're not talking about a weak kneed laptop that has been compressed into a skinny laptop, but rather a power house that has been shrunk to a surprisingly slender form factor.
Before we take a closer look at the hardware let's spend a moment on the model name, by which I mean the 'UltraBlade' part rather than 'P35K'. I expected to see the Intel Ultrabook label all over this laptop as it is slender, powered by a Core i7 CPU, uses an SSD and has an impressive Full HD screen.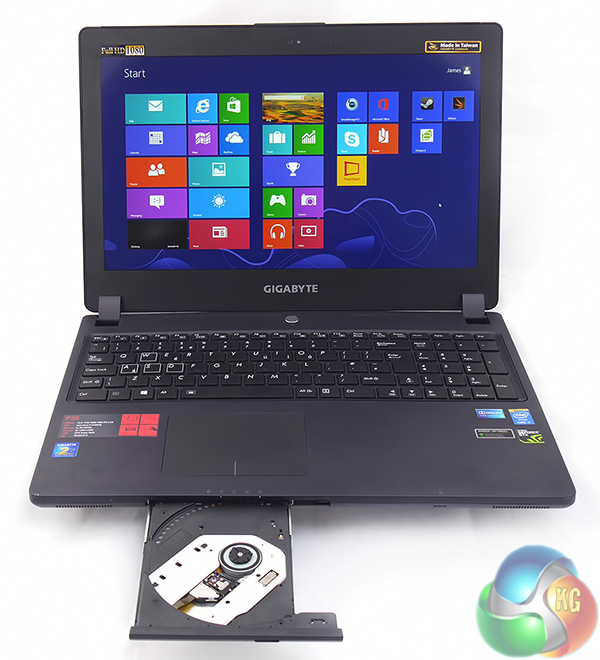 Where the Gigabyte falls short, as far as Intel is concerned, is that a 2014 Ultrabook requires a touch screen as an essential prerequisite. It seems to me as though Gigabyte decided the smart move was to create a model name that sounded like 'Ultrabook' and came up with 'UltraBlade'.

Gigabyte P35K UltraBlade Specification:
Screen Size: 15.6″ 1080p IPS LCD LED backlit
Processor Type: Intel Core i7 4700HQ
Solid State Drive: 2x 128GB mSATA SSD (RAID 0)
Hard Drive Interface: Serial ATA-600
Memory Size: 16GB DDR3 1600mhz
Operating System: Windows 8.1
Graphics Chipset: NVIDIA GeForce GTX 765M
Optical drive: Super Multi DVD RW
Audio: Realtek HD Audio with Dolby Home Theatre v4
Speaker(s): 2 x Speakers
Subwoofer: 1 subwoofer
Microphone: Built-in
LAN Card: Realtek 10/100/1000
Wireless NIC: Intel Centrino Wireless-N 2230 802.11bgn
Bluetooth: v4.0
385mm wide x 270mm deep x 21mm thick
Product Weight (g): 2.3Kg (w/Battery)
Warranty: 2 Years