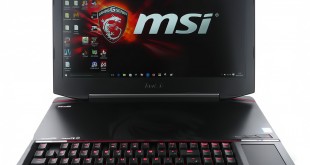 MSI has given its mighty Titan gaming laptop a serious upgrade. You have to look fairly closely to spot the differences on the outside, however the evidence is there if you know where to look. Turn to the rear of the laptop and you may well spot that one of the two Mini Display Port connectors has been replaced with a new USB 3.1 type C connector that MSI calls 'Super Port'.
Inside the chassis it is a completely different story as the hardware has had an extensive overhaul with MSI putting the emphasis on the graphics. Previously Titan used dual GTX 980M chips in SLI but now the graphics consist of a pair of desktop GTX 980 chips in MXM modules. That's right – SLI GTX 980 in a laptop. Holey Moley.
Specifications:
CPU: Intel Core i7-6920HQ Quad Core (2.9GHz, 8MB Cache, Intel Turbo Boost Up To 3.8GHz)
Display: 18.4″ (1920×1080 Full HD Resolution, Anti-Glare, Wide Viewing Angle)
Memory Supplied: 4 x 16GB (64GB)
Memory Type: DDR4
Memory Speed: 2133MHz
Max Memory Support: 64GB
Graphics Chipset: Dual desktop Nvidia GeForce GTX 980 SLI
Graphics Memory: 8GB GDDR5
Storage: 2 x 256GB NVMe PCI-e M.2 SSD + 1TB HDD 7200RPM
Keyboard Type: SteelSeries Red backlit mechanical keyboard with Cherry MX Brown Switches
USB3.0 Ports: 5
USB3.1 Ports: 1x USB 3.1 Type-C
HDMI Port(s): 1
Mini Display port(s): 1
LAN Port(s): 1
Microphone Jack(s): 1
Headphone Jack(s) (SPDIF): 1
ESS SABRE Hi-Fi Port: 1
Card Reader: SD (XC/HC)
Audio: – 4.1 Sound by Dynaudio
LAN: Killer E2400 Gigabit Ethernet with Killer Shield
Wireless LAN – Killer Wireless-AC 1535
Bluetooth: V4.1
Webcam: Full HD type ([email protected])
Weight 4.5kg
Dimensions 456mm (L) x 330mm (W) x 49mm (H)
OS: Windows 10 Home
While SLI GTX 980 sounds like an immense step it is only part of the equation, not least because the huge 18.4-inch panel is still 1920×1080 Full HD rather than the 4K you might expect. As you will see in our test results and video this laptop can drive 4K gaming without any difficulty however you will need to connect one or two external displays to push those pixels and get the full benefit from the enormous power of Titan GT80S.
Other changes include a move to Intel Skylake Core i7-6920HQ which also brings DDR4 memory, and in this model we have 64GB of 2133MHz RAM. Moving to Intel's newest platform also helps the storage which consists of 2x 256GB M.2 SSD in RAID 0 that use PCIe Gen 3 x4 interfaces. Backing up the SSD RAID we have a 1TB mechanical HDD so you can be sure you will have plenty of storage for all your games.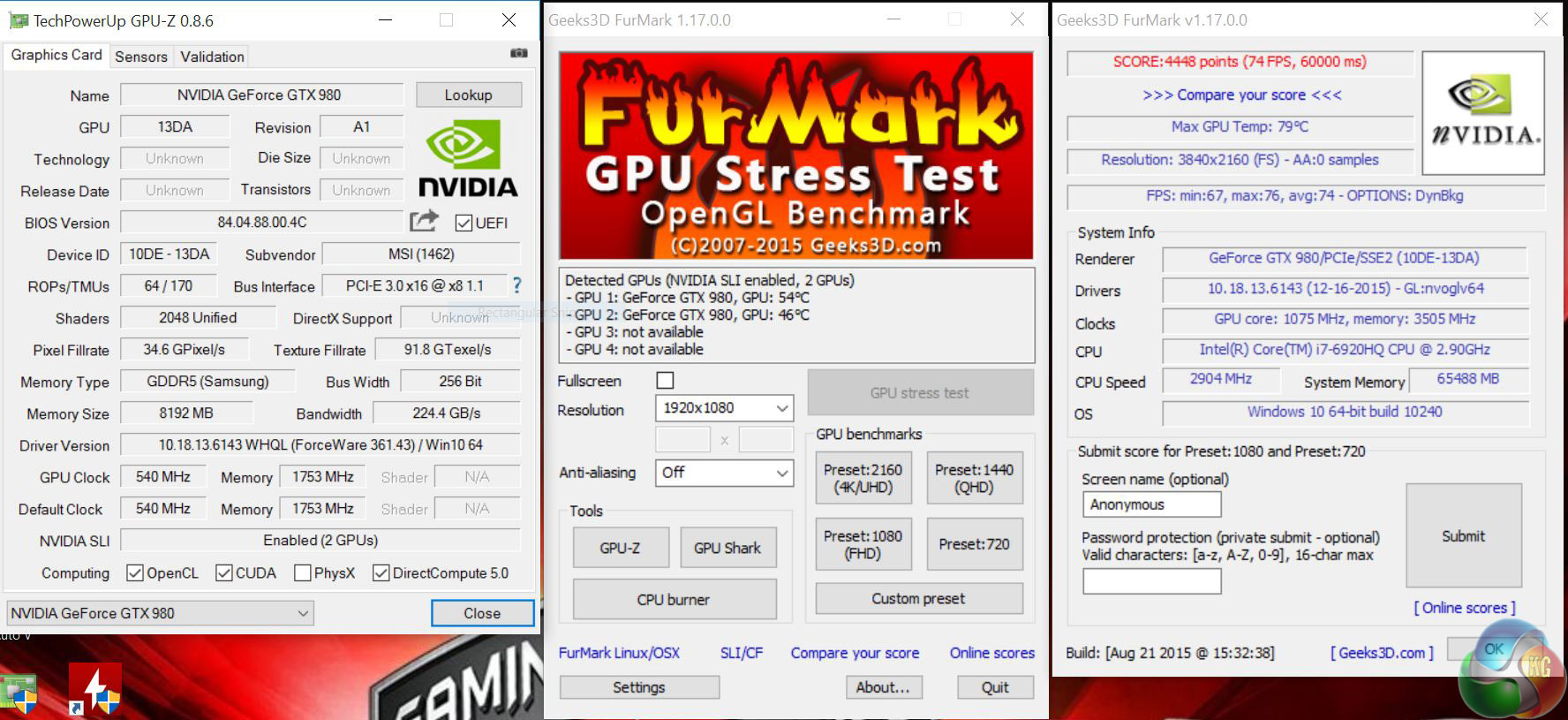 We experienced issues getting the latest version of GPUz to read the new hardware properly, with it showing 170 texture units and a core clock speed of only 540mhz. As we know a GTX980 ti has 176 texture units, this is clearly a misreading and it will likely be 128. A couple of other applications highlighted core speed at 1075mhz, which seems more in line with what we would expect.
The GPUs in the MSI GT80S 6QF Titan each have 8GB of GDDR5, 2048 Cuda Cores and 64 ROP's. The 8GB of GDDR5 is running at 1,753mhz (7Gbps effective) across a 256 bit memory interface. By comparison the GTX980M's in the 2015 version of the MSI GT80 Titan had only 96 texture units and 1536 Cuda Cores. The memory was also clocked lower at 1,253mhz (5Gbps effective).
Other updates include a move from Windows 8.1 to Windows 10 and revisions to the Killer networking hardware. As far as we can see the superb Steel Series mechanical keyboard with Cherry switches remains unchanged (although you no longer get the set of gold ASWD keys) and this isn't entirely offset by the inclusion of a squeezy MSI dinosaur in the package.
Titan GT80S may look like a workstation laptop (and can undoubtedly be used to edit videos) but it is primarily a gaming machine. The 4.5kg weight means it isn't the most portable of devices but if you think of the Titan as a luggable gaming PC or LAN machine it makes perfect sense.
Testing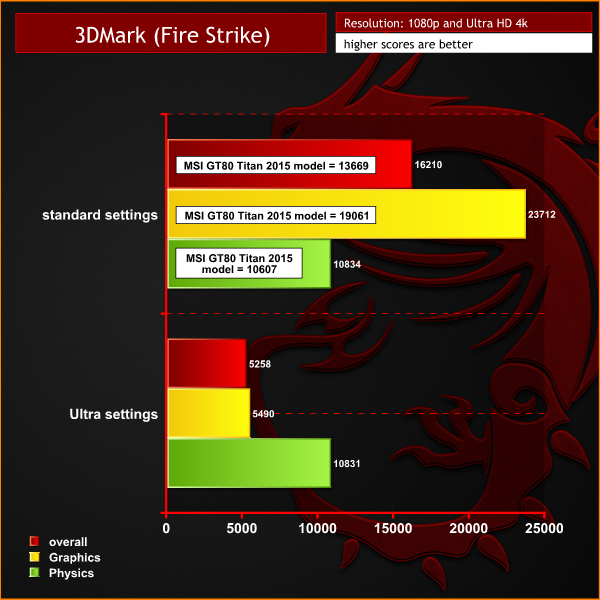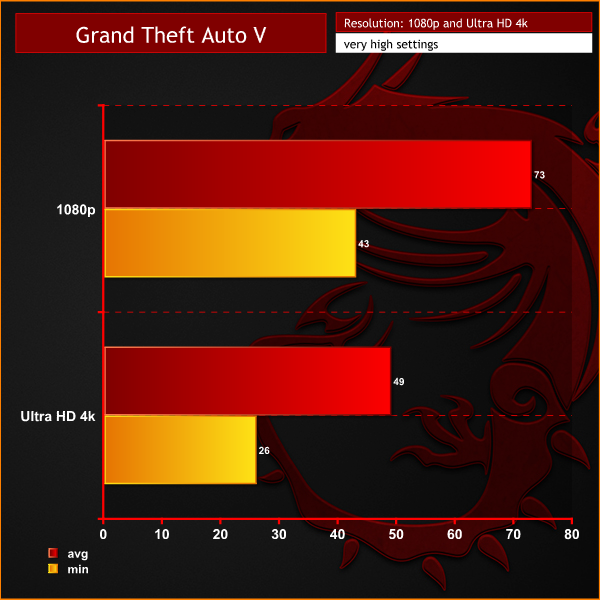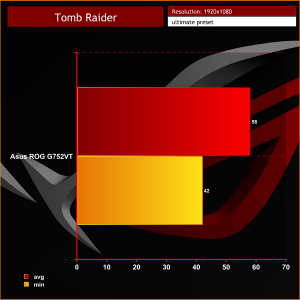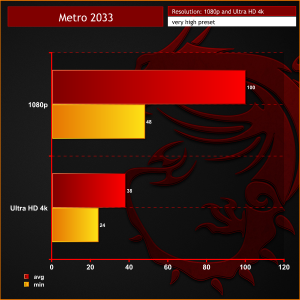 As you will see in our screen grabs and video we ran a series of benchmarks and games using the Full HD screen and then connected a 28-inch Acer 4K display so we could get the full benefit of the Core i7 and SLI GTX 980. It isn't entirely fair to compare the new Titan with the model we reviewed back in January 2015 as there are so many differences in the specifications, including the move to Windows 10 and revised graphics drivers. Nonetheless we can draw a few conclusions.
At 1080p the new Titan is epic and beats the previous model in every area by about ten percent. While the new Skylake processor is more efficient than the previous model the extra performance mainly comes from the new GTX 980 GPUs. In older games such as Metro 2033 Redux and Tomb Raider the performance leaps forward by a huge margin. This may well come down to improvements in SLI performance, in which case the original Titan should also show over improvements over the course of 2015.
The real test of Titan 6QF came when we switched to 4K and really let it stretch its legs. You can bang the Quality settings up to maximum and be confident this laptop will deliver proper frame rates but if you want to guarantee 60+ fps at all times you may need to pull back on quality in some instances. The image quality and game play delivered by Titan was simply amazing and was a superb experience. The sooner MSI can upgrade the display panel in this laptop to something beyond Full HD the better.
Thermal Dynamics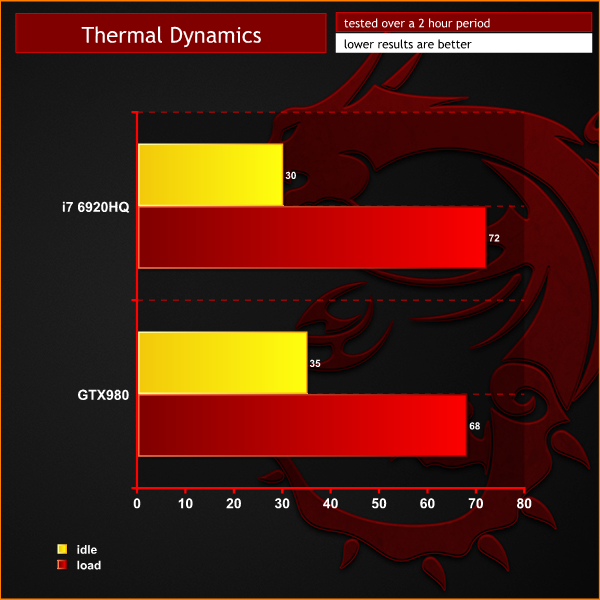 MSI talks about Cooler Boost 3 but as you will see in our photos and video this boils down to a huge number of heatpipes, two large heat exchangers, some ducting and two noisy fans. The result is a laptop that keeps the hardware nice and cool. GPU temperature is comparable to the GTX 980M in Titan 2015 and CPU temperature is six degrees lower. When you compare Titan 6QF with an air cooled gaming PC you appreciate just what a fine job MSI has done.
Acoustic Performance
The downside to this superb cooling performance is that Titan is horrendously loud when it is working hard. You can hear this in our video. It doesn't much matter what the decibel meter says, the only way to use Titan is while you are wearing headphones, and anyone else in the room also needs a pair for themselves.
Battery life
We fully expected battery life to be abysmal and were pleasantly surprised to see it is merely unimpressive. You can loop PC Mark 8 for one hour 22 minutes which equate to two and a half hours of real world use. Clearly it is ridiculous to consider gaming on battery. No doubt MSI could install a larger battery in the chassis but there really wouldn't be much point.
Closing Thoughts
We loved MSI Titan 2015 and the new 6QF with Skylake and SLI GTX 980 is even better. This is an absurd gaming laptop that maxes out every expectation you might have and then delivers again and again. And again.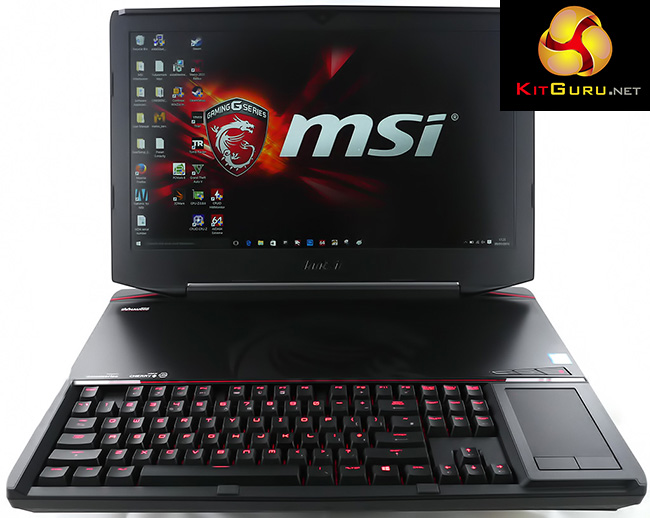 It is mildly disappointing the screen only supports Full HD resolution and this clearly requires an upgrade as soon as possible. Every other aspect of the Titan is simply amazing and while the size, weight and price mean it isn't especially practical there is no denying Titan sets a very high benchmark.
The chances that you will buy Titan are remote, and we equally doubt many other manufacturers will try to copy this concept, but Titan shows just what is possible. In that sense Titan is similar to Concorde – it will never be common or widespread but it is satisfying to know it exists.

Buy from Overclockers UK for £3,989.99 inc vat HERE
Discuss on our Facebook page, over HERE
Pros:
Huge performance from Skylake Core i7.
SLI GTX 980 desktop graphics.
Lovely image from the IPS Full HD display.
Mechanical keyboard.
Blazing SSD performance.
Killer DoubleShot Pro networking– Killer LAN E2400 plus Killer Wireless-AC 1535
64GB DDR4 memory.
Type C Super USB 3.1 Super Port.
Supports two external displays over DP and HDMI.
Cons:
Where's the 4K display?
noisy when it works hard.
Very heavy at 4.5kg
Price tag is £3999
KitGuru says: In an ideal world we could all afford Titan 6QS but in the meantime we can only dream.