Thermals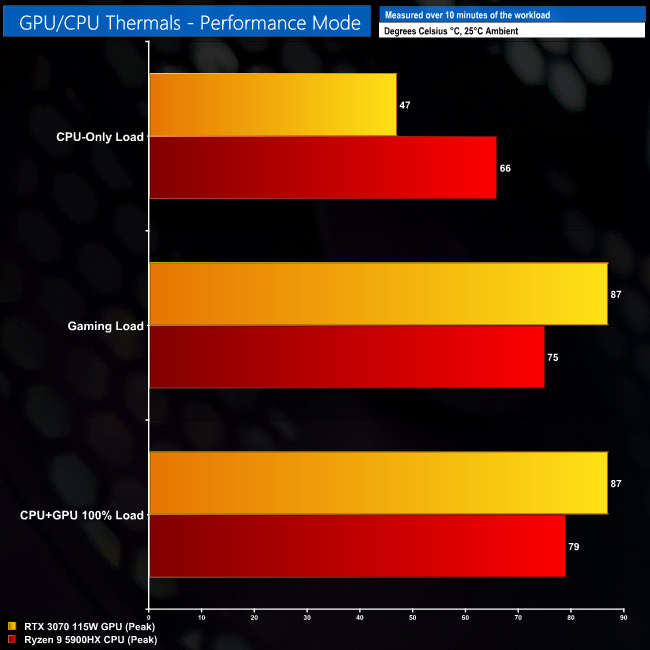 Cooling performance on the CPU side of the equation looks to be positive in terms of raw thermal numbers. Of course, the underlying CPU clock speed is also very important in this equation. We saw the Ryzen 9 5900HX running at around 3.4-3.5GHz in its long-duration 45W TDP mode. This figure dropped to more like 3.2GHz and 35W package power when the GPU was also loaded and prioritised from an energy and cooling perspective.
The GPU stays below 90C in our testing (ignoring Hot Spot temperatures that skirted around the 98C level), which is high for a 115W RTX 3070 versus some of the Intel competition we have seen. And that is when running at around 1350-1400MHz under the gaming conditions, and around 1290MHz under the CPU+GPU 100% load situation. The RTX 3070 8GB chip gobbled up most of its allowable 115W of power from the laptop.
Thankfully, I had no issues touching the laptop's surface and carrying on with normal duties. The keyboard area did not get hot to the point where it was uncomfortable. This is largely a by-product of the laptop's plastic design that struggles to even transfer heat from the components to the keyboard area (that's at least one positive for a plastic chassis, I guess).
Noise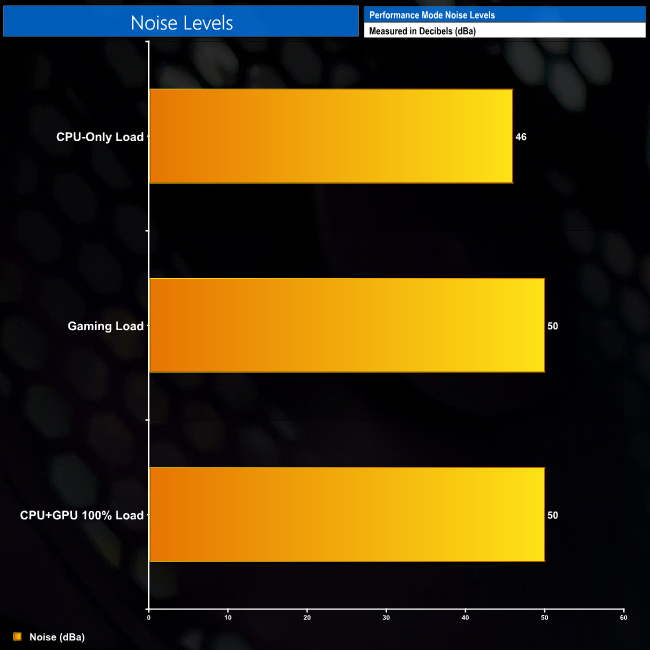 There is no way that would describe the G17 as quiet with both of its fans running just above 4300 RPM under heavy CPU+GPU loading. However, the noise level was tolerable whilst gaming and actually quite reasonable as far as gaming laptops go.
The physically large form factor of this 17″ beast is likely helping ASUS' cooling provisions in terms of noise output. Under gaming load, the laptop consumed 158W at the wall. This increased to 168W with both the CPU and GPU fully loaded.
Battery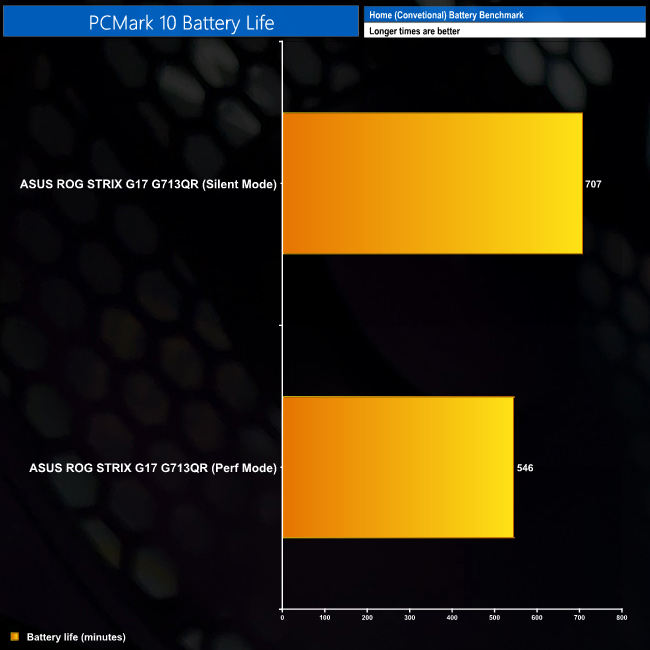 Battery life for the G17 G713QR is absolutely astonishing. We managed over 11 hours of the PCMark 10 Modern Office test from this 17″ laptop when running its Silent mode. That is an outrageously good showing!
Even with the hardware cranked up to the Performance Mode under battery operation, the laptop runtime was still a very respectable 9 hours. ASUS has done an absolutely superb job for battery capability that means this laptop can actually be used without its charger for a day of work.