In the ROG STRIX G17, ASUS has delivered a well-specced laptop that packs a hefty punch in terms of raw performance. The Ryzen 9 5900HX CPU and RTX 3070 Laptop GPU in its 115W form complement one another well, and the combined 32GB of DDR4 is good to see.
Of course, running the 17.3″ FHD display anywhere near its 300Hz refresh rate is not really possible for AAA titles. But if you're more interested in less demanding gamers or older titles, there is the possibility of getting FPS close to those high levels given the hardware on offer.
Battery life is astonishingly good from the 90Whr pack. This surprised us as we did not expect a 17″ calibre gaming laptop to offer 11 hours of usage under the PCMark 10 test. That is incredible. And the cooling performance from the liquid metal-equipped configuration was solid in our testing, with noise levels that we considered to be very tolerable.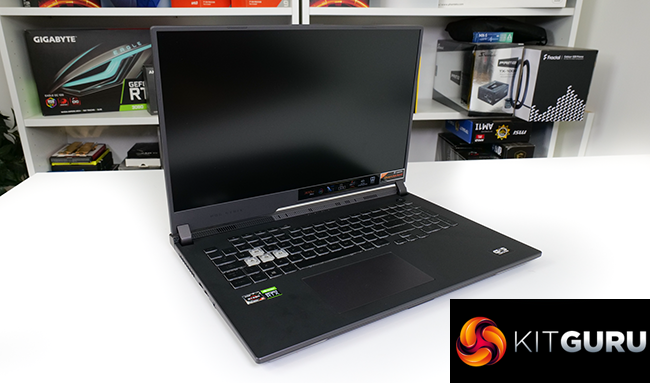 Build quality is strong and I like the subtle but eye-catching RGB LED lighting. With that said, there are a few minor gripes such as the half-height enter key. ASUS' pre-installed software that includes constant McAfee pop-ups is infuriating. But thankfully, Armoury Crate serves its purpose in delivering functionally useful operating modes to the end-user.
ASUS could have certainly done better in terms of connectivity. We get WiFi 6 instead of WiFi 6E. Ethernet is 1Gb instead of 2.5Gb. And there's no HDMI 2.1 for users interested in connecting their 4K120 VRR TV from time to time. The lack of SD card reader is a small downside, but the complete omission of a webcam is completely illogical and unforgivable in the world of 2021.
The going price for the ASUS ROG STRIX G17 G713QR is around £1900 at ASUS' own webstore. Albeit the unit is not currently in stock. £1900 feels reasonably OK for the laptop's offering and competitors.
The AMD Advantage spec ASUS ROG STRIX G713QY with its Radeon RX6800M GPU is a notable competitor at around £100 more currently. The swap for a QHD 165Hz screen on that all-AMD model versus 32GB DDR4 on this one may be a reasonable compromise to some users. But that does emphasise that the ROG STRIX G17 G713QR reviewed here is certainly competitive enough to put up a strong fight.
Discuss on our Facebook page HERE.
Pros:
Good short burst Ryzen 9 5900HX performance.
Strong 115W RTX 3070 performance.
Smooth gaming for the 1080p 300Hz screen, even at high refresh rates.
Outstanding battery life.
Solid cooling performance.
Easily switchable Armoury Crate performance operating modes.
Cons:
Long duration Ryzen 9 5900HX performance seems sub-par.
Overall connectivity should be better – no WiFi 6E, 2.5GbE, or HDMI 2.1.
No webcam or SD card reader.
ASUS' pre-installed software is annoying (McAfee?! Seriously?!).
KitGuru says: Smartly balanced hardware with strong build quality and a ludicrously high refresh rate display make the ASUS ROG STRIX G17 an appealing 17″ gaming laptop.