Here at KitGuru, the vast majority of our content – be it news or reviews – is focused on PCs. We love the ability to pick and choose parts tailored to your own specific needs – be it raw performance, aesthetics or low noise levels. You may be surprised to hear, then, that at the beginning of the month I splashed the cash and bought a MacBook Pro.
Before you ask – I did not spend £1449 on the latest 2016 model which may or may not have dodgy battery life. In actual fact, I got a great deal on the 13-inch Early 2015 MacBook Pro, picking one up in mint condition from CeX for £665. Until very recently, this model was the latest in the MacBook Pro family, selling for £999 on Apple's website – and for the sake of the argument, I am going to use that price as the basis for this article.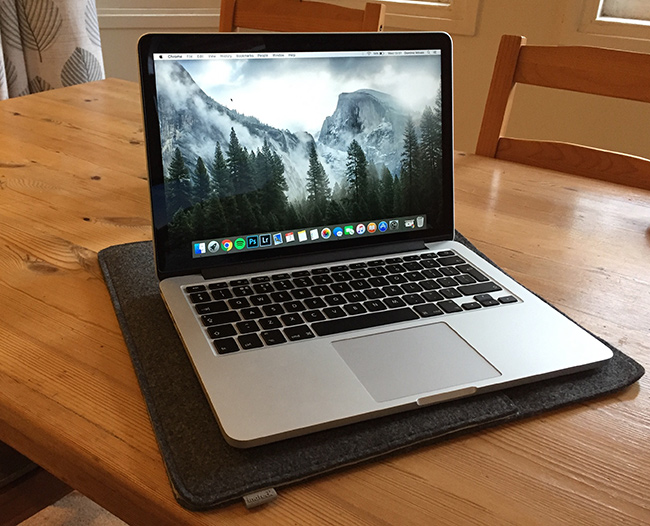 By now, there is a good chance being a PC centric gamer you are probably frothing at the mouth, exclaiming how I was stupid to spend money on an over-priced laptop which only uses low-power parts (my MacBook Pro uses the i5-5275U chip, for example). You may also add that £999 would buy you a significantly higher-spec Windows laptop – the MSI GS40 Phantom nets you an i7-6700HQ and a discrete GTX 970M for the same money as this MacBook Pro.
You would be 100% correct to say that. However, I think such sentiment – which is often echoed online – misses the point. The MacBook Pro has never been about raw performance. Not to my mind, at least. What I mean by this, is that you don't buy a MacBook Pro because of its on-paper specs. At least not when it comes to the CPU , graphics or memory.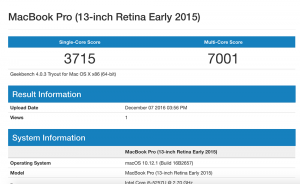 I fully agree that if you want a beefy, HyperThreaded mobile CPU, get an i7-6700HQ or i7-6820HK based Windows machine. A MacBook Pro's CPU is never going to keep up – and to demonstrate this, I ran Geekbench 4 on my MacBook Pro, which you can see above. Heading over to Geekbench's website shows that an i7-6700HQ scores roughly 5000 more points for the multi-core performance aspect of the test.
It is very clear to me that the MacBook Pro is not about just having the fastest CPU, or about having a discrete graphics card that can blitz through the latest AAA games at ultra settings.
For me, Apple are much more concerned about delivering a beautiful and refined user experience to consumers, rather than just trying to cram the chassis full of the the fastest hardware on the market.
One important factor in ensuring this experience is as good as it can be is the MacBook Pro's chassis. A great slab of aluminium, it is by far the best looking laptop on the market. It is also exceptionally sturdy and just generally feels great. It is clear that the Razer CEO is quite the Apple fan too (don't believe us? read THIS), as their Blade machines look very similar – albeit it in black.
Every time I rest my palms below the keyboard to type, for example, I am reminded of  just how well-built this laptop really is. Combine this with the thickness (1.8cm) and weight (1.58KG) of the device, and the end result is an ultra-portable but ultra-durable laptop.
Another huge factor behind the appeal of the MacBook Pro is the display. While high-resolution (by this, I mean greater than 1920×1080) displays are increasingly common to high-end laptops, the MacBook Pro's display is still a cut above. The 2560×1600 panel is still stunningly sharp across the 13-inch display, but the colours are the true star of the show. Apple use an IPS panel-type which explains the excellent colours – while the deep and rich blacks, not quite at the same level as an OLED display, for example, make photos and movies a real joy to watch.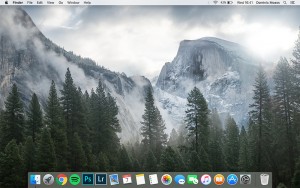 Then there's macOS. It is a bright and colourful OS, but is wonderfully simple to use. Critics say it is too 'locked-down', but I disagree. So far, the only thing I haven't been able to change that I wish I could is the start-up sound. Even then, I can just hit the mute button before I shut down the machine and the problem is solved. New Mac Pro laptops no longer have this start up sound (more HERE).
Despite that, the fact of the matter is macOS is not meant to be the most customisable or technical operating system on the market – it is designed to just work, and boy does Apple nail that. Granted they have only one set of hardware to content with, so you have to hand it to Microsoft for getting Windows working generally quite well on millions of hardware configurations.
All-in-all, the MacBook Pro is an exceptional laptop. I would say it is the best I have used – but it does of course depend on what you want to do. I bought mine to be a portable photo-editing and work machine, but you would obviously not specifically buy a MacBook Pro to play games. So far, though, it has proved to be a lovely piece of kit and I would buy one tomorrow if had to make the choice again.
I have no doubt that many people reading this would disagree with me on all the points I have mentioned. If you do, leave us a comment on Facebook and I will do my best to get back to you. I am just trying to start a debate with my views here, so if you think I have made a bad choice, let me know!
KitGuru says: This article has just been a short piece about why I bought my MacBook Pro. We want to hear from you, though, so tell us in the comments why you would or wouldn't buy an Apple laptop – or even Apple products in general.