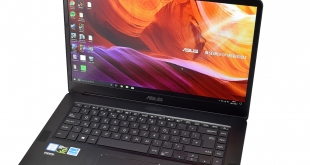 ASUS is well known for producing quality laptops, especially with its ZenBook line. While I did look at the ZenBook 3 earlier this year,  the new ZenBook Pro (UX550VD) has a bigger display, faster internal processor and even a dedicated GTX 1050 graphics chip – making it a significant upgrade over the older ZenBook 3. Currently priced at £1299.99, is this the killer Ultrabook you've been waiting for?
Despite sharing the 'ZenBook' family name, the ASUS ZenBook Pro (UX550VD) is actually a very different beast to the ZenBook 3 (UX390UA) that I reviewed in February this year. For one, it is larger with its 15.6-inch display, and while it is still very thin and light (weighing just 1.8kg) it is not quite as miniscule as the ZenBook 3.
Then there are internal components to consider – the ZenBook Pro positively blows the ZenBook 3 out of the water thanks to its faster i7-7700HQ processor, while it also has discrete graphics in the form of GTX 1050. Accordingly, ZenBook Pro seems to offer the best of both worlds – portability and performance. So just how good is it?
Specification
Processor: Intel® Core™ i7-7700HQ processor
Graphics: NVIDIA® GeForce® 1050
Display: 15.6" IPS LED-backlit Full HD (1920 by 1080 16:9)
Memory: 8GB 2400MHz DDR4 onboard
Storage: 512GB SATA3 SSD
Interfaces: 2 x Type-C™ USB 3.1 Gen 2 (thunderbolt), 2 x Type-A USB 3.1 Gen 1, 1 x HDMI, 1 x Combo audio jack, 1 x Micro SD Card reader
Keyboard: Full-size backlit, with 1.5mm key travel
Touchpad: Glass-covered with optional integrated fingerprint sensor supporting Windows Hello; intelligent palm-rejection support
Quad speakers: ASUS SonicMaster stereo audio system with surround-sound. Certified by Harman Kardon
Wi-Fi: Dual band 802.11ac Wi-Fi
Bluetooth: Bluetooth 4.2
Battery and Power: 73Wh 8-cell lithium-polymer battery. 120W power adapter
Dimensions: 36.5 cm x 25.1 cm x 1.89 cm
Weight: 1.8 kg
What strikes me most about the ZenBook Pro is how it is still a very portable laptop (at just 18.9mm thick and 1.8kg in weight) yet it still packs a fair punch – the i7-7700HQ is a quad-core with HyperThreading processor, while a dedicated GTX 1050 graphics chip opens up the possibility of some less demanding gaming.
That combination of hardware, along with the very portable nature of the laptop, makes me think the ZenBook Pro is probably best for someone who wants to get some work done on the go – be it photo editing, graphic design or even a spot of video editing – without lugging around a monster of a laptop like one from the MSI Titan range.
That kind of consumer will be very happy with the ZenBook Pro – internal hardware aside, it also boasts a pretty decent, tactile keyboard (a huge improvement over the ZenBook 3's keyboard), very good front-facing speakers as well as an overall swish and solid aluminium body.
Most impressive (to my mind, at least) is the excellent I/O configuration – two USB 3.1 (Gen 1) ports are provided, as well as another two ThunderBolt 3 ports in Type-C format. Complimenting those ports is a headphone jack and micro SD reader. Compared to the ZenBook 3 – and most Ultrabooks currently available – this a brilliant set of connectivity options, with the two ThunderBolt 3 ports providing lots of versatility that a professional might require.
The only real downside to the design of the laptop is the trackpad. I think it could be bigger from the outset as tracking can get slightly cramped pretty fast, but primarily I dislike the spongy clicks. I am fine with having the integrated right and left clicks, as opposed to dedicated buttons, but actually pressing the trackpad down feels quite mushy and unpleasant, and it does mar the overall experience.
Internally, things look pretty standard with the large battery taking up most of the laptop's bottom half, while the cooling system consists of two blower fans and two copper heatpipes, which as we shall see below seems to get the job done despite not appearing to be overly sophisticated.
There doesn't seem to be any upgrade path, though, as the RAM is soldered to the motherboard, while there is only one M.2 connector which is occupied by the included 512GB SATA 3 SSD. That is a bit disappointing since a typical user may well want to upgrade to 16GB RAM or add more storage down the line, but find out that that is impossible with the UX550VD.
Testing
Synthetic tests – notebook results only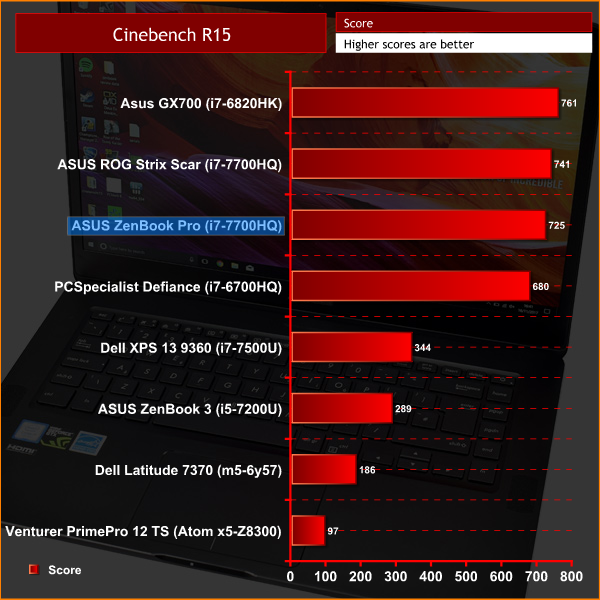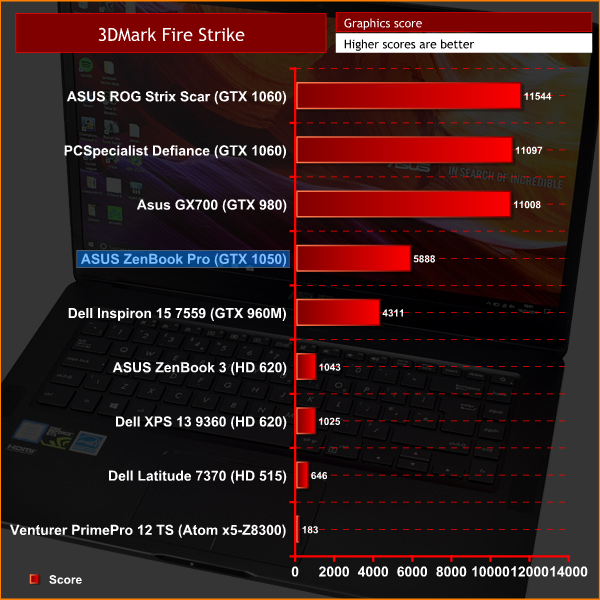 Synthetic tests – notebook and desktop results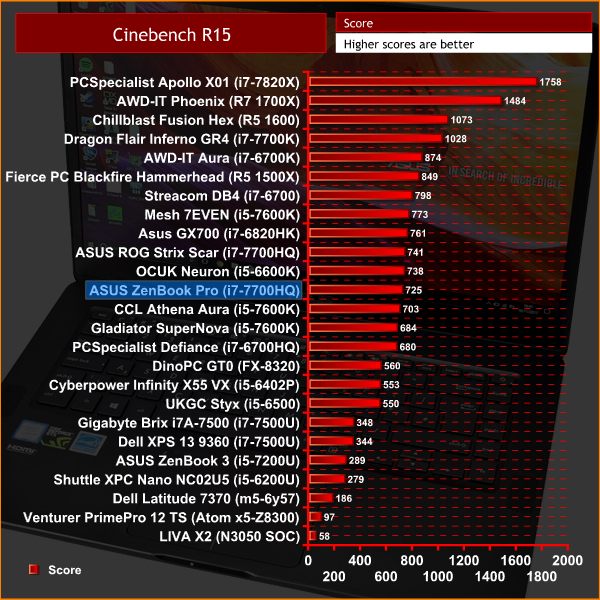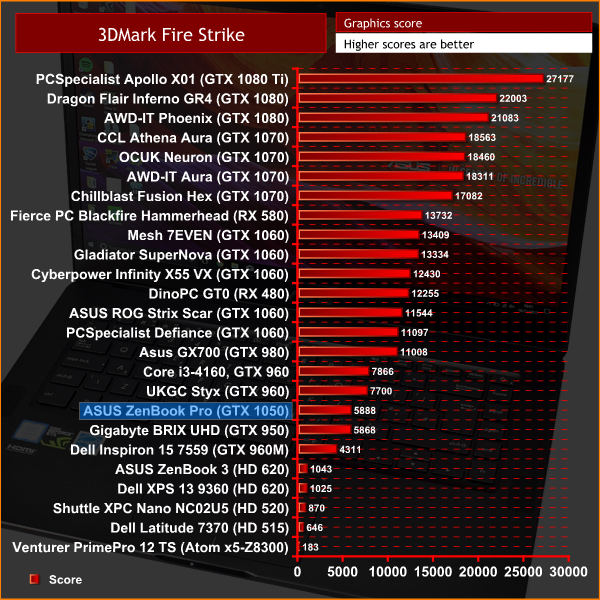 Gaming performance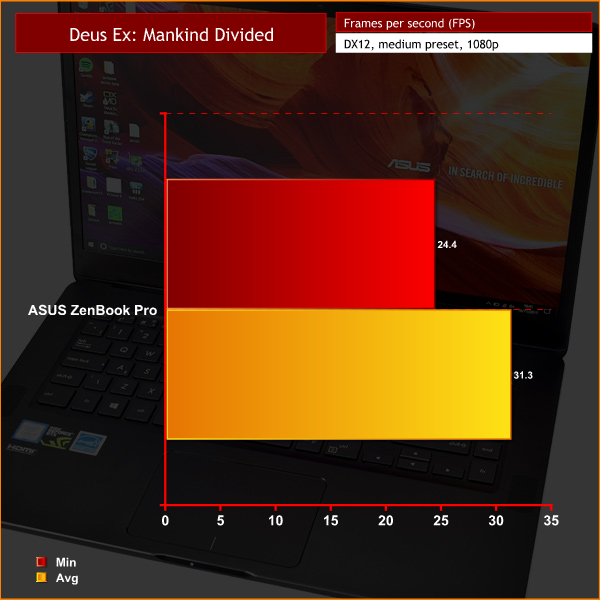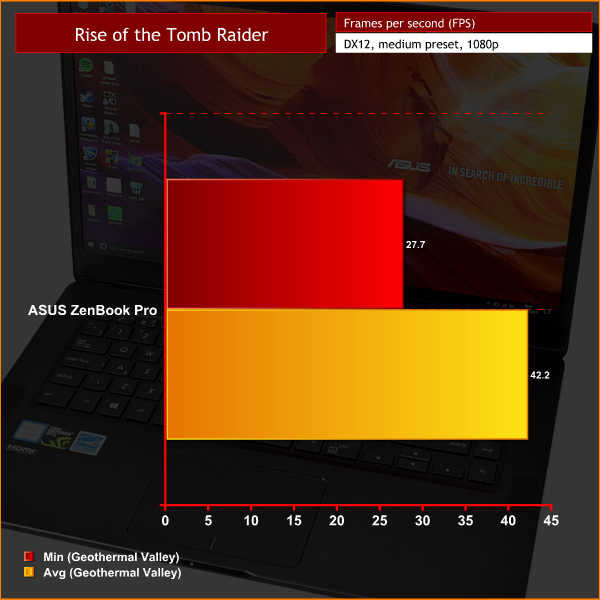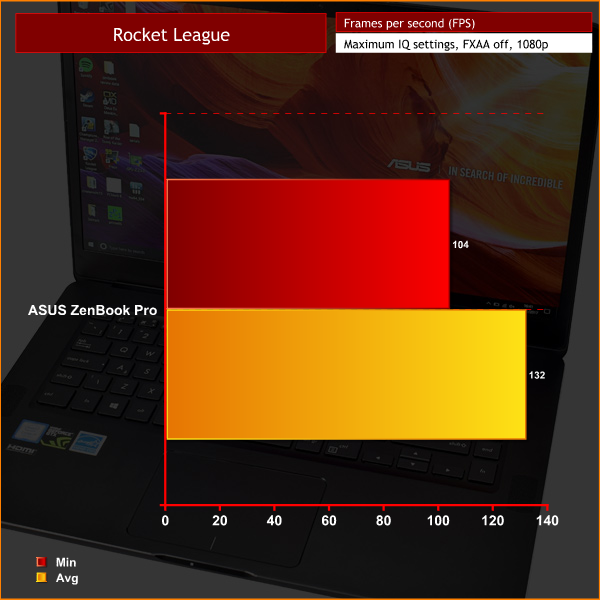 The ZenBook Pro isn't really a gaming machine – the GTX 1050 would probably be better for accelerating any workflows rather than being used with the latest AAA titles, as even at medium settings the machine struggles.
esports gamers should be fine, however, though the IPS display isn't exactly a gaming-grade panel either (in terms of response times, that is). Still, over 130 FPS in Rocket League is certainly good enough for casual gamers who want to go down that route.
Thermal dynamics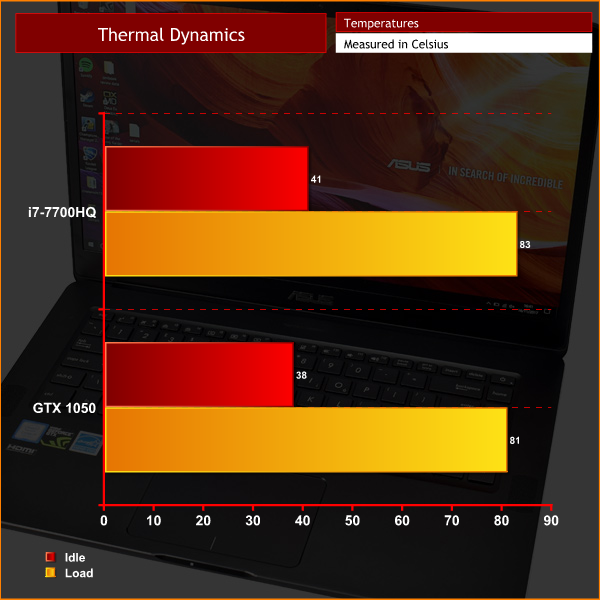 Despite the rather simple cooling solution, the ZenBook Pro stays pretty cool for a laptop of its size – I really thought the slim chassis would be choking the components for air. However, those thermal results speak for themselves, so it is a good bit of engineering from ASUS.
Battery life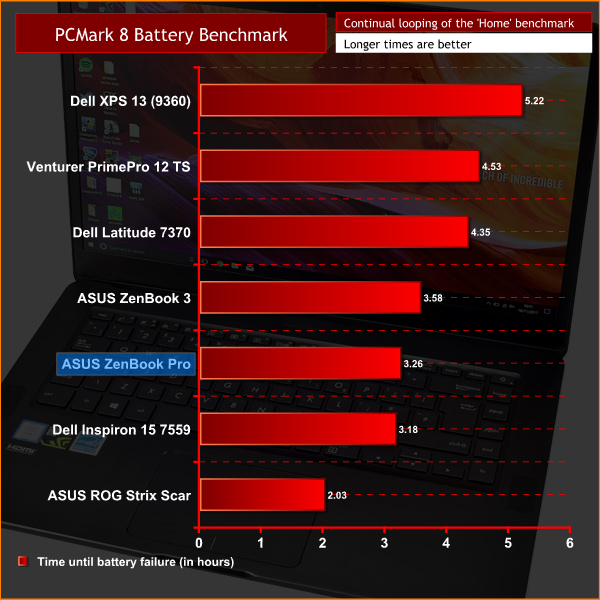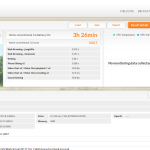 Battery life isn't quite the best, though. 3hr 26 minutes is certainly not a bad result – and remember, double the time to give a real-world estimate – but the Dell XPS 13 definitely outperforms its rival by a considerable distance.
Closing Thoughts
On the whole, the ASUS ZenBook Pro (UX550VD) is a very capable Ultrabook. It is very sleek and portable, yet it still manages to cram in some decent hardware – the i7 and GTX 1050 should not be sniffed at when you remember just how small this thing is.
On top of that, we must factor in the excellent IPS display, decent keyboard and plentiful I/O – all of which adds up to make the ZenBook Pro look a real winner.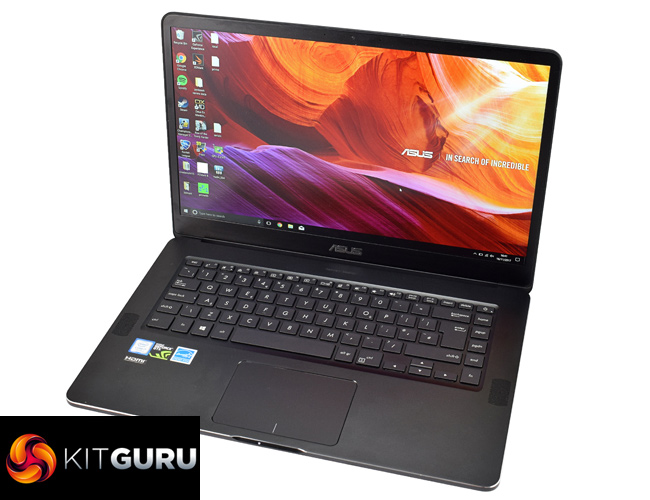 That is, until we get to the trackpad and battery life. Neither are bad per se, they are just not quite up to scratch when we factor in the competition. The Dell XPS 13, for example, has a superior trackpad while it battery lasted about two hours longer than the ZenBook Pro.
Neither issue is overly significant, but together they do mean the laptop isn't quite perfect. It does come close, though, and we definitely still think the ASUS ZenBook Pro (UX550VD) is overall a very good buy thanks to its portable body, impressive spec and vibrant display.
You can buy one from Amazon for £1299.99 HERE.
Discuss on our Facebook page HERE.
Pros
Very slim and light.
Very good performance considering the size.
Decent keyboard.
Excellent I/O.
Harmon Kardon speakers sound better than most.
Vibrant display.
Cons
Trackpad is a bit spongy.
Battery life isn't quite as good as the competition.
No upgrade path for storage or memory.
KitGuru says: Despite a couple of minor flaws, the ASUS ZenBook Pro is a very appealing Ultrabook. It is fast, light and boasts a wonderful screen, making it a very good buy in its price bracket.
Be sure to check out our sponsors store EKWB here