Thermal dynamics
To find the XPS 13's idle temperature, I left Windows on the desktop for 30 minutes. The 'load' temperature reading comes from running Prime95 and 3DMark Fire Strike simultaneously.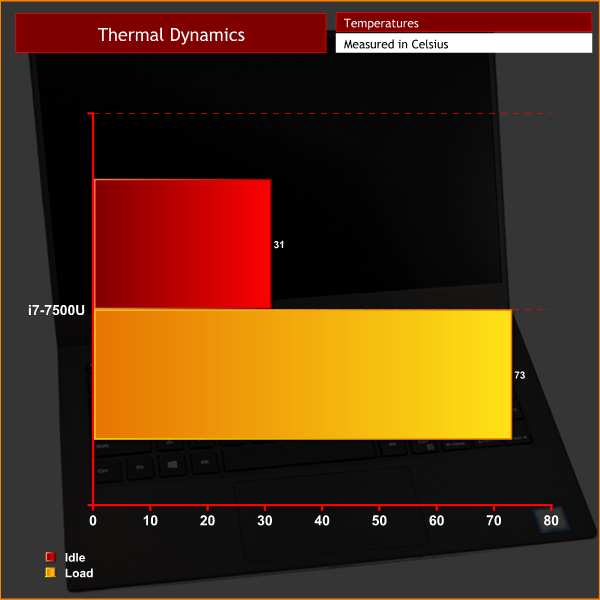 Both results are very respectable and leave me with no concerns about the thermal safety of the internal components.
Acoustics
The XPS 13 can get a bit loud under load, however. The high-pitch whirr of the CPU fan is very noticeable and a bit irritating after a prolonged period of time. That being said, most day-to-day tasks – like emailing and word processing – do not cause this level of noise, and it is this sort of thing most XPS 13 buyers will be doing with the laptop anyway.
However, I did notice a bit of coil whine from the XPS 13, almost at random times. It was infrequent and would be drowned-out by anything louder than ambient noise levels. In a quiet room, though, I did notice it occasionally, usually when I opened an application for the first time. This is slightly disappointing, as you would hope a £1000+ Ultrabook would be using components of high quality that are not prone to coil whine – even if it is not very intrusive.
Power consumption
To get the 'idle' power draw for the XPS 13, I left Windows on the desktop for 30 minutes. The 'load' power draw reading comes from running Prime 95 and Fire Strike simultaneously.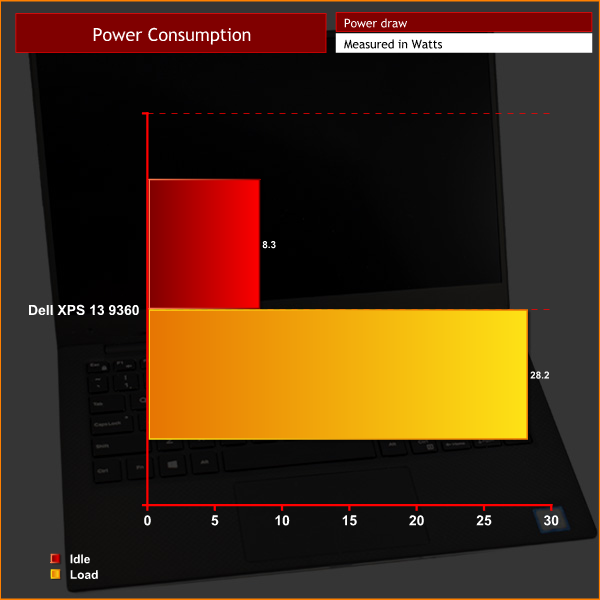 The XPS 13 demonstrates fantastic efficiency as the power draw is very low, even under 100% load. On the next page we see how this helps the laptop's battery life.