We were excited to see the changes Razer has made with the new Blade 15 but it quickly became clear the laptop is fighting a losing battle against power and heat.
We can see the evidence in the name as the smaller Blade14 chassis is used for AMD CPUs while the combination of Intel and Nvidia hardware requires the larger Blade 15 or 17 chassis. It is surely no coincidence the MSI GE76 Raider that we refer to throughout our review uses a substantial 17-inch chassis.
Razer has employed a large vapour chamber cooling system that cools both the CPU and GPU and has then topped off the system with their Synapse 3 software which controls power limits, fan curves, Optimus/Dedicated GPU settings and RGB lighting in the keyboard.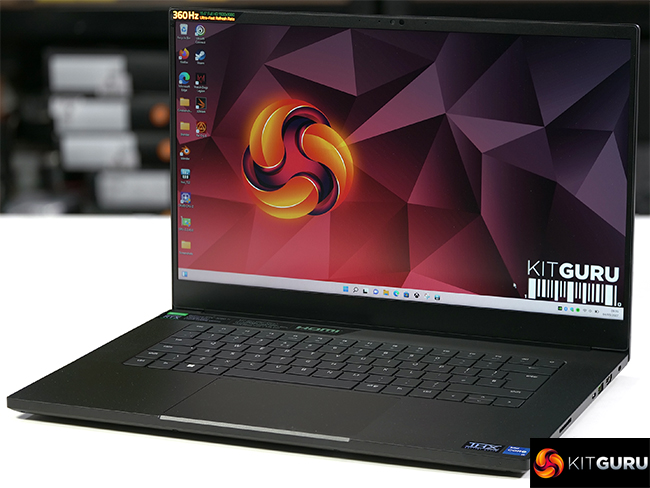 The settings within Synapse 3 give us a clear picture of the compromises faced by Razer. In Balanced mode the laptop is lovely and quiet, however the CPU is limited to 35W PL1 and the graphics to 95W which effectively cripples the expensive hardware. In Custom High mode the CPU operates at its 45W TDP and the graphics have 105W to work with. Push things to the limit with Custom Boost mode and the CPU runs on 65W, the maximum graphics power is 105W and the cooling fans are howling away and making a fair racket.
Contrast that with the larger MSI GE76 Raider which can feed 72W to the CPU (the PL1 limit is 110W)  and 165W to the graphics and you can see exactly why the Razer Blade 15 is crushed by the MSI Raider GE76 in our charts.
You can buy the Razer Blade 15 (2022) directly from Razer for £3899.99 HERE.
Discuss on our Facebook page HERE.
Pros:
Colourful, sharp, fast screen.
Lovely large glass touchpad.
Razer Synapse software works well.
Smart styling and premium feel, although it might be time for an update.
Audio is loud (but could use more bass).
Cons:
Steep price.
The compact chassis restricts the power available for CPU and GPU.
Keyboard action has a very short travel.
We would like to see a 100W Power Delivery 3.0 USB-C charger included.
KitGuru says: Razer Blade 15 is badly hurt by the poor power efficiency of the Intel and Nvidia hardware.
Be sure to check out our sponsors store EKWB here