In the recent years Samsung Electronics has been on the forefront of progress, specifically on the market of mobile devices. But portable gadgets is definitely not the only market the company wants to address. According to a media report, Samsung is working on its own virtual reality headset and intends to be on the market already this year.
Not a lot of details are known about the VR headset by Samsung, but Engadget web-site reports, citing sources close to the company, that the device will rely on the next-generation Galaxy smartphones and/or tablets. It is unclear whether the VR headset will be modular and will allow installation of a Galaxy device by the end user, or will just share the hardware platform with the company's handsets and slates.
Select software developers have reportedly received the VR headset, which is currently powered by a "flagship Galaxy device" (such as Galaxy S5, Galaxy Note 3, etc.).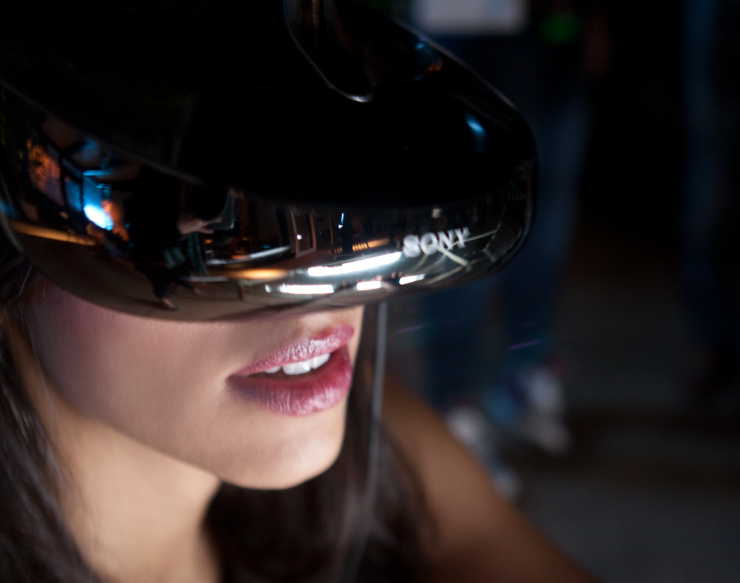 A prototype of Sony VR helmet.
Each advanced Galaxy smartphone has a plenty of sensors that could be used for tracking user's movements. For example, the Galaxy S5 features, among other things, an accelerometer, a gesture sensor, a gyroscope, a proximity sensor, a Hall effect sensor, a magnetic sensor, an RGB ambient light sensor and some other sensors which could potentially be used for tracking. The chips, which power Galaxy smartphones have special-purpose hardware that processes data from all the sensors in real-time and without consuming too much power.
What is unknown is how, or if, Samsung's VR helmet tracks head movement depth-wise. For example, in case of both Project Morpheus and Oculus Rift, separate cameras face the user and track depth by reading sensors on the respective headsets. Samsung could use a similar method, or design its own.
The latest flagship Galaxy smartphones also have large high-quality AMOLED displays with extremely high pixel density, which could potentially be used to display virtual worlds in a VR helmet.
A prototype of Sony project Morpheus VR helmet.
What is clearly interesting is that Samsung reportedly wants Google Android games to take advantage of the VR headset. It is unknown whether the device will also be compatible with personal computers, video game console and respective software titles. Because if it is not, then Samsung will probably have to fund development of Android-based VR games itself simply because game designers have hardly considered virtual reality for their mobile titles and will probably be reluctant to invest into an unknown proprietary VR platform.
In addition, if Samsung wants VR games for Android, then it will have to dramatically boost graphics processing capabilities of its mobile devices to ensure high-quality graphics and decent rendering speed. The latter is not an easy task, considering the fact that various versions of one device feature completely different GPUs and even GPU architectures.
Samsung reportedly wants to release its virtual reality headset ahead of Sony's project Morpheus as well as Oculus VR's Rift, which are believed to be due by late 2015. The current plan is to start commercial sales of the virtual reality device already this year. Moreover, the South Korean company wants to make its VR helmet more affordable than the competing offerings.
Samsung did not comment on the news-story.
Discuss on our Facebook page, HERE.
KitGuru Says: While Samsung could absolutely release its VR headset this year, it remains to be seen how many games will actually be compatible with it. Both Sony and Oculus VR have been working with game developers (and video game engine developers) for some time now to make sure the new titles actually take advantage of their VR headsets and provide unique experience. Samsung is not exactly known for having very close relationships with game makers, hence, it is possible that this VR headset will be the company's first attempt to work closely with game designers. Will it result into a "killer app" for VR? Unlikely; but only time will tell for sure.