The Cooler Master MM711 ships in a compact black box, with an image of the mouse taking up most of the front. Cooler Master also highlights three key features – the 60g weight, 16K DPI sensor, and 20M click lifespan – on the front of the box.
Inside, a small user guide is also included, along with a spare set of mouse feet. The latter feature is something I particularly appreciate.

As for the mouse itself, it's an ambidextrous design with plenty of holes cut into the shell. I do like that Cooler Master has made these hexagonal holes shaped like its logo – it's certainly a bit different to the regular 'honeycomb' design we are used to seeing.
The shape, as we mentioned, is ambidextrous and closely resembles that of Cooler Master's old MasterMouse S. It is quite straight, with not much of a curve to the sides of the mouse, while there is a large hump towards the back. Additionally, it's quite a small mouse, measuring 116.5 x 62.4 x 38.3 mm, so it certainly won't be for those with larger hands – but we discuss comfort and grip styles on the next page.
Unlike the Glorious Model O, Cooler Master has chosen to add more holes to the sides of the MM711, but these are only towards the back of the shell. The left-side of the mouse features two side buttons, while the right-hand side is left bare.
At the front of the mouse, we can get a look at the primary buttons which do have slight comfort grooves built into them. A textured rubber scroll wheel sits between these two buttons, with a single DPI button just behind that.
Flipping the mouse over reveals its underside, with three PTFE mouse feet used here. The PMW 3389 sensor lens is visible in the middle, surrounded by more holes.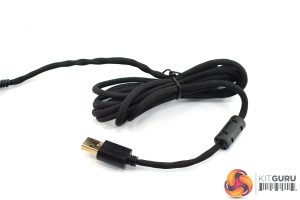 The cable is black and braided, measuring 1.8m long. Cooler Master calls it the 'ultraweave' cable, and we comment on how it performs on the next page.
Here we take the mouse apart and look at the internals. Starting with the primary buttons, these use Omron D2FC-F-7NM(20M) which are almost industry standard.
Elsewhere, the scroll wheel uses a Huano green switch, while the DPI button uses a Kailh white switch. It's not clear what scroll wheel encoder is in use.
The side buttons are also unlabelled so we don't know who manufactures these, but the final thing to note is the PMW 3389 sensor used for the MM711.