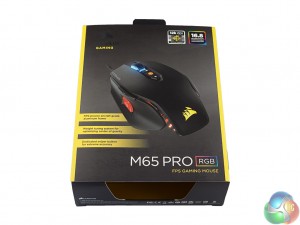 The Corsair M65 Pro ships in an attractive black box, with yellow accents.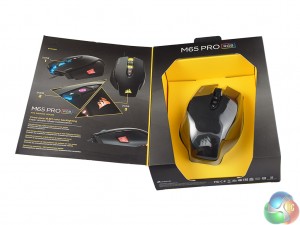 The 'front' of the box is actually a lid that lifts off to reveal the mouse below.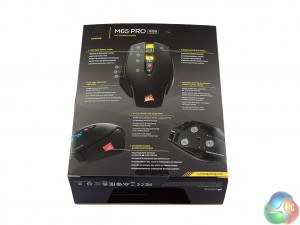 On the back, Corsair have included information about several key features.
The M65 Pro itself looks very similar to the original M65. Indeed, you would be forgiven for thinking nothing has changed. However, that is not to say the M65 Pro is a badly designed mouse. Quite the opposite, in fact.
The top of the mouse has a rubberised, matte black finish to help you keep a firm grip. The side panels, too, are textured which means fingers do not slip off easily.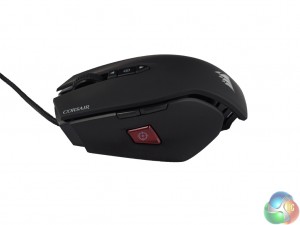 The left side panel also features a sniper button, which is positioned exactly where your thumb rests for easy use. Above this are two re-programmable buttons which are traditionally used for browser navigation purposes.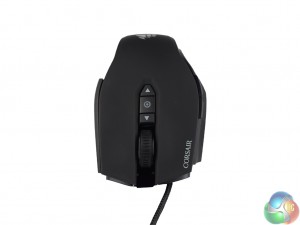 At the top of the mouse are two DPI switches – one for increasing the DPI, the other for decreasing DPI. Above these switches is the mouse wheel, which lights up along with the Corsair logo at the bottom of the mouse. On the next page we assess how the RGB lighting performs.
A brushed aluminium unibody design gives the M65 Pro a premium feel, and certainly helps keep it sturdy. Above you can see the screws on the base of the mouse, each of which pops out to reveal a 4.5g weight. Including screws, that gives a total weight adjustability of 20.5g, as the M65 Pro is 115g with no weights and 135.5g with weights.
I like a heavier mouse so I tested the M65 Pro with all the weights screwed in, but it is good to have the level of customisation available to each end-user.
The rather unique shape of the M65 Pro remains from the M65, and this does favour claw or finger-tip gripping styles. Users can still use a palm grip but it does not feel quite as natural as a claw grip, so this is something to bear in mind if you tend to use a palm grip.