When testing any mouse, it is always good to first take a look at the accompanying software suite. The M65 Pro comes with Corsair's Utility Engine, known as CUE.
CUE's UI is split into four main tabs – profiles, actions, lighting and settings. We will look at each in turn.
The profiles tab is where most users will spend the majority of their time. The assignments sub-tab allows users to reprogram the 8 mouse buttons as they see fit, with lots of options available. The lighting sub-tab allows users to set the mouse's backlight colour – and as there are two lighting zones, the mouse wheel and the Corsair logo can be different colours if you wish.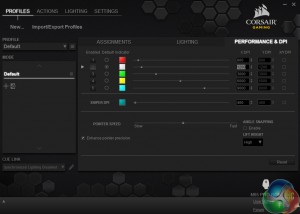 Finally, the performance sub-tab allows users to set the 5 DPI stages, as well as associate a colour with each stage. Here, there is even the option of having a different DPI setting for when using the X or Y-axis.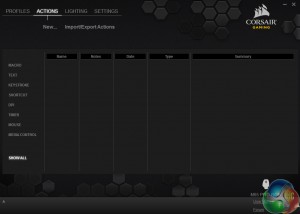 On to the actions tab. This allows users to record macros, as well as set shortcuts and trigger actions via a keystroke – to name but 3 options available. There is huge scope to get creative here, with a wealth of options to keep even the most picky of users happy. Though I do not personally make use of such features, the option is there for people who do.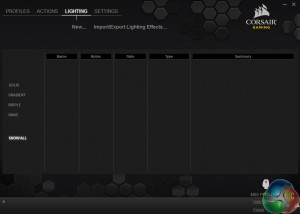 The same can be said of the lighting tab. Rather than setting the colours used for the backlight, the lighting tab allows users to create different effects for the M65 Pro's backlight. While I prefer a solid backlight, there is the option to create gradient, ripple and wave effects – as well as change the lighting intensity.
Finally, the settings tab. It is slightly less exciting, with the program sub-tab letting users decide whether or not CUE starts on system start-up and so on. The device sub-tab allows you to change the polling rate and calibrate the mouse – but it would make more sense to have these options under the performance sub-tab of the main profiles tab. As it is, these options feel a bit tucked away.
All, in all, though, CUE is a versatile and user-friendly piece of kit, with a huge variety of options for users to adjust things to their liking.
So having assessed the software, it is time to get on to assessing the hardware.
White light looks blue, while what should be a pale yellow light looks orange – to give just two examples.
To start with, I must say Corsair has failed to improve the lighting system. We noted that the original M65 has a poor backlight, and nothing has changed. No matter how good the lighting software is, colours are simply not produced accurately, and that is a real shame – particularly as Corsair has had over a year to improve things.
However, lighting aside, the M65 Pro is a joy to use on a daily basis.
The aluminium body gives a very premium feel to the mouse, and I greatly appreciate being able to adjust the weight of the M65 Pro. The rubberised finish also helps to create a device with fantastic grip.
Furthermore, having two DPI adjustment buttons is a nice touch. On a typical gaming mouse, there is just one button – meaning you have to cycle through each stage to get the desired setting. With the M65 Pro, simply go up or down until you have reached the sensitivity you want. Associating each DPI stage with a colour is also very handy as it helps you identify which stage you are currently at.
Having a 12000 DPI sensor is absurd though – and I cannot being to imagine who would need such a high sensitivity. However, it does no harm and I was very happy at my preferred 2400 DPI setting.
The emphasis on using a claw grip certainly re-affirms the idea that the M65 Pro is very much a FPS gaming mouse, though a palm grip is possible – just less comfortable. Still, when using a claw grip, the M65 Pro offers great responsiveness to slight movements, which can just give you that edge in a gunfight.