Overall, I found the Edifier Studio R2730DB speakers hit the price-to-performance sweet-spot. At just under £200 they are not crazily expensive, but they offer great quality for the price.
For starters, they look really good and come with a wealth of cables and connection options – you can have 5 devices (four cables plus a Bluetooth signal) connected to the R2730DB speakers at any one time.
The sound quality is very impressive, too. For a 2.0 system (so no subwoofer), I was blown away by the amount of bass the 6½ inch driver packs in. There is even a bass-out option for connecting an external subwoofer but I very much doubt you will need this.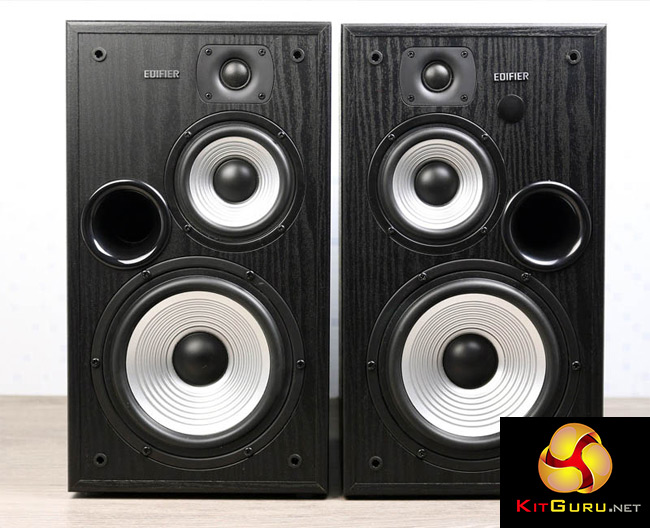 My only complaint about quality comes when the speakers are at maximum volume – as the higher frequencies lose clarity. That said, the sound is so loud at this volume you will not be having extended playback with the volume cranked all the way up.
It is also worth mentioning the bass/treble adjusters on the side of the right-hand speaker unit. This means they are more easily adjusted than if they were at the back of the device, and it is a good thing too – as at default settings, voices are slightly muddy. However, tune down the bass and tune the treble up slightly and speech becomes crystal clear.
On the whole, I heartily recommend these speakers to those who want good quality without breaking the bank on a system costing thousands of pounds.
Discuss on our Facebook page, over HERE.

You can pick up the Edifier Studio R2730DB speakers from Overclockers for £199.99 HERE.
Pros
Attractive.
Huge bass.
Crisp high-end at all but maximum volume.
Bass/treble adjusters on the side panel for easy tinkering.
Good balance of price-to-performance
Cons
High-end loses some clarity at maximum volume.
Spoken word is slightly muddy at default settings.
KitGuru says: For all but the most picky of audiophiles, the Edifier Studio R2730DB speakers will do a great job at a reasonable price.