The Razer Huntsman Elite ships in a box that will be instantly familiar to those with other Razer products – it is black with green edges, and a large product photo dominates the front.
On the back, Razer dedicates a large chunk of space to the new Opto-Mechanical switch, while it also points out other key features of the keyboard itself.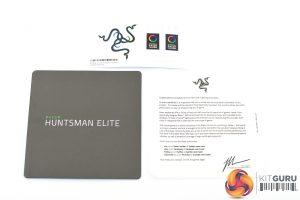 In terms of documentation, we find 1x user guide, 1x welcome leaflet and 3x stickers.
Also included in the box is the detachable wrist-rest. This is a large, padded rest that is covered with faux-leather and sports a subtle Razer logo in the middle. The underside is also home to six anti-slip rubber feet.
Now, coming to the keyboard itself, on the face of it the Huntsman Elite looks pretty conventional. It is a full-size board, with a stealthy all-black aesthetic and a floating keycap design. Compared to the BlackWidow Chroma V2 it looks more square, and dare I say more professional, with a thinner frame and no Razer logo on the front.
The Huntsman Elite also sports a new aluminium top-plate which is something that has been missing from previous Razer keyboards I have reviewed. It's matte black anodised aluminium, though the rest of the keyboard is still made from plastic.
Speaking of things that have been missing from previous Razer keyboards, the top-right corner of the Huntsman Elite is home to four multimedia controls. Alongside a play/pause button, there are also next track and previous track controls, as well as a dedicated volume wheel which has a mute button in its middle. Personally speaking, I use dedicated media keys wherever I can, so this is a feature I am glad to see – even if it has been a long time coming.
Lifting off the keycaps reveals the Opto-Mechanical switches. These are purple in colour and sport regular Cherry MX stems, so you could easily replace the keycaps if you desire. It is also interesting to note that every switch is stabilised, something Razer says helps gives a more balanced feel while typing. Most keyboards with Cherry switches, for instance, only have stabilisers on the larger keys like the spacebar and enter key.
Elsewhere, positioned in the middle of the keyboard's front edge, we find six little gold contact points. This is actually where the wrist-rest connects to the keyboard, via its own set of pogo pins. This allows the wrist-rest to receive power from the keyboard itself, which it uses for its RGB lighting – but more of that on the next page.
It is worth pointing out before moving on, however, that Razer says it can utilise this pogo pin connector to make other accessories for the Huntsman Elite – including a charging pad, some kind of trackpad, or a phone dock. We are yet to see any development of this idea further, but it could be one way of adding extra value to the purchase of a Huntsman Elite.
Flipping the keyboard over reveals another set of six anti-slip rubber feet as well as the flip-out stand for raising the height of the board. Incidentally, the flip-out stand can actually be set to two different heights, so you can choose which angle you prefer.
Lastly, the Huntsman Elite requires two USB ports – one for the keyboard itself, and the other to power the wrist-rest lighting via the pogo pins. The braided cable itself is not detachable, measures approximately 2m and is quite thick.