The Razer Huntsman Elite has been a tricky product to review.
On the one hand, it makes a number of improvements over the BlackWidow Chroma V2 – there is a new aluminium top-plate, we finally have dedicated media keys and the wrist-rest has integrated Chroma lighting.
The main feature of the keyboard is undoubtedly the Opto-Mechanical switch, though.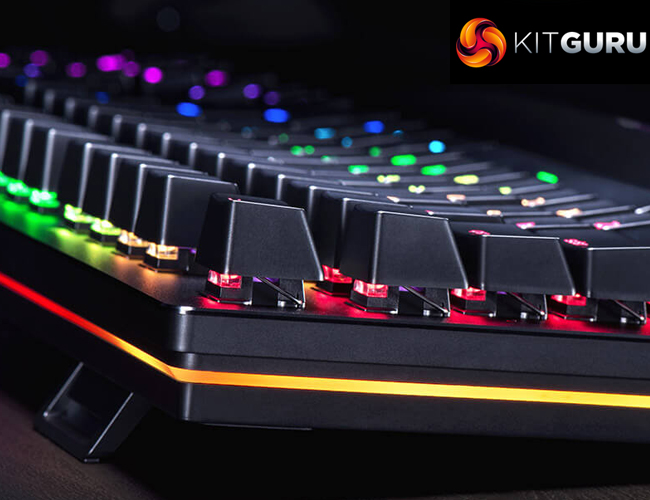 It is with these switches where my main difficulty lies – as I outlined on the previous page, these switches are objectively faster due to their optical nature. The problem lies in the fact that I simply couldn't tell the difference in speed between the Huntsman Elite and my trusty Cooler Master MasterKeys Pro S with MX Browns.
For me, that has made it hard to score – the Huntsman Elite comes with a high price, and while the hybrid switches are certainly an impressive feat of engineering, does it matter if you can't tell the difference? Well, maybe you will be able to tell the difference – but for me, I can't say the Opto-Mechanical switches have revolutionised how I play PC games.
The other thing to note is that there is no switch variety. With Cherry MX-based keyboards, most manufacturers offer you a choice of Reds, Blues, Browns and so on – meaning you can choose if you want a linear switch, a tactile switch, or a clicky switch. If you want an Opto-Mechanical switch, you have to get the Purple variant, which is tactile and clicky. If Razer can offer Opto-Mechanical versions of its Yellow and Orange switches, I think that would only help the appeal of the Huntsman Elite.
So, wrapping it up – should you buy the Razer Huntsman Elite. If you want the absolute fastest switches out there – go ahead. It will set you back a cool £199.99, but there is a lot to like – including new media keys and aluminium top-plate. Razer fanboys will also love the Chroma lighting.
If you are happy with your current keyboard, though, I can't say with certainty that you will notice the benefit of the Opto-Mechanical switches. And given the premium you pay for the keyboard, it is certainly a risk to find out.
You can buy the Huntsman Elite directly from Razer for £199.99 HERE.
Pros
Opto-Mechanical switches feel great and are objectively faster than traditional mechanical switches.
New aluminium top-plate.
We finally have dedicated media keys on a Razer keyboard.
Top-class RGB lighting.
Wrist-rest is plush and very comfortable.
Cons
I couldn't tell the difference in speed between an Opto-Mechanical and a Cherry MX Brown.
Opto-Mechanical switches are currently only available in one style – tactile and clicky.
Costs £200.
KitGuru says: The Huntsman Elite is undoubtedly a successful keyboard, and the Opto-Mechanical switches are undeniably impressive. It is not cheap, though, and you may not even notice the difference between these switches compared to your old Cherry MX board.