To test the Huntsman Elite, I used it as my primary keyboard for a couple of weeks – using it for both typing and gaming. We break our testing down into four main sections: software, lighting, build quality and comfort, and performance.
Software
Note: if the above images are not displaying properly, you may need to disable your ad block software as they are known to interfere with our display code.

The Huntsman Elite uses Razer Synapse 3.0 software. It is a free download from Razer's website, but it does require an account to use. Still, it is easy to navigate as everything is broken up into just two tabs – 'customize' and 'lighting'.
The customize tab lets you re-map the keyboard's buttons, configure the gaming mode and save/load profiles. Up to 5 profiles can be stored directly to the keyboard, but do note that any lighting effects can only be saved to the cloud.
Moving onto the lighting tab, here you can choose from a number of quick effects including 'wave', 'spectrum cycling' and 'fire', the latter of which looks particularly good in my opinion. Or, if you are feeling adventurous, you can enter Chroma Studio and create your own effects and lighting patterns on a per-key basis.
All in the all, the software side of things is just fine. Synapse lets you re-map every button on the keyboard which is great for macro users, and you can configure the lighting as well. It's simple but effective.
Lighting
As for the lighting, I have to say this is one area where Razer knocks its rivals out of the park. Not only is the software control sophisticated enough to let you create complex patterns, but the variety of quick effects is impressive. More to the point, though, the LEDs themselves just look great – colours are bright, vibrant and they shine through they keycaps well.
With the wrist-rest attached, too, the lighting spreads the whole way round the board, which means the Huntsman Elite sports a total of 168 programmable LEDs. There's just no two ways about it – if you like your RGB lighting, the Huntsman Elite does it brilliantly.
Build quality and comfort
Moving onto build quality, I already mentioned on the previous page that the Huntsman Elite sports a new aluminium top-plate. This makes the keyboard feel generally pretty solid, and I also think it looks great. The underside of the keyboard is still made from plastic, so there is a little flex when pressure is applied, but overall build quality is certainly good.
One area of the build that I am not overly happy with, however, is the keycaps. They just feel quite thin and brittle – they feel like cheap caps, which is a shame considering this is a £200 keyboard. Some thick-walled PBT caps would've been the perfect complement to the Huntsman Elite.
In terms of comfort, I appreciate the fact that the height of the keyboard can be adjusted in two steps – so you can either have it raised a little, or raised even further. I went with it raised as far as it would go, but it is good to have the option.
The main thing that aids comfort, however, is the wrist-rest. This is padded with foam and covered by faux-leather, and it feels great for your wrists as you type or game. It's just so soft. I also appreciate the fact that it sports the exact same aluminium top-plate as the keyboard itself, so it looks like a seamless addition to the main body of the keyboard.
Performance
Now, let's talk about what we're all here for: the Opto-Mechanical switches. To give you a complete breakdown, Razer has developed what is an optical key switch that has mechanical properties (in this case, a tactile bump and a click), hence the name 'Opto-Mechanical'.
Unlike regular mechanical switches – and you can read all about different mechanical switches in our definitive guide – which use metal contact points to send a signal that a key has been actuated, Razer's optical switch uses a laser beam which 'passes through the switch stem when a key is pressed, which then actuates via a receiver that sends the corresponding signal to the computer.'
Credit: Razer
The benefit to this method is speed. This is because a traditional mechanical keyboard has to deal with something known as 'contact bounce'. This is where a switch makes repeated contact with its metal contact once a key has been pressed, as it bounces up and down a few times due to the force applied. To counteract this, mechanical keyboards implement a delay (known as de-bounce) where any signals received within a set time-frame (usually 5ms but can be up to 20ms) are ignored as they are deemed to be sent as a result of contact bounce, rather than a deliberate key press.
Thus, when a Opto-Mechanical switch uses an infrared light beam to actuate – instead of using metal contact points that are prone to bouncing – the keyboard can eliminate the de-bounce time period altogether, which means a key press signal is sent faster.
So, that's the optical part of the switch – the mechanical element is in regards to the 'feel' of each press. In short, these Opto-Mechanical switches are relatively light, clicky switches. They sport a 1.5mm actuation distance, with a force requirement of 45g to actuate. The click is very audible, and despite being of a slightly higher pitch than a Cherry MX Blue, for instance, total volume output is similar.
In practice, there's no denying the similarities between the Razer Purple Opto-Mechanical switch, and the Cherry MX Blue. Razer's switch is essentially the same thing, but lighter and faster. If you've always wanted a Cherry MX Blue that's better for gaming, here it is. There are a couple of differences, though. Primarily, the Opto-Mechanical switch clicks at the point of actuation, whereas the MX Blue clicks then actuates.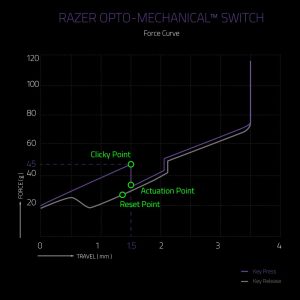 Credit: Razer
Opto-Mechanical switches also click, actuate and reset at almost the same point – meaning as you release the key after a press, you don't have to release nearly as much pressure on the key in order to press it again, as you would for a mechanical switch which has to be released further to allow the switch to be reset, and then actuated again. Essentially, this allows for faster rapid keypresses without the need to keep releasing the switch to a further reset point.
So, that is the technology behind the Opto-Mechanical switch. I personally love the feel of the switches – as I mentioned, they basically feel like faster and lighter Blues, but then you have the benefits of an optical switch on top of that.
The question is – is the benefit of an optical switch actually noticeable? Certainly, the switches are objectively faster as there is no de-bounce period and the reset point is closer to the point of actuation. I have to confess, however, I could not tell the difference in speed while gaming with the Huntsman Elite, versus using a Cherry MX Brown keyboard.
The switches are objectively faster – but if you can't tell, does it really matter? Or, does it not matter that you can't tell the difference because the switches are objectively faster? It's a bit of a conundrum.
Personally speaking, I would not be inclined to shell out £200 when I am not gaining a noticeable benefit over something with good old Cherry MX switches. If you take your gaming very seriously, however, you may want the absolute fastest thing out there – whether you can tell the difference or not.