Here at KitGuru we review many a mechanical keyboard, with some costing in excess of £100. Today's keyboard, however, is aimed squarely at the user on a budget. Priced at just £27.99, the TT eSports Challenger Prime is a membrane and rubber dome, rather than mechanical, keyboard. If you are after a new gaming keyboard, could this be the one for you?
It is safe to say the TT eSports Challenger Prime has a bold and aggressive design, but we will also look at how it performs on a day-to-day basis, as well as any software extras that may be included. For just under £28, though, I am not expecting too many bells and whistles.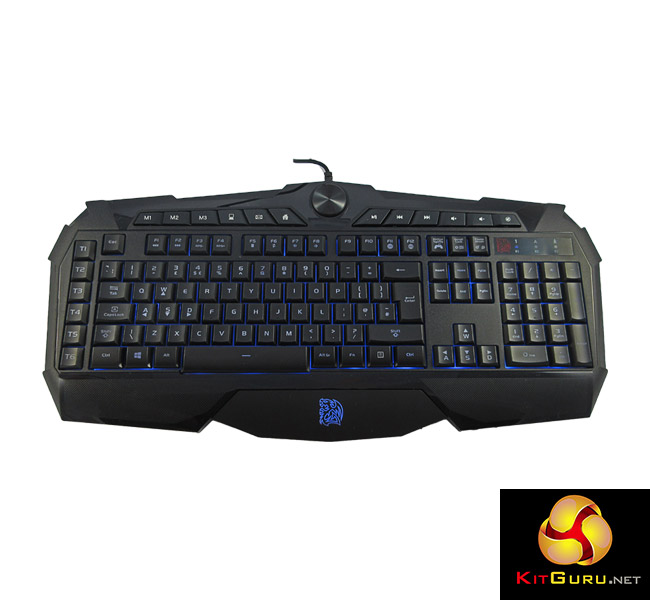 Features
1.5m braided USB cable
1000MHz polling rate
Backlit keyboard in blue, purple or red
Product dimensions of 508 x 239 x 24mm
6 macro keys
Option of up to 3 different key profiles
9 multimedia keys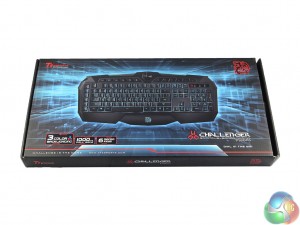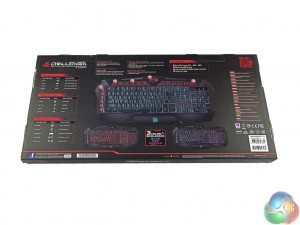 The TT eSports Challenger Prime Keyboard comes in a bold and eye-catching box, with dashes of electric blue contrasting nicely against the black box. On the back of the box there is an overview of some of the Challenger Prime's main features, including the multimedia keys and backlighting options.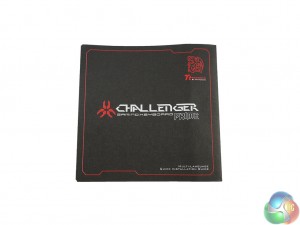 Inside the box, however, there is not a whole lot going on. The keyboard itself is wrapped in a protective sleeve, and is accompanied by a quick-start guide, warranty information and nothing else. As the Challenger Prime has plug-and-play functionality, there is no need for a driver CD, but keyboard customisation software can be downloaded online.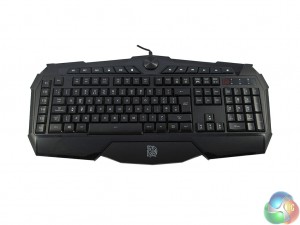 Now we can turn our attention to the keyboard itself. It has a bold and aggressive look to it which immediately confirms to us that the Challenger Prime is a gaming keyboard. Personally I prefer a more understated approach, but I can appreciate many of our readers like such a design.
Sharp angles characterise the Challenger Prime, and the tribal-looking logo of TT eSports (themselves a ThermalTake subsidiary) certainly fits in well with the overall vibe. It is also worth mentioning the Challenger Prime is made entirely of plastic, as we would expect for the price.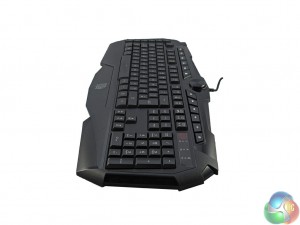 At the front of the keyboard is a non-detachable wrist rest, something I find helpful while typing, though many may prefer to have the option of removing the rest. The top of the keyboard houses the multimedia keys, which are all fairly standard – there are 'mail' and 'home' buttons, along with the usual volume control buttons.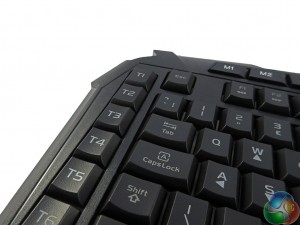 There are also 3 profile keys at the top of the keyboard which let you switch directly between different keyboard profiles. Finally, right in between the row of multimedia keys is a dial which simply controls backlight brightness.
So far, everything seems as we might expect when reviewing a gaming keyboard. Perhaps then it is what the keyboard is lacking, rather than what is included, which indicates that the Challenger Prime is a budget offering. By this I mean there is no USB passthrough, no headphone jack and no expensive materials used – just plastic. Still, that is not to say the Challenger Prime will not make a good keyboard, and we will assess its performance on the next page.When testing the Challenger Prime, the first thing to look at is the software suite. This has to be downloaded from TT eSports' website as there is no driver disc included.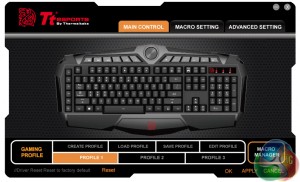 As you may expect, the software is functional but basic. There are only 3 'pages' where you can change things, the first being the 'main control' page which simply allows you to re-map keys to your preference. As the Challenger Prime was shipped to me in the standard UK keyboard layout, I was happy to leave everything be.
There is then the ability to assign macro keys. There are 6 macro keys, but the ability to set up to 3 gaming profiles, so essentially users can map 18 additional functions via the macro keys.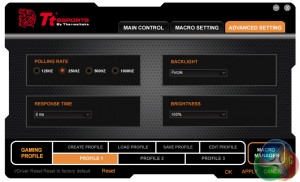 Finally, there is the advanced page which gives users control over the polling rate of the keyboard, as well as backlight colour. It is important to note this is not an RGB keyboard, and users can choose between red, purple and blue backlight options. Backlight brightness can be adjusted via the software, but there is also a physical brightness dial on the keyboard itself.
Overall, then, the Challenger Prime software suite does what you would expect it to and no more. There is the functionality to play with macro keys and gaming profiles, but nothing really out of the ordinary. The software is not particularly attractive either, but it gets the job done – which is the most important thing at this price point. For a more expensive keyboard, I would expect more expansive software.
On to the actual performance of the Challenger Prime, then. Obviously as it is a rubber dome, membrane keyboard we would not expect the same sort of functionality from a mechanical keyboard so it is important to bear that in mind.
That being said, I was surprised by how soft the keys are on the Challenger Prime. Typing is near-silent, which cannot be said for all rubber dome keyboards. There is of course no 'click' when using the Challenger Prime, which I initially found disconcerting but I soon adjusted to it. I actually found using the Challenger Prime to be quite soothing as hammering away on a 'clicky' mechanical keyboard – one that uses Cherry MX Blue switches, for example – can create a cacophony of noise. Not so with the Challenger Prime.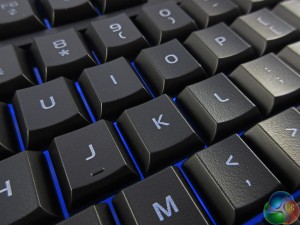 It is also worth mentioning there is not a huge amount of key travel – obviously more than a laptop (as most laptops use scissor-switch keyboards these days) but many readers may be used to having 'deeper' keys. I did find this off-putting while typing, particularly as the keys also felt somewhat 'mushy' after sustained usage. However, I have been using a mechanical keyboard for a while now so those of you moving from a different rubber dome keyboard to the Challenger Prime may not find you have the same problem.
The actual layout of the keyboard is very standard, but due to the macro keys (which I do not have on my own keyboard) and the bulky design of the Challenger Prime, the keyboard itself is quite wide. This meant there was just a small adjustment period where I found myself pressing the key next to what I intended – as my keyboard is much more compact. For most users, though I am sure this will not be a problem, especially if you are already coming from a gaming keyboard of a similar style.
Finally, as this is a gaming keyboard we must discuss what it is like gaming with the Challenger Prime. Overall, I must say the Challenger Prime did well. The backlighting actually looks very good in a darkened room, and I found no problems with ghosting during gaming. The TT eSports website claims the Challenger Prime can handle 6-8 key anti-ghosting, and I did not notice anything to suggest otherwise. The only potential issue – though it varies since peripherals are highly subjective – is lack of tactile feedback. For some serious gamers, this can be important as it can mean decreased reaction speed, but for casual gamers such as myself, I did not find it to be a problem.On the whole, the TT eSports Challenger Prime is a decent keyboard on a budget.
Packaging is minimal – there is just the keyboard itself and two small booklets – but that is of no real importance. All it means is that users have to download the software suite themselves online, as there is no driver disc included.
The Challenger Prime immediately identifies itself as a gaming keyboard thanks to its sharp angles and aggressive appearance. Of course this is highly subjective, but I prefer a simpler and more understated keyboard. Some of you will no doubt find the aesthetics very pleasing.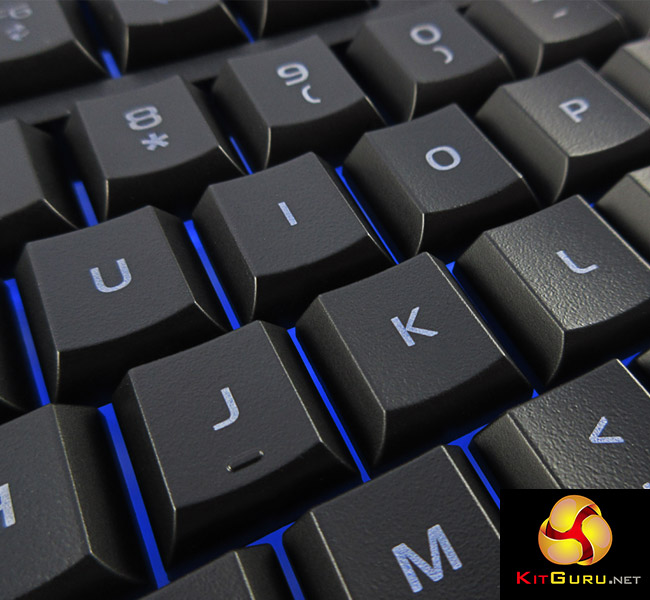 For the price, the Challenger Prime actually has most of the gaming features I would expect, including 3-colour backlighting, up to 18 macro key options and multimedia keys too. Even some more expensive mechanical keyboards can lack these features, so it is good to see them present and correct here.
In terms of software, 'basic yet functional' is perhaps the key phrase. Users can re-map keys, assign macros and adjust the backlight colour, which is about it. The software is also fairly clunky and ugly-looking, but it gets the job done. Realistically, most users will probably use it to assign macros and then not use it again.
Everyday performance of the Challenger Prime is also decent. For a rubber dome, membrane keyboard the Challenger Prime is very quiet, which I found calming when composing emails and even typing this review. My main problems with it come from shorter key travel than I would like, and the Challenger Prime is also a wider keyboard than I am used to. However, many users may not find these issues problematic at all, as keyboards are highly subjective.
Still, for a decent, non-mechanical keyboard on a budget, you could do a lot worse than the TT eSports Challenger Prime. Availability is limited in the UK but Amazon currently have a few in stock for just £27.99.
Discuss on our Facebook page, over HERE.
Pros
Good price
Very quiet
Useful backlight brightness dial
Multimedia keys
Cons
Aesthetics are not for everybody
Short key travel distance
Lack of tactile feedback may be off-putting for hardcore gamers
KitGuru says: In making a budget, rubber dome keyboard, TT eSports have done a good job with the Challenger Prime. It may not be for everybody, but for gamers on a budget it can do the job well.